ASEAN @ 50 Volume 3: ASEAN and Member States: Transformation and Integration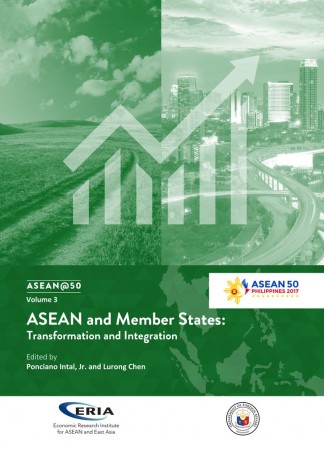 The ASEAN region has been drastically transformed economically during the past 50 years driven by domestic reforms, the pursuit of open regionalism, and the growth of regional production networks that are woven by international trade and investment linkages. ASEAN's economic transformation occurred alongside the pursuit of ASEAN's regional integration agenda. The establishment of the ASEAN Economic Community (AEC) in 2015 is the formal affirmation of the beginning of the drive towards deeper integration.
The papers in this volume discuss the evolving role of ASEAN economic integration agenda in the domestic policies of ASEAN Member States as well as their contribution of autonomous liberalisation policies to ASEAN economic integration. The varied country experiences among the member states, especially during the past 2 decades, bring out that the challenges and successes of the AEC lie in the interplay of national interests and ASEAN goals and the concordance of the regional integration initiatives on the one hand and each member state's domestic policy imperatives on the other hand.
Full Report
Contents
Preliminary
Table of Contents
Integrative Chapter
3.1 The Economic Transformation of the ASEAN Region in Comparative Perspective
3.2 ASEAN Foreign Trade, Investment, and Integration in Comparative Perspective
3.3 Building the ASEAN Economic Community: Progression and Progress
3.4 The ASEAN Member States and ASEAN Economic Integration
Country Essays and Papers
3.5 Country Reports: Brunei Darussalam
3.7 Country Reports: Indonesia
3.10 Country Reports: Philippines
3.11 Country Reports: Singapore
3.12 Country Reports: Thailand
Related Articles