A Firm-level Analysis of the Impact of the Coronavirus Outbreak in ASEAN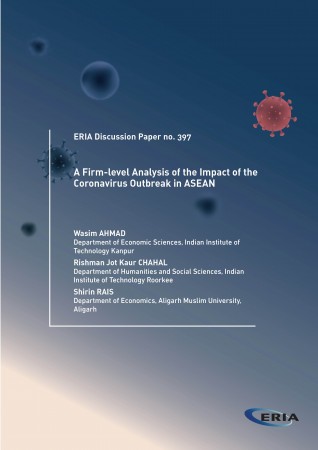 This study examines the impact of the coronavirus pandemic on economic integration in the ASEAN-6 region. The study finds that the pandemic's impact can be easily traced using stringency, bilateral exports, and tourist arrivals, indicating significant implications for the economic integration process. The firm-level analysis suggests that although the coronavirus outbreak's uniformly impacted firms, the extent of the effect varies across ASEAN-6 nations. Large firms are strongly impacted by the pandemic. Overall, the findings of this study are relevant for policymakers and academia.
This research was conducted as a part of the project 'ERIA Research on COVID-19' at the Economic Research Institute for ASEAN and East Asia (ERIA).
A Firm-level Analysis of the Impact of the Coronavirus Outbreak in ASEAN
Related Articles