Workshop Takes Up Data-driven Policy Design for Healthier and More Resilient Cyber Ecosystem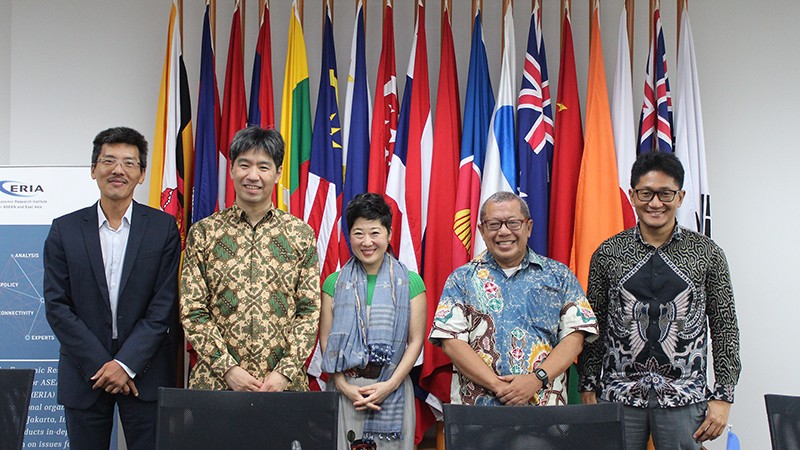 Jakarta, 5 April 2023: Developing a framework for internet health metrics and collaboration for digital innovation with healthier cyber ecosystems were the major topics discussed in a workshop organised by the Economic Research Institute for ASEAN and East Asia (ERIA). The hybrid workshop, Data-driven Policy Design for Healthier and More Resilient Cyber Ecosystem, was attended by 60 participants.
ERIA's Chief Operating Officer, Mr Koji Hachiyama, opened the workshop and delivered his remarks by emphasising the need to focus on safety and reliability, and increase trust of critical infrastructure as more countries rely on digital economies. ERIA, with the CyberGreen Institute, is conducting a study on developing a framework for internet health metrics, which will show the value of data measurements and analytics. Mr Hachiyama introduced ERIA's Centre for Digital Innovation and Sustainable Economy, which will serve as a virtual and physical platform for policymakers, business stakeholders, and academic professionals as well as organisations committed to collaboratively generate, manage, and share knowledge on the transition to a digitally driven sustainable economic growth within the ASEAN and East Asia region. He enumerated the centre's key missions: 1) provide a public–private dialogue platform to create specific unified rules within the ASEAN and East Asia region; 2) create a knowledge platform of facts and information on digital and carbon-neutral circular economy; 3) act as a training platform for industries on new business models, tools, and case studies to make evidence-based decisions; and 4) provide practical policy proposals.
In a keynote speech, Mr Sonny Hendra Sudaryana, Digital Startup Coordinator of Indonesia's Ministry of Communication and Information Technology, said that the ASEAN digital economy is growing significantly due to the increase of internet penetration rate, leading to high demand of digital services. He added that this will eventually draw digital investment that will require digital talents to create new digital businesses. He reported that Indonesia annually hires approximately 600,000 talents to realise the digital transformation.
Mr Sudaryana spelled out the three most important aspects of investments as infrastructure, people, and governance. He mentioned that Indonesia has nine satellites and will develop three more. He said that digital literacy in culture, safety, and ethics is crucial. On the governance side, he shared Indonesia's current focus on digital ecosystem's different approach on governance, where ministries regulate less, facilitate more, and accelerate regulations for user protection. He said he was hopeful that the workshop would serve as a platform for collaboration and partnership, as well as contribute to the vision of a healthier and resilient cyberspace.
Ms Nunil Pantjawati, Director of Governance Policy of Cybersecurity and Cryptography at Indonesia's National Cyber and Crypto Agency, delivered a keynote speech on Data-driven National Cyber Risk Assessment on Critical Information Infrastructure. Her topic dwelled on one of the latest regulations aimed to support the resilient cyber ecosystem in Indonesia. She listed complexity, lack of visibility, emerging threats, limited resources, dependence on third-party, and compliance requirements as the challenges in assessing and managing cyber risks to critical information infrastructure.
Session 1: Developing a Framework for Internet Health Metrics
Ms Yurie Ito, Executive Director of CyberGreen Institute, presented its ground-breaking work on applying the cyber public health approach or public health power line to decrease national and regional vulnerabilities and weaknesses. CyberGreen is dedicated to mobilising a global community of experts, business leaders, and policymakers to revolutionise cybersecurity by establishing and advancing the science of cyber public health. She added that the institute is focused on raising ecosystem resiliency by developing the Internet Infrastructure Health Metrics Framework, a set of models and cross-comparable metrics developed in 2020 to measure internet infrastructure competence health. The framework would enable nations to assess their overall risk, understand how it changes over time, and take steps to protect their citizens from it.
Ms Ito announced CyberGreen's support to the establishment of a centre for digital innovation and sustainable economy through provision of cyber public health statistics focused on systemic risks measurement. The public health approach, she said, promotes international collaboration and collective risk reduction, whilst CyberGreen's scoring mechanism is used to determine the baseline of internet health and create benchmarks for countries in the region.
Regarding cybersecurity policy and sustainable data transformation, Ms Ito said policy recommendations based on robust data and statistics are needed. It is necessary to create an institutional and systemic data collection mechanism at national level to collect vital cyber data. She said the cyber public health model will encourage public–private partnerships and collective approaches to mediation. She urged the participants to join the initiative and the journey with CyberGreen as collaboration is needed to define and unlock vital cyber data and risk indicators.
Panel Session: Next Phase Collaboration for the Digital Innovation with the Healthier Cyber Ecosystems
Dr Onno Purbo, Vice Rector of Institut Teknologi Tangerang Selatan, discussed the main problems of cybersecurity in Indonesia. People, procedure, and technology are the main aspects that need to be considered. On the technological side, the government makes sure that the system runs well and Indonesia has regulations for internet usage. However, he said, people, especially on the user side, are the main problem, and their internet behaviour is risky. For example, detailed personal information and family certificates are easily found all over the internet. He said the quality of administration human resources need improvement through training, courses, and capacity building, amongst others.
ERIA Senior Economist Dr Lurong Chen shared his view that cyber ecosystem is a comprehensive concept that allows people to facilitate and support the development of inclusive digital economic. He then warned of potential risk or massive losses, especially economic loss, to individuals or even countries. It has been reported that economic loss caused by cybercrime is increasing by 15% every year and is predicted to reach more than US$10 billion annually by 2025. Dr Chen said the social cost will be much higher than the economic loss.
Even in the highly integrated internet, Dr Chen said, the lack of a safe and healthy online environment may lead to a bad security scenario that may painfully impact the growth of the next generation, who have been dependent on the internet since an early age. Mentioning the internet of things, artificial intelligent, and big data as elements that have made the internet an integrated part of people's lives, Dr Chen said the role of monitoring and emergency reaction have become more important. He highlighted the importance of the ERIA and CyberGreen Institute study and of capacity building and human resources. He called for joint efforts from all stakeholders, public–private partnerships, and international cooperation to build a safe, reliable, and open online space to enhance regional cooperation amongst ASEAN and East Asian countries.
Related Articles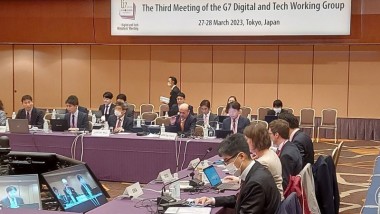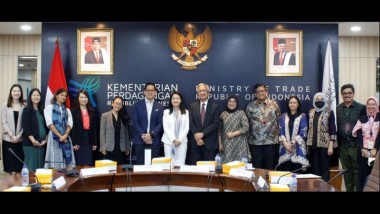 CHOOSE FILTER