Workshop Aims to Develop Capacity of Lao PDR Officials to Examine the Country's RCEP Commitments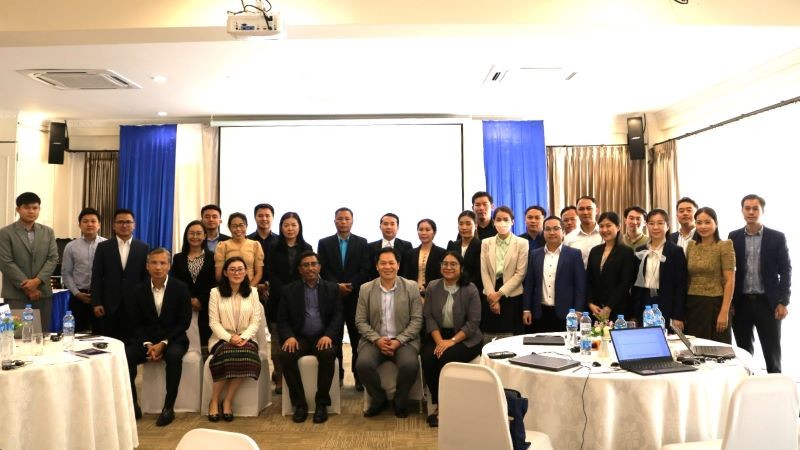 Vientiane, 6-9 February 2023: Structural transformation is key to enabling growth and competitiveness in the domestic economy. The transformation of the global value chain (GVC) in the digital, trade, and services sectors has created new economic opportunities for ASEAN's emerging economies, including those of the Lao People's Democratic Republic (Lao PDR). The change has been further intensified by the Regional Comprehensive Economic Partnership (RCEP) trade agreement.
To view these changes, the Capacity Building Program (CBP) of the Economic Research Institute for ASEAN and East Asia (ERIA) and Lao PDR's Ministry of Planning and Investment held the second evidence-based workshop on 6–9 February 2023 to examine the effects of trade liberalisation on the domestic economy. More than 30 participants from Lao PDR's various ministries, including of planning and investment, public works and transport, and industry and commerce, attended the workshop. The ERIA CBP is supported by the Government of Australia.
The key objective of the workshop was to develop the capacity of Lao PDR's government officials to explore the implications on the domestic economy of implementing the country's RCEP commitments and focus on policy strategies to maintain Lao PDR's competitiveness resulting from structural transformation in the region.
The workshop was opened by Dr Sithiroth Rasphone, Director General of the Development Research Institute of Lao PDR's Ministry of Planning and Investment, who noted the importance of developing a policy framework to identify the structural gaps in key fundamentals in the domestic economy, such as skills, domestic industry, infrastructure, technology, and institutions. He mentioned Lao PDR's potential to develop modern services with respect to liberalisation in the RCEP framework.
During the 4-day workshop, the participants learnt about key issues associated with transforming the services and industrial sectors, human capital development, institutional reforms, GVC, city linkages, and urban agglomeration. At the end of the workshop, the participants were divided into groups, each tasked to research and develop a paper on topics including mapping GVC, small and medium-sized enterprises, and social policy development in Lao PDR.
Prof Shandre Mugan Thangavelu, Institute of International Trade, University of Adelaide, and Head of the Jeffrey Cheah Institute on Southeast Asia, Sunway University, Kuala Lumpur, led in facilitating the workshop. To support peer learning and gain insight from the region, Prof Thangavelu was joined by H.E. Chan Sopheap, Undersecretary of State of Cambodia's Ministry of Economy and Finance; Mr Khong Bunroth, Director of Europe, Middle East and Africa Department of Cambodia's Ministry of Commerce; Mr Kong Ratha from Cambodia's Ministry of Economy and Finance and Dr Oum Sothea, Director of Center for Strategy and Innovation Policy, Cambodia. Dr Ngov Penghuy, Director and Designated Associate Professor, Cambodia-Japan Cooperation Center and Dr Phouphet Kyophilavong, Dean of the Faculty of Economics, National University of Laos, acted as co-facilitator of the workshop.
Image Gallery
Related Articles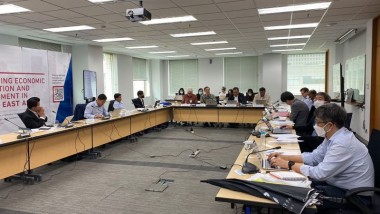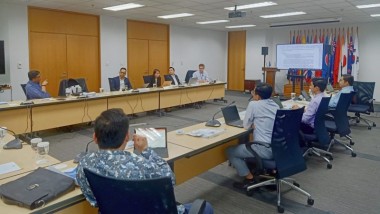 CHOOSE FILTER