Women's Participation in the Digital Economy: Key Findings from ERIA Reports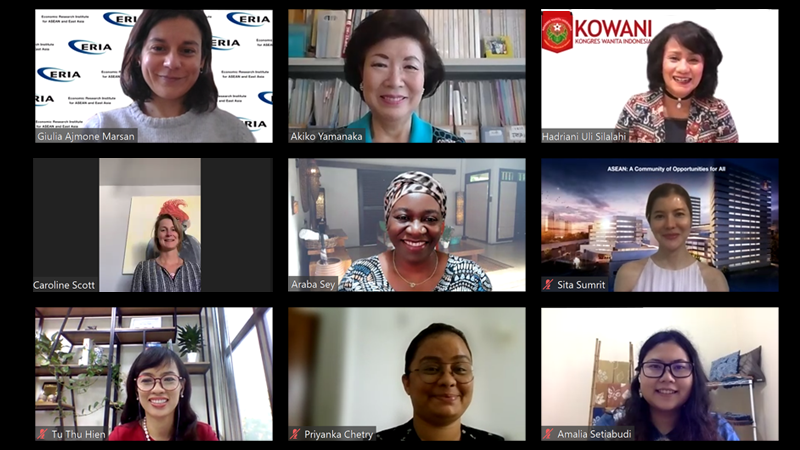 Jakarta, 13 and 15 April 2021: A two-day online webinar on Women's Participation in the Digital Economy was conducted on 13 and 15 April 2021. The two-day dissemination event discussed the findings of two recently published ERIA discussion paper and policy brief. The events attracted around 150 participants across the ASEAN region.
On 13 April, the first session was opened by three distinguished speakers. In her opening remarks, Prof Akiko Yamanaka, Special Advisor to the President of ERIA, Former Vice Minister of Foreign Affairs, Japan, stated the importance of gender equality and that providing equal access to skills and entrepreneurship in opening new opportunities for women to embrace new ventures. Ms Caroline Scott, Deputy Head of Australia's Mission to ASEAN, in her remarks, emphasized the importance of a multi-pronged approach to gender equality including promoting equal access to finance and policy dialogue. Ms Hadriani Uli Silalahi, Vice President of the Economic Sector, Cooperation and Medium-Sized Enterprises Department and Vice President of the Foreign Affairs Department at KOWANI, Indonesia, highlighted the importance of digital economy acceleration to enable new opportunities for women in the entrepreneurship journey. The discussion continued with a video based on ERIA's research and the presentation of ERIA's paper from Dr Araba Sey, Principal Researcher at the University of Washington Information School.
The second session on 15 April, was held in the form of the panel discussion with leading experts and entrepreneurs across the ASEAN region. Prof Yamanaka gave special remarks on the issue of digital democracy and equality. Dr Giulia Ajmone Marsan, Director of Strategy and Partnerships of ERIA, moderated the two sessions.
Dr Sita Sumrit, Head of Poverty Eradication and Gender, Assistant Director of Human Development Directorate, described main trends affecting women in ASEAN during the pandemic and mentioned The ASEAN Comprehensive Recovery Framework (ACRF) which covers gender protection and includes a strategy to leverage women's participation in economic, political, and socio-cultural initiatives.
Dr Sey, highlighted the importance of increasing and strengthening sex-disaggregated data collections to better understand the factors driving digital inequality and evaluate potential risks.
Ms Priyanka Chetri, Founder and CEO of Grocerdel shared some key factors that determined her journey to succeed as an entrepreneur including defining good business models, having a good team, managing funding scenarios.
Ms Tu Thu Hien, Founder and CEO of Women's Initiative for Start-ups and Entrepreneurship (WISE) from Vietnam emphasized the importance of providing a platform for women for sharing knowledge related to STEM and networking to make the most out of digital technologies.
Ms Amalia Setiabudi, Co-founder and Owner of Ing Madyokusuman; Member of eTrade for Women Community from Indonesia mentioned the importance of joining the right community for upskilling and expanding networks referring to her participation in eTrade Women Community, an initiative by UNCTAD.
These webinars were organised under ERIA's Strategy and Partnership Programme, funded by Australia.
Related Articles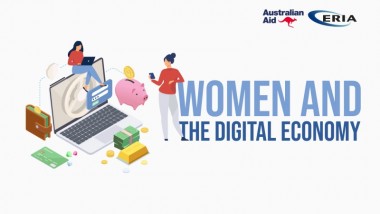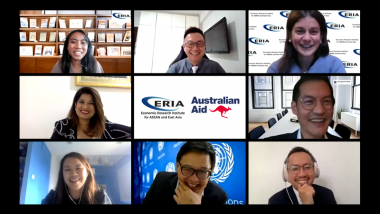 CHOOSE FILTER