Vietnam to Move Forward ASEAN+1 FTAs Towards RCEP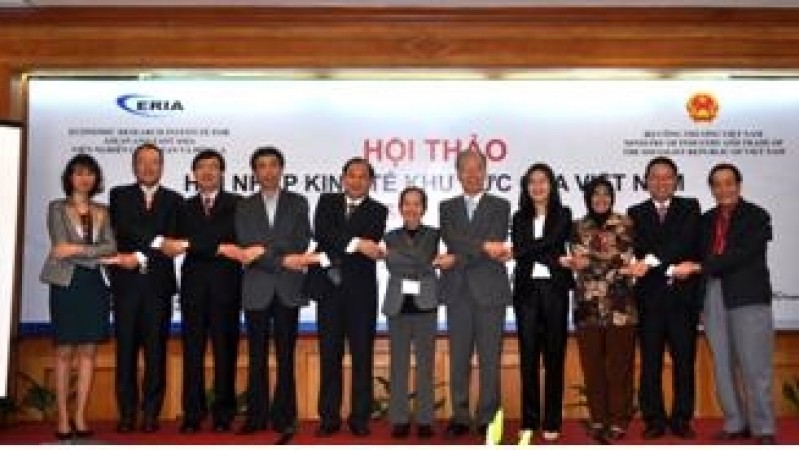 Halong Bay, Vietnam - November 25, 2013: Economic Research Institute for ASEAN and East Asia (ERIA) held the ERIA Capacity Building Seminar 2013 "Upgrading Vietnam's Position in Regional Integration" at Halong Plaza Hotel, Halong Bay, Vietnam on November 25, 2013, together with the Ministry of Industry and Trade (MOIT) of Vietnam, supported by Bangkok Research Center (BRC), JETRO Bangkok.
"Vietnam has achieved strong and sustainable economic development with export-oriented growth strategy and bilateral agreements. It is understandable such regional economic integration has improved export business environment for both SOE and private sector including FDI in Vietnam. In this context, it is crucial for policy makers and business circles to have deeper knowledge about RCEP in terms of its structure and preferential treatment for member countries. I expect today's seminar could become a precious opportunity for the participants to learn about RCEP", Prof. Yasuhiro Yamada, Special Assistant to the Executive Director of ERIA and President, Bangkok Research Center, JETRO Bangkok, stressed the importance of the RCEP with Vietnam and their potential influence to the country in his opening remarks.
H.E. Nguyen Cam Tu, Deputy Minister, Ministry of Industry and Trade of Vietnam welcomed the participants and summarized the globalization process in Vietnam, its achievements, and the importance of the RCEP for the ASEAN Member States (AMSs).
Dr. Lili Yan Ing, Economist of ERIA emphasized that even though the data show that the share of ASEAN to total world trade in goods, services and investment have been relatively small, ASEAN can still be a driving engine in East Asian integration. First, politically ASEAN strategically formed ASEAN+1 FTAs with its main trading partners; second, economically ASEAN consists of growing economies particularly Indonesia, Malaysia, Thailand and Vietnam.
To move forward ASEAN+1 FTAs towards RCEP, Dr. Ing recommends ASEAN could consider (i) Reference: by leveling up openness in trade in goods the existing ASEAN+1 FTA in trade in goods and considering to use ACIA and AFAS-8 as a reference for negotiations, (ii) Consensus: ASEAN should have a consensus on prioritized sectors and level of commitments, (iii) Efficient procedure: RCEP potential members should design efficient procedure to use RCEP so that business could make the best of and enjoy the benefits of it, (iii) Pipeline: RCEP members should set motivated yet feasible level of commitments that are achievable within a certain timeframe.
The Seminar focused on Regional Comprehensive Economic Partnership (RCEP). Around 30 Government officials from Hanoi and 11 representatives from Halong attended the seminar. The seminar is a part of long-standing capacity building program since 2008 initiated by ERIA for the new ASEAN members (Cambodia, Lao PDR, Myanmar and Vietnam) on their efforts to integrate their economies with ASEAN.
The prominent speakers for the seminar were, Prof. Chang Jae Lee, Senior Research Fellow, Korean Institute for International Economic Policy (KIEP), South Korea, Dr. Titik Anas, Economist, Centre for Strategic and International Studies (CSIS, Indonesia, Dr. Lili Yan Ing, Economist, ERIA, Dr. Vo Tri Thanh, Vice President, Central Institute for Economic Management (CIEM), Vietnam, Mrs. Pham Chi Lan, Former Vice President of Vietnam Chamber of Commerce and Industry (VCCI) and Mr. Akinori Okazaki, Vice President, Production Division, DENSO, Thailand.
To download Press Release, please click on the following PDF file:
CHOOSE FILTER