Vietnam Concerns Economic Integration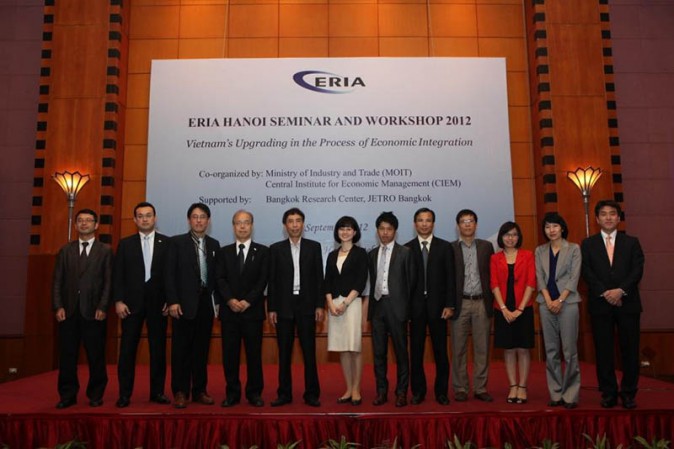 September 20, 2012 - "By the year 2015, ASEAN Economic Community will be established, facilitating the free flow of goods, services, investment and labor in the region.
All of the activities continue to encourage and promote international and regional integration" said Dr. Vo Tri Thanh, President of Central Institute for Economic Management (CIEM) during his speech in one day seminar and workshop in Hanoi, Vietnam.
The seminar and workshop entitled "Vietnam's Upgrading in the Process of Economic Integration" organized by Economic Research Institute for ASEAN and East Asia (ERIA) in cooperation with the Ministry of Industry and Trade of Vietnam and Central Institute for Economic Management (CIEM), supported by Bangkok Research Center (BRC), IDE?JETRO. The seminar focuses on the importance of supply chain and economic integration. It aims to facilitate the businesses, associations, researchers, policy makers and others to access updated information and exchange views related to the Vietnam's integration, especially in the industrial sector.
The event composes a half day morning seminar and afternoon closed working group which is divided into two sessions: 1) Role of industrial clusters and SME Linkages in firms upgrading: international experiences and challenges for Viet Nam, 2) Potential Industry in Vietnam in More Integrated East Asia. In each session, moderators both from Vietnam and other countries provided the challenging issues for the country and introduced the current situation in the region and best practices from other countries. Participants discussed and presented the suggestions to be considered for the topics during the Workshop. Over 70 participants attended the seminar and completed the workshop program.
The morning seminar opened by remarks from Mrs. Pham Quynh Mai, Deputy Director General, Multilateral Trade Policy Department, Ministry of Industry and Trade, in her remarks, she stressed that "the success of international economic integration depends greatly on the competitiveness of business, their ability to utilize the benefits of integration". She also mentioned that integration also presented challenges such as building a suitable economic mechanism, increasing competition between foreign and domestic businesses.
In the context of globalization and integration, Vietnam has the policy of proactive integration by joining into the WTO and other free trade areas such as ASEAN+ FTA with China, Korea, Japan, India, Australia and New Zealand. Vietnam and ASEAN in the process of establishing the ASEAN Economic Community by 2015 with five fundamental components: 1) free flow of goods, 2) free flow of services, 3) free flow of investment, 4) free flow of capital and 5) free flow of skilled labor.
Dr. Thanh viewed that FTAs between ASEAN-China, ASEAN-Japan and others have benefited Vietnam in various ways, including the enhancement of regional connectivity, developing soft and hard infrastructure. The good partnership between Vietnam and Japan also helps to develop Vietnamese industries. Recently, Vietnam has been participating in TPP negotiations and going to start FTA negotiations with the EU, the Customs Union Russia-Kazakhstan-Belarus and South Korea. These FTAs will certainly bring some effects to Vietnam's economy in general and industry in particular. Especially, Vietnamese Government has set the target to basically become the industrialized economy by 2020. Therefore, Vietnam has to take this opportunity to utilize the benefits of FTA to achieve its goal.
The seminar closed by interim closing remarks from Mr. Yasuhiro Yamada, President of BRC-Jetro, Bangkok. He stressed that economic integration was an on-going process, joining supply chain and production network was important to Vietnam as well as the FTA utilization.
CHOOSE FILTER