[TiVA]: How to Make Indonesia Internationally Competitive?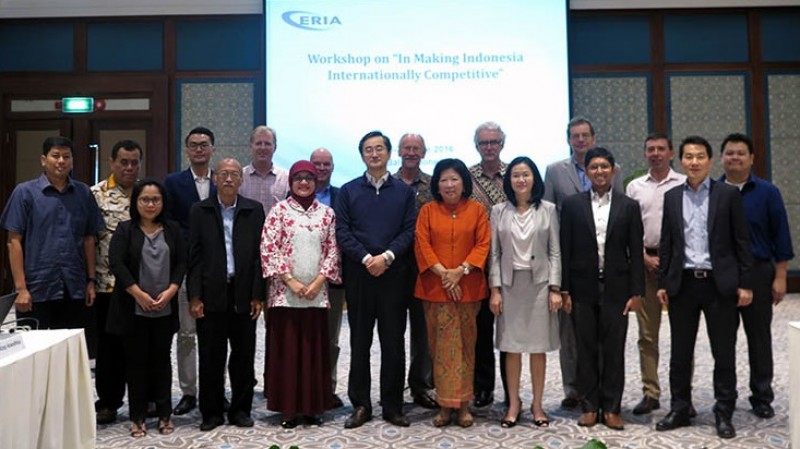 The Economic Research Institute for ASEAN and East Asia (ERIA) held a two-day workshop on trade in value added (TiVA) from 25-26 June 2016 in Bali, Indonesia.
The workshop titled 'In Making Indonesia Internationally Competitive', discussed what can be done by the country to achieve better productivity and to gain higher value added (VA).
ERIA Chief Economist, Prof Fukunari Kimura, who is experienced in ASEAN and East Asian economies, opened the workshop and expressed his gratitude for the opportunity to learn further about Indonesia's economy. As a country with the highest GDP among the ASEAN Member States (AMSs), Indonesia plays an important part for the ASEAN economy as a whole, yet, the country is still facing many challenges in achieving its full potential.
Prof Pangestu said in her remarks that this area of study is very important and timely since Indonesia's economy is in need of good policy recommendations. She hoped to see more openness in the country, especially regarding free movement of people, services and data. In her opinion, results from the workshop and related research were an important way to ensure the development of strong policies.
During the two-day workshop, prominent economists and academes from a wide range of expertise were given the opportunity to present their papers and share their thoughts on how to improve Indonesia's productivity and increase the country's VA.
The first and second sessions discussed the role of small and medium enterprises (SMEs), local content requirement policy, foreign direct investment (FDI) in manufacturing and the case of China and Indonesia's trade. The third and fourth sessions focussed on Indonesia's service and labor market, industrial and trade policy as well as how Indonesia could learn from China's development.
At the end of the workshop, Prof Pangestu delivered her thoughts on each paper and stated 'We need to work to bring these papers together, and comprehensively connect them to achieve great recommendations for Indonesia's policy.' In addition she shared her thoughts generally: more work needs to be done on issues related to Indonesia's involvement in Global Value Chains (GVC). We also could benefit from a review of Indonesia compared to other countries in ASEAN. More importantly, researchers also need to think about how to create better policy recommendations that are more likely to inspire politicians to implement them.
The workshop was attended by 16 economists and academes from across Europe and Asia, such as Prof Fredrik Sjoholm (Lund University), Prof Hal Hill (Australia National University), Prof Christopher Findlay (University of Adelaide), Prof Gunther G. Schulze (Universitat Freiburg), and prominent researchers from Indonesia. Dr Lili Yan Ing, ERIA Economist on Trade is the Project Leader. The study will be published in ERIA's forthcoming report on TiVA in Indonesia, which is expected to be completed in the first quarter of 2017.
CHOOSE FILTER