The Strategic Usage of Coal: Cleaner use of coal in the ASEAN & EAS region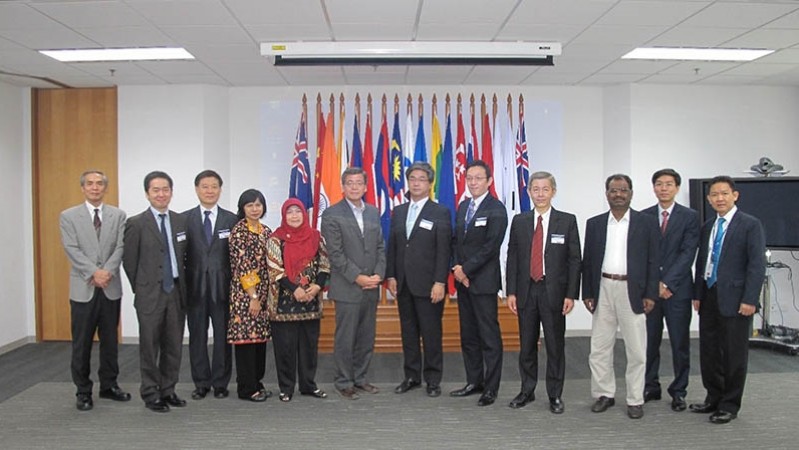 First EAS Working Group Meeting on March 6. 2014 at ERIA Annex Office, Jakarta, Indonesia
In his opening remarks during the 1st working group meeting on the strategic usage of coal in EAS held on March 6 at the ERIA Annex Office, Mr. Shimpei Yamamoto, managing director of research affairs at the Economic Research Institute for ASEAN and East Asia (ERIA), stressed the importance of cleaner use of coal in the region and said that this study by the working group is one of the most important research tasked by the EAS Energy Ministers Meeting in 2011. Mr. Shigeru Kimura, Special Advisor to the Executive Director of ERIA on energy affairs, for his part, highlighted the outlook in the EAS region with regard to the increasing demand for coal. Mr. Shigeru Kimura said that coal will still constitute the largest share of primary demand albeit the projected decline in its share in total primary energy consumption from 54.1 percent in 2010 to 48.3 percent in 2035. The share of coal-fired generation, meanwhile, is projected to continue to be the largest and will remain above 55 percent of the total until 2035.
Member countries in the working group also made presentations on their respective country's status of energy consumption and coal usage in power generation as well as on some policies aimed towards the use of clean coal technologies in the near future.
The meeting concluded with the consensus that it is important to adopt a strategic usage of coal as it contributes to economic growth and to the provision of energy security in the medium to the long term. The choice of coal-fired generating technology to be used also has significant implications for investments, efficiency, fuel inputs and costs. To help make these clean coal technologies such as the Ultra Super Critical (USC) technology more accessible and affordable to ASEAN countries, lowering the upfront cost investment through appropriate financial and support framework will be needed. Japan's Bilateral Off-set Credit Mechanism (BOCM) which reduces the upfront cost of these clean and high technologies is one of the financial options that may be considered and promoted to ASEAN countries.
The findings of the study will be presented during the forthcoming EAS Energy Ministers Meeting.
CHOOSE FILTER