The 7th Annual Conference of Empirical Investigations in Trade and Investment (EITI)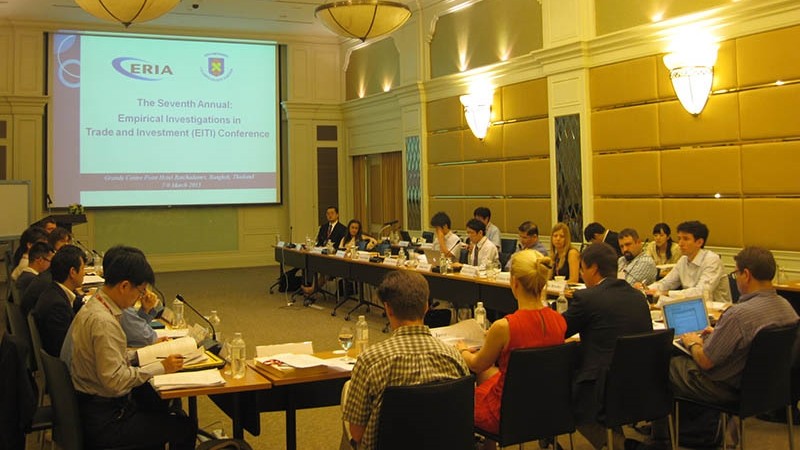 The 7th Annual Empirical Investigations in Trade and Investment (EITI) Conference was organized by the Economic Research Institute for ASEAN and East Asia (ERIA) and Keio University, on Mar 7 - 9, in Bangkok, Thailand. Fifteen papers from economists specializing in empirical studies on issues relating to international trade and investment from North America, Europe, and Asia presented their latest research in this meeting.
The conference was divided into five sessions, based on topics. In session one, Chaired by Dr. Jon Haveman, the Executive Director of FREIT. This session presents three papers which investigates the effect of trade policy, the effect of WTO accession, antidumping and trade liberalization, respectively, where all of them apply novel research topic, methodology and data. Second session was chaired by Professor Fukunari Kimura, Chief Economist of ERIA. In this session, three papers on firm heterogeneity and trade related on the cause and consequence of globalization of the firms focusing on different aspect of the firm behavior had been presented.
Dr. Tibor Besedes, from Georgia Institute of Technology chaired the third session. There were three papers presented, related on the impact of globalization of firms on economy which examined novel aspects of trade that are not focused before and shed light on the unknown aspects of firm activity. The next session, chaired by Dr. Lindsay Oldenski, from Georgetown University. This session mainly focused on firms and exporting behavior. Each of the three papers examines different issues: the quality of exported products, the relationship between input cost and export intensity, and the role of markups and product quality. Using theory and data, they showed new aspect of exporting behavior.
The final session focused on labour market and trade. It was chaired by Dr. Volodymyr Lugovskyy, from Indiana University. The papers using rich data sets on trade and labour market and showed new facts on the effect of trade on labour market, and vice versa. During the conference, the speakers had wonderful presentation and fruitful comments by the discussants and the floor, which stimulated further research and encouraged the further improvement of the paper.
CHOOSE FILTER