The 2nd Working Group Meeting for EIPI Project 2014-2015 Held in Da Nang, Viet Nam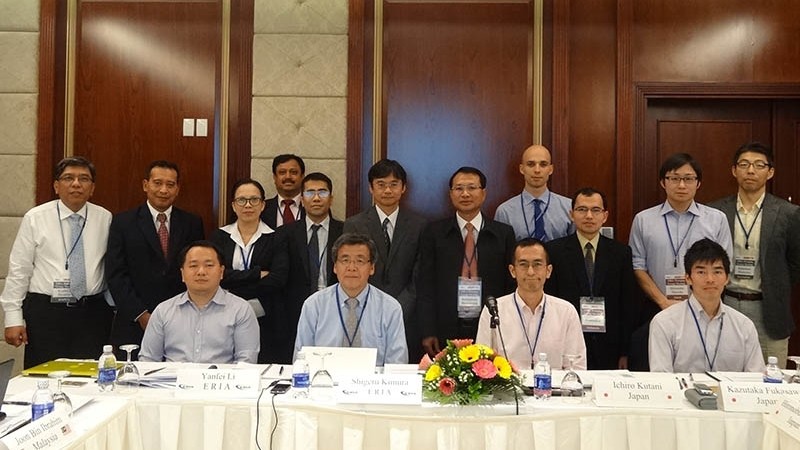 The second ERIA working group meeting for the Study on Effective Investment of Power Infrastructure in East Asia through Power Grid Interconnection was held in Da Nang, Viet Nam, on 13 February 2015.
Working group members from several ASEAN countries, including Directorate General of Electricity of MEMR (Indonesia), TNB (Malaysia), and ESI of NUS (Singapore), introduced their respective countries' strategies and policies for power grid interconnection. Participants from EDL (Lao PDR), MOIT (Viet Nam), EGAT (Thailand), MPNG (India), and HAPUA provided comments.
While Indonesia and Malaysia have a more vertically integrated and regulated power sector, Singapore's liberalized wholesale markets, featured by unbundled power infrastructure, vesting contracts, and contestable consumers, presents a unique challenge to multilateral cross-border power trade.
A researcher from Tokyo Electric Power Company spoke on the progress on the cost estimation of transmission lines on selected power grid interconnection projects, specifically the Thailand-Lao PDR connection, the Viet Nam-Lao PDR connection, and the Lao PDR-Thailand-Malaysia-Singapore (LTMS) connection. Working group members discussed ways to make use of infrastructure in Lao PDR, Thailand, and Malaysia to enable the interconnection.
The IEEJ research team discussed the barriers and challenges to the establishment of regional power grid interconnection. Three issues were discussed, including (1) regional coordination of infrastructure development plans and rules for data and information communication; (2) wheeling charge for multi-lateral cross-border power trade with proper unbundling and coordinated review criteria in each participating country; (3) harmonization of technical standards including operation standards and connection standards.
The preliminary key policy implications and recommendations for effective investment and development in power grid interconnection in the EAS region were drawn. The European, Nordic, and Indian models for references in developing regional multilateral power trade framework were discussed. It was noted that LTMS is looking for an appropriate model to follow, but LTMS could be a first step to development of full-scale APG interconnection.
CHOOSE FILTER