Supporting Cambodian Policy Makers to Develop ASEAN Schedule of Non-Conforming Measures under ATISA: Financial Services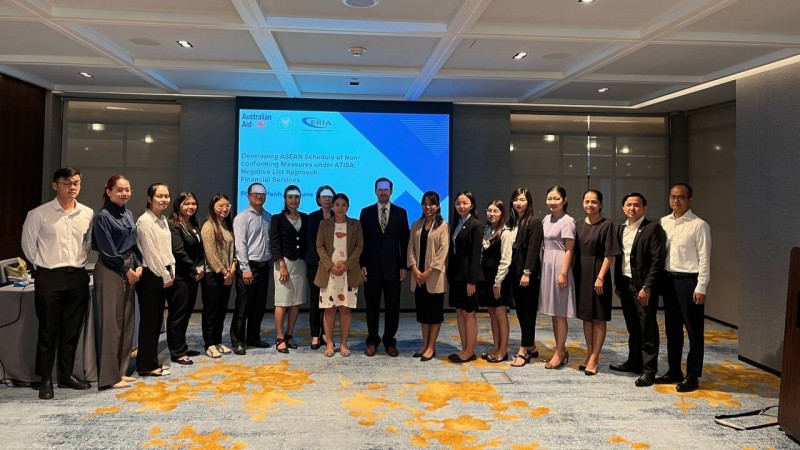 Phnom Penh, 8-9 June 2023: The ASEAN Trade in Services Agreement (ATISA) recognizes that intra-ASEAN economic cooperation will secure a liberal trading framework and enhance trade in services among the ASEAN Member States (AMS). ATISA is based on a negative list approach to permissible services, identifying only limitations to openness. Currently, the positive list approach only creates access to permitted services. Financial service is one of the sectors included in the provision and covers services such as banking, insurance, securities trading, asset management. Recognizing the importance of this momentous change from a positive to negative list approach, ERIA, in partnership with the Ministry of Economy and Finance (MEF), held a two-day workshop in Phnom Penh from 8-9 June on, 'Developing the ASEAN Schedule of Non-conforming Measures under ATISA; Negative List Approach, Financial Services.
Fourteen officials from the Securities and Exchange Regulator (SERC), the National Bank of Cambodia (NBC), the Insurance Regulator of Cambodia (IRC) and colleagues from the General Department of Policy at MEF participated in this workshop. The workshop focused on the cross-border supply of financial services sectors and was followed by group discussions focusing on the banking, insurance and capital market sectors.
Ms Molisanin Hang, Deputy Director of the Economic Integration and ASEAN Department of MEF, in her welcoming remark, noted that the workshop was being held at an opportune time as Cambodia's draft lists for the financial services sectors for Cambodia need to be submitted by 2025. She also highlighted the importance of this workshop as an effective platform for participants to learn to develop non-conforming measures (NCMs) for the financial services sectors in the context of the national interest. Mr Andreas Zurbrugg, Deputy Head of Mission, Australian Embassy in Cambodia, highlighted that the negative list approach, particularly for the financial services sector, is pivotal for fostering stable and secure investment and economic development. Mr Jeremy Gross, ERIA's Director of Capacity Building, in a recorded greeting, added that the negative list approach will enable AMS to have a common regulatory framework while still bolstering the greater market access in ASEAN Trade in services.
Ms Yap Lai Peng, a seasoned expert of ERIA who formerly worked at the Ministry of Investment, Trade and Industry (MITI), Malaysia, as well as the ASEAN Secretariat, led the workshop. Ms Lina Maulidina Sabrina, Senior Programme Officer at ERIA moderated the workshop. ERIA's Capacity Building Programme is supported by the Australian Government.
Related Articles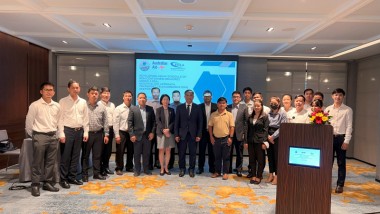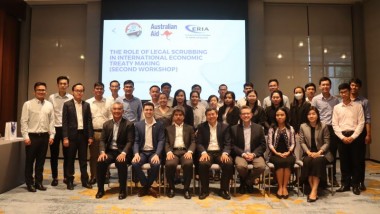 CHOOSE FILTER