Strengthening the ASEAN Socio-Cultural Community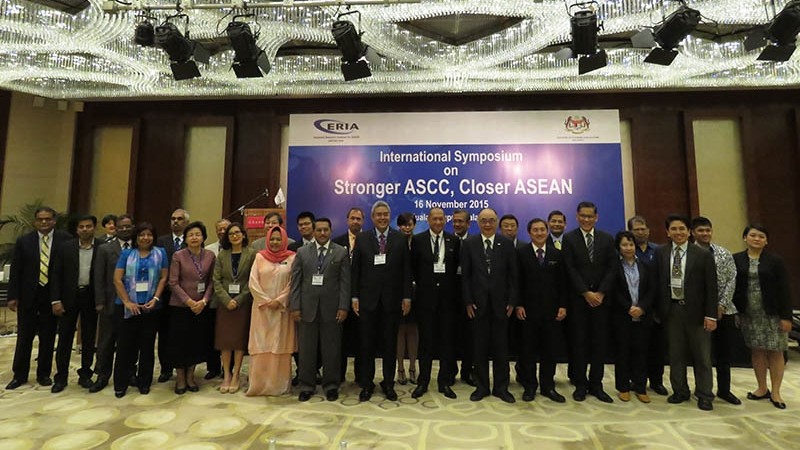 Effective closer economic integration among the 10 member states of the Association of Southeast Asian Nations (ASEAN) from 2016 will rest on stronger socio-cultural understanding, a symposium emphasised in Kuala Lumpur, Malaysia.
Mohamed Nazri Abdul Aziz, Malaysia's Minister of Tourism and Culture, in his keynote speech to the International Symposium on Stronger ASEAN Socio-Cultural Community (ASCC) in Kuala Lumpur on 16 November, said: 'Our ASEAN identity is the heart and soul, and the source of pride and inspiration that binds us together.'
Former Thai Prime Minister Abhisit Vejjajiva, in a special address to the symposium, said that ASCC should be the 'heart of (ASEAN) community' because it was 'about bringing people together; it is about instilling that sense among people that we have a shared destiny, that our destiny is bound together and that we must move ahead to ensure peace in the region and prosperity and a good life for the AEAN peoples.'
But Abhisit said that while many are excited about the prospects of the ASEAN Economic Community, there is little talk and awareness about the ASCC, which is about instilling a true sense of community.
The symposium, sponsored by the Economic Research Institute for ASEAN and East Asia (ERIA) and the Government of Malaysia, was held ahead of the ASEAN Summit in Kuala Lumpur.
ASEAN groups Brunei Darussalam, Cambodia, Indonesia, Lao PDR, Malaysia, Myanmar, Singapore, Thailand, the Philippines, and Viet Nam.
The symposium covered such issues as enhancing ASEAN identity amidst cultural diversity; enhancing resiliency, sustainability and green growth in ASEAN; human resources, industrial relations, and competitiveness; inclusive growth and social protection; and, strengthening people's engagement with ASEAN.
Some 150 representatives from government, academia, and the private sector took part in the conference, which launched the ERIA's 'Framing the ASEAN Socio-Cultural Community Post-2015' report.
The report is the collaborative work of some 30 experts brought together by ERIA in economics, education, healthcare, social welfare, climate change, sustainable and affordable energy, urban development and the potential contribution of culture, creativity and innovation, exploring the challenges facing the region in coming years as it becomes an integrated economic trade bloc.
ERIA President Hidetoshi Nishimura told the symposium of 'the drive towards a greater sense of ASEAN identity and to deeper regional cooperation on a wide range of areas like education, disaster management, culture and innovation'.
Prof Nishimura said the key messages of the report were the need to 'deepen the sense of ASEAN commonality and connectedness and belongingness and thereby enhance ASEAN identity; invest more in education and workers' training, health, and social protection to ensure inclusive and robust economic growth; invest in sustainable development and disaster risk reduction for more liveable cities, robust biodiversity, and green growth as well as for greater resiliency and food security in the region; and deepen people's engagement with, and sense of ownership of, ASEAN and its initiatives."
'One of the important missions of the ASCC is to help realise an ASEAN Community that is people-centred and collectively responsible to forge a common identity for the ASEAN,' Nishimura said in his closing remarks to the symposium.
The ASEAN Deputy Secretary General for ASCC, Vongthep Arthakaivalvatee, said that 'the post-2015 ASCC will require solid commitment of ASEAN member states and the sustained support of its dialogue and development partners as well as other relevant stakeholders'.
Vongthep said that 'in order for ASCC to become stronger and closer, we must muster our resolve to invest in it'.
'Investments must be made in areas that are critical to pursuing inclusive and sustainable development such as human capital development through education, health, and human resource development, youth leadership and engagement, women empowerment, and good governance among others', Vongthep said, adding that 'investing in the future of our human capital will help sustain the engine that powers the future of our community building'.
ERIA senior economist Ponciano Intal, Jr. said it was hoped the proposed framework and specific policy recommendations, as well as key success factors outlined in the report, will establish a blueprint for 2016–2025 for the ASEAN Community.
'ASEAN member states have experienced marked socio-economic progress during the past two-and-half decades,' Intal said in the report he lead authored. 'Extreme poverty has dramatically declined in a number of member states. Correspondingly, the size of the middle class has expanded remarkably.'
But dire poverty and health issues, such as malaria and tuberculosis, remain major issues, as do education and infant mortality, hunger, vulnerability of the poor to natural disasters, and pollution, the report says.
In its conclusions, the report says: 'An inclusive, sustainable, and dynamic community that engages and benefits the people is what ASEAN aspires to in the post-2015 period.'
'A pooling mechanism combined with effective targeting and food management of resources is needed,' it said.
'The community, civil society organisations, the private sector, and youth organizations are amongst the many stakeholders with which ASEAN needs to cooperate,' the report said.
CHOOSE FILTER