Startup20X Explores Innovation, Collaboration for a Sustainable Food System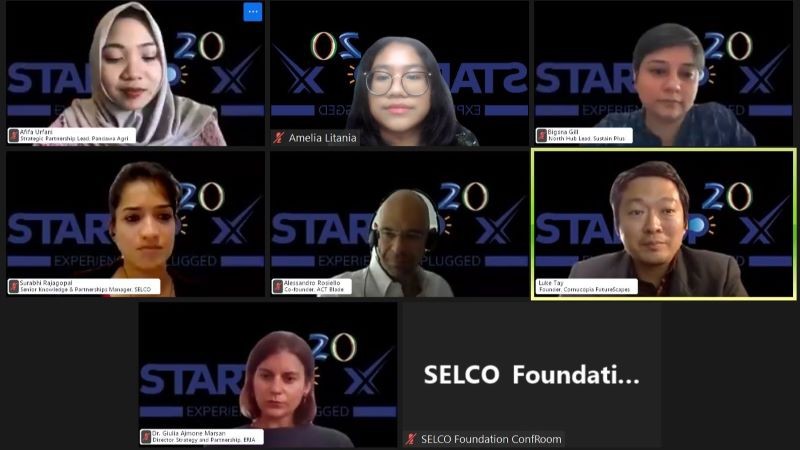 New Delhi/Jakarta, 19 May 2023: The transition to a sustainable food system is a core challenge faced by many countries. They are increasingly recognising the role of innovation and digital technologies to reduce carbon dioxide emissions, change the way food is consumed, reduce waste, and regenerate agriculture. Whilst governments and the private sector incorporate those practices into their strategies, startups and entrepreneurs driving changes in the sustainability ecosystem still face challenges in addressing food and sustainability.
On 19 May 2023, the Economic Research Institute for ASEAN and East Asia (ERIA) and SELCO Foundation co-organised Startup20X under the Sustainability and Inclusion Task Force. Startup20 is a Group of Twenty (G20) Engagement Group established by the G20 India Presidency in 2023 to foster innovation and startup creation globally. It is a forum for dialogue for global startup and innovation ecosystem stakeholders and intends to bring the voices, ideas, and contributions of the startup community to G20 leaders.
Dr Giulia Ajmone Marsan, Director of Strategy and Partnership of ERIA and Co-Chair of the Startup20 Inclusion Task Force, conveyed the importance of balancing economic growth and sustainability. She underlined how innovation would help create and push sustainable growth, which must be accompanied by efforts to make it inclusive and accessible. She mentioned the increasing awareness amongst Gen Z and Millennials of green and sustainable products.
Ms Huda Jeffer, Director of SELCO Foundation and Co-Chair of the Startup20 Sustainability Task Force, underlined the importance of global discussion and concerted actions towards a sustainable food system. She mentioned the important role of platforms such as Startup20 in connecting global solutions and efforts amongst G20 members and beyond. She said that countries will need to collaborate and coordinate to push more efforts in sustainability.
Four speakers from G20 and invitee countries shared their thoughts and experiences on how their work is driving sustainable food systems. Mr Luke Tay, Founder of Cornucopia FutureScapes (Singapore), shared his perspective on the outlook and strategic opportunities for sustainable foods amidst the geopolitics and economic uncertainties. He mentioned some of the challenges faced by ecosystem actors, including greenwashing and intolerance of the green movement. Whilst technology and innovation are at the forefront of sustainability, he noted the importance of raising awareness and pushing for policy actions to solve climate crisis and food security issues.
Ms Afifa Urfani, Partnership Lead at Pandawa Agri (Indonesia), recounted the story of Pandawa Agri, Indonesia's first life science–based company that innovates pesticide reductants, helping transform agriculture practices to become more sustainable and environmentally friendly. Yet, Ms Urfani acknowledged some of the challenges and opportunities, including disseminating information, assisting smallholder farmers in using new innovations, and sparking the younger generation's interest in sustainable agriculture.
Ms Bigsna Gill, North Hub Lead, SustainPlus (India), talked about her work in the advisory and consultancy organisation, which provides professional services to multi-stakeholders in sustainable development initiatives. She underlined the importance of working with small and marginal farmers, farmer producer companies, and technology innovators to support sustainable agriculture practices. With the right partnership, she said, innovations to help small and marginal farmers can be made more accessible and affordable.
Mr Alessandro Rosiello, Co-founder of ACT Blade (EU), shared his experience in building the clean-tech startup, which focuses on innovation in wind turbine blades that can support energy savings. He mentioned the importance of using the energy sector to support other sectors such as agriculture, as food, energy, and sustainable agriculture always intersect. He mentioned some opportunities offered by government initiatives such as the European Green Deal at the European Union level and other programmes supporting startups to scale up their impact for the green transformation.
The session was moderated by Ms Surabhi Rajagopal, Senior Knowledge and Partnership Manager, SELCO Foundation. During the Q&A session, the speakers and the moderator discussed how the young generation could work together in agri-preneurship and how an entrepreneurial mindset should be harnessed. The session touched on the role of consumers in promoting sustainable food systems and ways to empower customers to make more sustainable choices.
Related Articles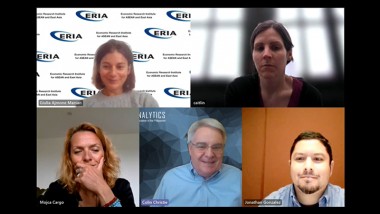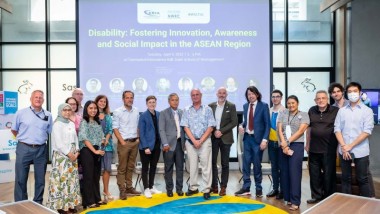 CHOOSE FILTER