Seeking harmony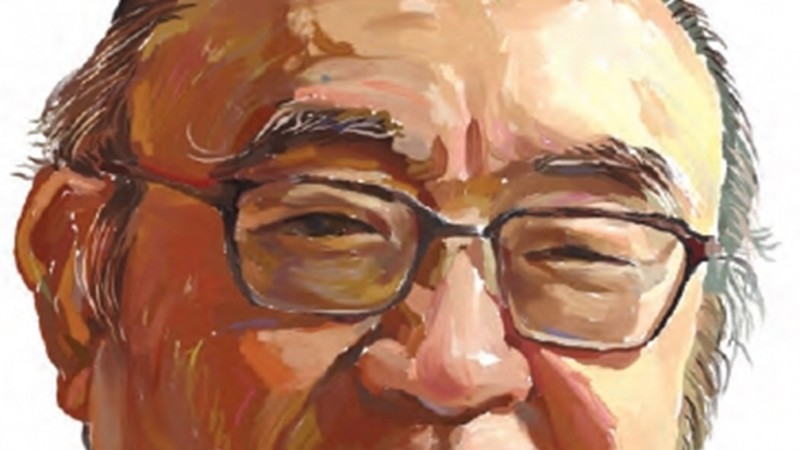 By Karl Wilson, Chief Correspondent - Australia & South East Asia
Grounding in Japanese music and arts taught the head of think tank important lessons in how to tackle life's challenges
Professor Hidetoshi Nishimura's passion for classical Japanese music, poetry and ancient ceramics has taught him one important lesson -that all things can be measured by a common standard.
Now well into his second five-year term as head of the Economic Research Institute for ASEAN and East Asia (ERIA), he firmly believes "all of this learning" has impacted the way he understands the influential think tank.
ASEAN, the Association of Southeast Asian Nations, is a regional bloc comprising 10 member countries. It is Asia's third biggest economy and the seventh largest in the world.
Since ERIA's inception in 2007, the Jakarta-based organization has grown into one of the world's major research institutes, with much of that down to Nishimura. He said the organization is well placed to react much quicker than "bigger international research institutes".
"ERIA's research is based upon rigorous fact-based analysis and structural wisdom," he told China Daily Asia Weekly.
"From this theoretical wisdom, ERIA can make practical policy recommendations. This is the key element that explains why ERIA has caught up so quickly with larger and more established research organizations."
ERIA's primary objective is to disseminate policy research under three pillars -deepening economic integration, narrowing development gaps, and achieving sustainable development- and provide policy recommendations to leaders and ministers.
It is a job the law graduate from the University of Tokyo relishes, having previously worked in senior positions with the Japanese Ministry of International Trade and Industry.
A Master of Arts from Yale University in the United States in 1982 paved the way for Nishimura to work on European issues and trade matters for the Japanese government.
"Ten years later I was sent to work in Bangkok," he said. "That was the time ASEAN grew to 10 nations. I became fascinated with ASEAN and its ambitions. I fell in love with the region, its people and the various cultures.
"That's when I decided to become an ASEAN expert." When ERIA was established, he jumped at the chance to join the organization.
Nishimura's life, however, could have taken a much different path. His parents believed it was important for him to learn the discipline of classical Japanese music.
At the age of 3, he started to learn traditional Japanese songs in the Kouta style -a form of traditional playing that is fast disappearing in modern Japan.
"Each song took a month to learn and every song I learned was in a different style ... a sort of trained improvisation," he said.
One of his teachers taught him that gaining "true knowledge" was not just about transferring techniques, but more importantly "understanding the significance of the challenges in life".
At the same time he was introduced to traditional Japanese haiku poetry and the works of Buddhist monk Santoka Taneda.
At the University of Tokyo, where he studied law, Nishimura was introduced to the works of haiku poet Matsuo Basho. The revered poet's philosophy was: If you see something, describe it instantly, especially the feeling.
In his free time, Nishimura writes his own haiku poems. His combined studies of the Japanese arts have given him a discipline he applies to his work at ERIA today.
"From the beginning, ERIA was expected to support the ASEAN building efforts by providing high-quality research to facilitate trade, investment and economic growth," he said.
"ERIA is the only organization that was founded by East Asia Summit leaders in order to support ASEAN and East Asia integration by providing high-quality economic research that can serve as the basis for sound policymaking."
With some pride, Nishimura said that ERIA is now ranked number 31 among the world's top economic think tanks, citing an international survey by the University of Pennsylvania.
"Like the Asian Development Bank and the World Bank, our research is key to the realization of key ASEAN measures and policies," he said.
Over the next five years, ERIA will strengthen its role as an important institution for the implementation of the ASEAN Economic Community (AEC). This aims to transform Southeast Asia into a single market and production base.
Nishimura said to meet the growing demands placed on ERIA, the organization plans to strengthen its academic research, capacity-building programs and advocacy and communications activities.
"ERIA will set up formal bridging mechanisms, such as policy workshops to enhance interaction between policymakers in the region, while at the same time enhancing its own organizational capacity," he said.
These moves aim to offer "concrete policy options" to address structural issues for regional growth, he added.
He sees ERIA's Comprehensive Asia Development Plan 2.0 (CADP 2.0) and China's Belt and Road Initiative working hand in hand in terms of greater regional "connectivity and cooperation" and for peaceful coexistence and prosperity.
While CADP 2.0 highlights the economic benefits of investing in infrastructure projects for connectivity and innovation, the Belt and Road aims to build a network connecting Asia with Europe and Africa along the ancient Silk Road routes.
"China is very aware that a large part of its success can be attributed to its work on connectivity between its regions," he said. "China is now very interested in expanding connectivity beyond its borders. Connectivity and peaceful cooperation can lead to prosperity for the whole region."
Last year the East Asia Summit commended the progress made on CADP 2.0, noting that ASEAN connectivity is a priority area.
Since 2002, relations have strengthened between China and ASEAN. The relationship has improved to the point where China is now ASEAN's biggest trading partner.
China is now expanding its production network to the regional bloc, and it is encouraging a quick ratification of the Regional Comprehensive Economic Partnership (RCEP).
The RCEP is a proposed free trade agreement between ASEAN member countries and the six countries with which ASEAN has existing FTAs (Australia, China, India, Japan, South Korea and New Zealand).
The partnership is viewed as an alternative to the Trans-Pacific Partnership trade agreement, which includes the United States but excludes India and China.
Nishimura said the RCEP is very important for ASEAN. He said its conclusion will "strengthen ASEAN's position as an open and inclusive economic region" and "retain ASEAN centrality in global and regional engagements".
He added that the relationship between China, South Korea and Japan in terms of trade and investment is very strong.
"The economic reality is already deeply integrated," he said. "They have strong trade relationships and large accumulation of investment.
"Their comparative advantage is changing, so their investment and trade relationships will change. If political situations improve, then the FTAs will be promoted."
China, South Korea and Japan are the global leaders in the East Asia region with established production networks, he said, adding that "they are also responsible for leading the regional FTAs with a stronger economic relationship with ASEAN".
Nishimura hopes to build on ERIA's success in spreading the message globally about the economic and trade benefits of ASEAN and the AEC. He added that the message is one thing, but implementing good policy is crucial.
"I strongly believe that in order to materialize good policy, the most important thing is changing mindsets.
"Mindsets can be changed through high-quality research that makes people realize the need for reform and policy development. This realization comes from the bottom of people's hearts when they understand the facts."
Bio
Hidetoshi Nishimura
President, Economic Research Institute for ASEAN and East Asia (ERIA)
Career milestones:
2015-present: President, ERIA
2008-2015: Executive director, ERIA
2007-2008: Special assistant to the chairman on ERIA matters, Japan External Trade Organization
2006-2007: Executive managing director, Japan China Business Alliance for Energy Saving and Environmental Protection
2003-2007: President, Japan-China Northeast Development Association
Education:
1982: Master of Arts, Yale University
1976: Bachelor, department of law, University of Tokyo
Quick takes:
What is your philosophy of life?
My philosophy is simple: Giri: commitment. Ninjyo: humility. Konjo: Courage. Simple but not easy to achieve. These three concepts guide my decisions and I constantly strive to live up to them.
What inspired you to pursue a career in research?
I strongly believe that if you want good policy, you have to change mindsets, and you can do that through high-quality research that makes people realize the need for reform and policy development.
What are your hobbies?
I am a poet. I have a passion for haiku (Japanese short-form poetry) and spend much of my free time writing it as well as promoting it as an international art form.
I also collect and repair antiques. I have a collection of Chinese and East Asian ceramics -- many have been found in the sea or underground in Southeast Asia.
Date of birth: April 16, 1952
Republished from The China Daily Asia Weekly. The original text was published on 21 October 2016 and can be found here.
Photo credit: Ma Xuejing / China Daily
CHOOSE FILTER