Second Meeting of the STOM Experts Group on the ASTP 2011-2015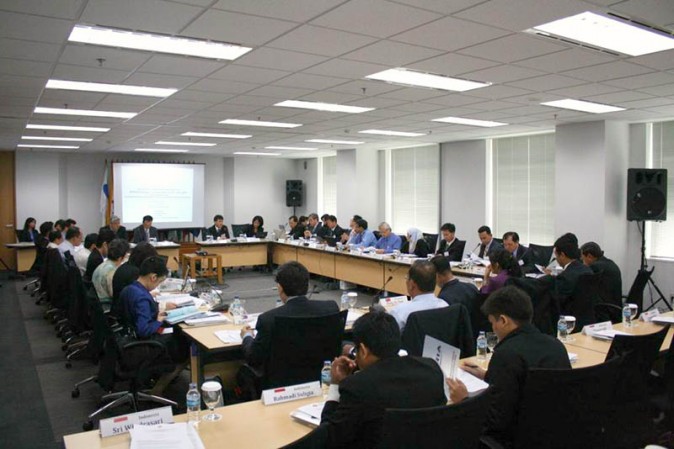 The Second Senior Transport Officials Meeting (STOM) Experts Group Meeting to develop the ASEAN Strategic Transport Plan (ASTP) 2011-2015 was held from 19-20 August 2010 at the ERIA Annex Office in Jakarta, Indonesia.
The Meeting was attended by delegates from all ASEAN Member States. Representatives from the Economic Research Institute for East Asia and ASEAN (ERIA), the consulting team from Nippon Koei and the academic consultants, and staff members of the ASEAN Secretariat, were in attendance.
The Meeting was chaired by Mr. Tran Dong Phuong, Head of the Infrastructure Division, ASEAN Secretariat. In his introductory remarks, the Chair highlighted the task of the STOM Experts Group in completing the draft final Report of the ASTP or the "Brunei Action Plan" for submission to the 29th STOM/16th ASEAN Transport Ministers Meeting (ATM) in November 2010.
Mr. Shinya Kawamura, Deputy General Manager of ERIA welcomed the delegates to ERIA and acknowledged the importance of the activity at hand, stressing that this is the last opportunity for all Member States to gather and expressing ERIA's gratitude to all Member States for the cooperation and support extended to the ERIA Study Team throughout the preparation of the study.
The ERIA Study Team Coordinator, Mr. So Umezaki, presented an overview on the progress of the ASTP development after the Mid Term Report, the outline of the Draft Final Report and the remaining milestones in the schedule to finalise the ASTP.
The Meeting noted that the report will be finalised by 30 September 2010 for circulation to all AMS and for submission to the STOM and ATM Meeting on 8-12 November 2010. Goals and actions of action plans in 4 area (Land Transport, Maritime Transport, Air Transport and Transport facilitation) were also discussed during the meeting.
CHOOSE FILTER