Riding on the E-commerce Bandwagon: 2nd ERIA MSME Series Talk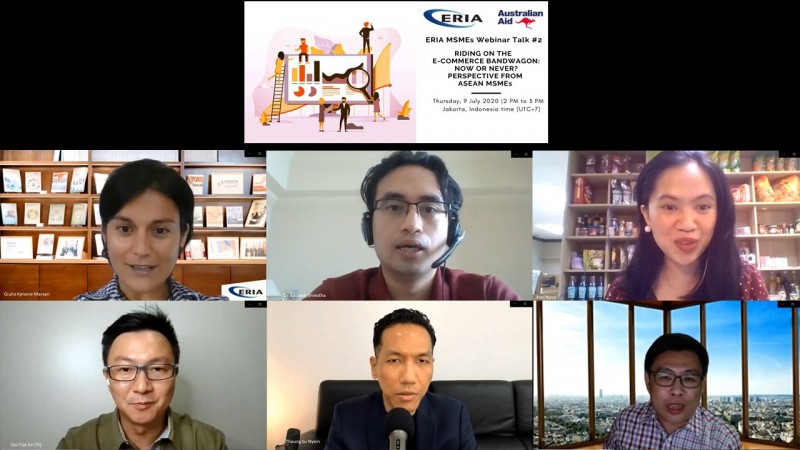 Jakarta, 9 July 2020: The ERIA MSMEs Webinar Talk #2 'Riding on The E-Commerce Bandwagon: Now or Never? – Perspectives from ASEAN MSMEs', was held on 09 July 2020. This series of webinars is organised under ERIA's Strategy and Partnership Programme, funded by Australia. With more than 140 participants from the Asia-Pacific region, this dialogue addressed the issues of the acceleration of e-commerce activities during the COVID-19 pandemic, its impact, and future trends for ASEAN MSMEs.
The four speakers for the webinar were:
Ms Anna Melissa Nava, Founder, 1Export (Philippines)
Mr John Amos Tan, Founder and Principal Trainer, Cutting Edge Learning Hub (Singapore)
Mr Thaung Su Nyein, Founder and CEO, Information Matrix (Myanmar)
Dr Rashesh Shrestha, Economist, ERIA
The main messages that emerged from the discussion included:
The adoption of E-commerce is an opportunity for ASEAN MSMEs to attract more global customers and to increase profitability. However, the borderless world of e-commerce platforms also means greater competition, therefore MSMEs need to find their niche to be successful.
The importance of strategy development combined with new skill-sets for MSMEs to thrive and remain competitive
The importance of effective digital data analysis to anticipate future trends and attract new customers, especially in a region where granular data is particularly difficult to obtain in some countries.
The importance of local government support (tax, public-private partnership schemes, competition policy, loans, etc) to promote e-commerce and digitalisation.
The webinar was hosted and moderated by Dr Giulia Ajmone Marsan, ERIA's Director of the Strategy and Partnership Programme. She opened the session by sharing some key points from ERIA's research:
ASEAN is one of the fastest-growing digital economies in the world
Indonesia's e-commerce market has grown at a rate of over 30% per year
The e-commerce market is projected to experience double-digit growth in Singapore, Thailand, and Malaysia
Digital consumers in ASEAN had grown significantly from 90 million in 2015 to 250 million in 2018, according to a recent analysis by Facebook and Bain.
Mel Nava, Founder of 1Export based in the Philippines, pointed out that e-commerce had been a game-changer for her business in connecting local goods from the Philippines with several customers in other regions for export. Despite the Covid-19 pandemic, her sales increased by 400%. She highlighted the importance of embracing e-commerce for MSMEs as part of their business strategy.
Mr John Amos Tan, Founder and Principal Trainer of Cutting Edge Learning Hub in Singapore, shared his observations on the increase in e-commerce adoption as a result of the pandemic. However, he also noted that consumers had become more demanding, and pressures on pricing had also increased during this period. This led to his conclusion that with e-commerce adoption, for MSMEs to gain a competitive edge they should also focus on improving overall customer experiences.
Mr Thaung Su Nyein, Founder and CEO of Information Matrix in Myanmar, explained how MSMEs who shift towards digitalisation will experience a long-term positive impact on their businesses. He added that infrastructure development in the region would be a key factor affecting e-commerce adoption. The availability of digital data and good analytical tools offers a tremendous opportunity for ASEAN MSMEs to become more innovative and productive, especially in those countries where data have traditionally been difficult to obtain.
Dr Rashesh Shrestha, Economist from ERIA, echoed earlier views on the undeniable growth of e-commerce in the region, as well as the increased competitiveness that came with it. Consequently, MSMEs who can lower the cost of production are better positioned for success on e-commerce platforms. He further highlighted the importance of skills development needed for MSMEs to succeed: technical skills, interpersonal skills, and problem-solving skills.
Mr TJ Ooi, Founder and Principal Consultant at Curated Connectors moderated the lively discussion during the Q&A session from the participants. Discussions revolved around: (1) E-marketing strategies for MSMEs to thrive and succeed; (ii) Infrastructure development to support the growth of e-Commerce in the future; (iii) Taxation in e-Commerce; and (iv) Facilitation of cross-border trade.
Related Publications
Developing Asia in the Era of Cross-border E-commerce
Improving Digital Connectivity For E-commerce: A Policy Framework and Empirical Note for ASEAN
Study on MSMEs Participation in the Digital Economy in ASEAN: Nurturing ASEAN MSMEs to Embrace Digital Adoption
Related Articles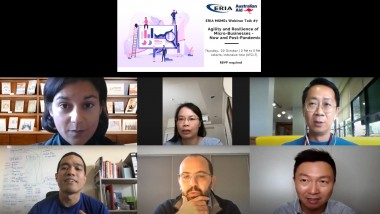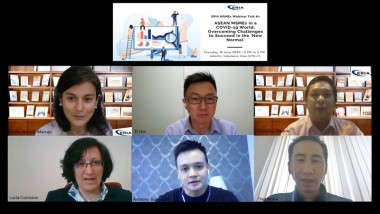 CHOOSE FILTER