Research Institute Network Meeting Highlights and Outlook for 2016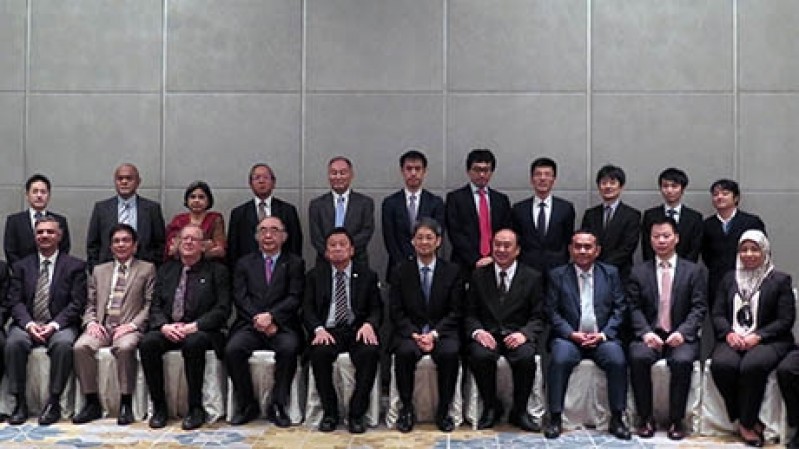 The second Research Institute Network (RIN) Meeting for FY2015 was held in Kuala Lumpur, Malaysia, on 31 January 2016, under the chairmanship of Dr. Hank Lim Giok-Hay from the Singapore Institute of International Affairs.
Session 1 was moderated by Mr. Daisuke Hiratsuka, President of BRC-JETRO.
Prof. Fukunari Kimura, Chief Economist of ERIA, presented ERIA's key research findings in FY2015, and he mapped out ERIA's policy research activities in the coming year.
Mr. Izuru Kobayashi, COO of ERIA, highlighted ERIA's activities since the last RIN meeting in July 2015. He explained how CADP 2.0, ERIA's flagship project in 2015, was appreciated and recognized in the Chairman's Statement of the 10TH East Asia Summit, which acknowledged the potential contribution of ERIA's master plan on ASEAN Connectivity. He also announced a request from EAS Senior Economic Officials for ERIA to provide actionable policy inputs to the East Asia Summit-Energy Ministers Meeting (EAS-EMM), and he stressed that responding to the request was very important. Mr. Kobayashi also presented possible ERIA studies, such as a study on the impact of mega free trade agreements on the economies of East Asia and Southeast Asia, and a study on the measures needed to secure public financing for infrastructure development.
Professor Zakariah Abdul Rashid, Executive Director of Malaysian Institute of Economic Research (MIER) and Dr. Shankaran Nambiar, a senior research fellow at MIER, presented 'Export, Output Growth and Value-added Expansion: The Malaysia Experience.'
Session 2 was moderated by Dr. Hank Lim.
Lurong Chen and Masahito Ambashi, both ERIA economists, presented their research on the 'Economic Impact Study of TPP and RCEP on ASEAN and East Asia Countries.'
Dr. Rebecca Fatima Sta Maria, Secretary General of MITI Malaysia, gave a special comment session on the outlook for the implementation of the Trans-Pacific Partnership in Malaysia.
In his closing remarks, Prof. Hidetoshi Nishimura, President of ERIA, expressed his gratitude to the RIN members for their continued support of ERIA, and he thanked the participants for their insightful comments during the meeting.
CHOOSE FILTER