RCEP Discussed at Ministry of Commerce, Cambodia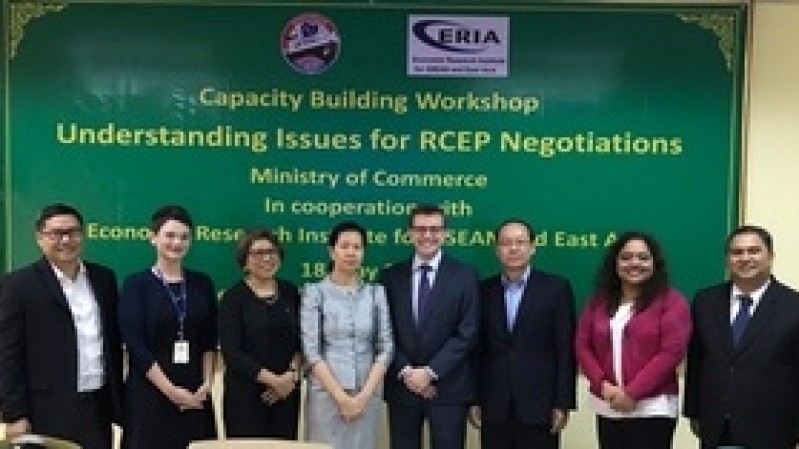 At the request of the Ministry of Commerce, Kingdom of Cambodia, on 18 May, the Capacity Building Programme facilitated a one-day workshop on "Understanding Issues for RCEP Negotiations".
Almost 50 government officials, from across a range of ministries involved in RCEP and other trade negotiations, attended this workshop. The event was held at the Ministry of Commerce (MOC), Phnom Penh, and allowed officials from the MOC and other key ministries to get a broad understanding of the issues being negotiated under RCEP.
The event was unique in bringing together senior government officials together with experienced and junior negotiators, important for building communications and cohesions amongst negotiating teams. In her opening comments for the workshop, the Secretary of State, Ministry of Commerce, H.E. Madam Tekreth Kamrang, mentioned how crucial such activities are for the growth and development of Cambodia. In addition, she also expressed her gratitude to ERIA for always providing such assistance to support Cambodian officials, and hopes to continue such collaboration in the near future.
The workshop was divided into four sessions: An Introduction to Trade Terminology; An Overview of RCEP; Trade in Services, and; Trade in Goods The first session, led by Ms Maura Ada Décosterd, Senior Trade Policy Officer at ERIA, was designed to ensure all participants had a clear understanding of key terminology central to trade negotiations. Tan Sri Datuk Dr Rebecca Sta Maria, Senior Policy Fellow, Policy Design Division, ERIA, then gave an overview of RCEP, its history, objective and where the discussions are at today. Issues such as the centrality of ASEAN and RCEP as a 21st century model agreement were touched upon.
As an experienced negotiator herself, Tan Sri Datuk Dr Rebecca Sta Maria, a former Secretary General at the Ministry of International Trade and Industry, Malaysia, could provide personal insights, often amusing, as to how trade agreements are negotiated, and the techniques used to push negotiations forward.
Ms Arividya Arimuthu, a Senior Public Sector Specialist with the World Bank, focused on Trade in Services for the participants, covering issues including modes of supply and market access. In his session on Trade in Goods, Mr Salvador Buban, Consultant Trade Facilitator Advisor, focused on market access on goods and rules of origin and the outcome of Trade in Goods negotiations and rules of origin from previous ASEAN Plus FTAs.
At the end of the day, joint MOC and ERIA certificates were presented to all participants by H.E. Madam Tekreth Kamrang and Mr Jeremy Gross, Director of Capacity Building at ERIA.
CHOOSE FILTER