Public-Private Partnership Crucial for the Success of ASEAN Connectivity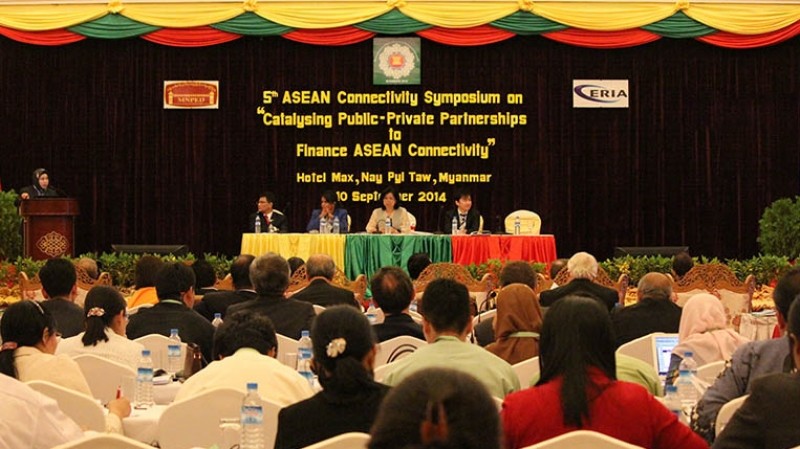 Nay Pyi Taw--10 September 2014: The 5th ASEAN Connectivity Symposium was held on Wednesday, 10 September 2014 in Hotel Max, Nay Pyi Taw, Myanmar.
Public-Private Partnership (PPP) mechanism must be utilized to mobilize fund and technical resource in implementing the Master-plan of ASEAN Connectivity (MPAC) to enhance economic integration in the region.
H.E. Daw Lei Lei Thein, Deputy Minister for National Planning and Economic Development, The Republic of the Union of Myanmar, made the call in her opening remark today at the 5th ASEAN Connectivity Symposium on "Catalyzing Public-Private Partnerships to Finance ASEAN Connectivity."
She said that the PPP formula might help the ASEAN members to garner necessary fund to implement some of infrastructure projects outlined in the MPAC. The ASEAN leaders approved the MPAC in 2010.
Prof. Hidetoshi Nishimura, Executive Director of ERIA, said in his opening remark that ERIA is preparing an ASEAN PPP Set of Guidelines for all member countries. The recommendations, he added, would be useful in approaching infrastructure projects of different scales within ASEAN.
H.E. Le Luong Minh, Secretary-General of ASEAN, stressed the concept of "partnership" between the private and public sectors and their willingness to work together in a win-win environment "with both parties sharing the risks and benefiting fairly from their partnerships and joint ventures." His speech was delivered by Dr. AKP Mochtan, Deputy Secretary-General of ASEAN.
H.E. Mr. Kimihiro Ishikane, Director General, International Cooperation Bureau, Ministry of Foreign Affairs, Japan, former Ambassador, Mission of Japan to ASEAN, outlined Japan's PPP assistance measure to support ASEAN connectivity plans.
In her presentation, Ms. Towfiqua Hoque, Senior Infrastructure Finance Specialist, Singapore Infrastructure Hub, World Bank, pointed out that challenges exist for ASEAN to attract PPP investors due to the lack of central coordinating body with decision-making powers. Among them are the different economic and strategic considerations as well as disparate levels of development, she said.The symposium, fifth in a series, is organized by the Jakarta-based international economic organization, The Economic Research Institute for ASEAN and East Asia (ERIA), Ministry for National Planning and Development and the ASEAN Secretariat. A total of 150 representatives from various ministries and agencies, private sectors and international organizations attends the symposium.
The one-day symposium featured Myanmar and international speakers with wide-ranging experience related to public-private partnership and ASEAN Connectivity. The other speakers were Mr. Jin W. Cyhn, Principal Economist, Southeast Asia Department, Asian Development Bank; Mr. Lim Chze Cheen, Head of ASEAN Connectivity Division, the ASEAN Secretariat; Dr. Prabir De, Senior Fellow & Coordinator, ASEAN-India Centre; Mr. Fumitaka Machida, Chief Representative of Asia-Pacific Region, Japan Bank for International Cooperation; Dr. Fauziah Zen, Economist, ERIA; Mr. Ahmad Zamri Khairuddin, Senior Director (Policy), Public-Private Partnership (PPP) Unit, Prime Minister's Department, Malaysia; Mr. Deep Seen, Head, International Business Development, IL&FS Transportation Networks; Mr. Roger Lui, Partner, Allen & Overy; Mr. Tet Tin Htut, Executive Engineer, Ministry of Transport, Myanmar; , Mr. Bui Duy-Thanh, Senior Energy Economist, Southeast Asia Department, Asian Development Bank; Ms. Maria Catalina E. Cabral, Assistant Secretary for Planning and Public-Private Partnerships Service, Department of Public Works and Highways, the Philippines.
The Symposium was also moderated by H.E. Ambassador Mr. Min Lwin, Chair of the ASEAN Connectivity Coordinating Committee (ACCC); H.E. Ms. Elizabeth P. Buensuceso, Representative of the Philippines to ACCC; Prof. Shujiro Urata, Senior Research Advisor to the Executive Director, ERIA; Prof. Michael Regan, Institute of Sustainable Development and Architecture, Bond University, Australia.
To download the Press Release, please click on the following PDF file:
PRESS RELEASE - ERIA-5th ASEAN Connectivity Symposium
To download the Agenda, please click on the following PDF file:
CHOOSE FILTER