Programme for Public Execs Calls for Pivotal Push for ASEAN Digital Transformation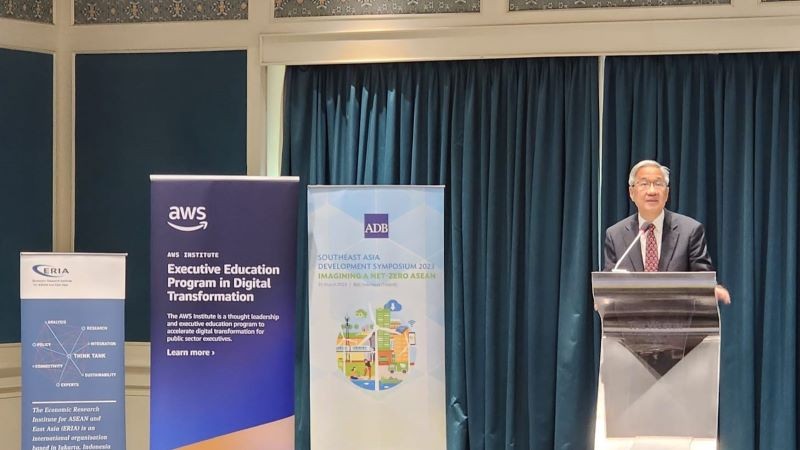 Bali, 29 March 2023: The Economic Research Institute for ASEAN and East Asia (ERIA), in collaboration with Asian Development Bank Southeast Asia Development Solutions (ADB SEADS) and Amazon Web Services (AWS) Institute, conducted the Executive Education Programme in Digital Transformation and Innovation for government officials in the ASEAN. The 1-day programme was the pre-event of the ABD SEADS Symposium, ADB's annual flagship event that discusses innovative solutions and strategies to address development and sustainability challenges.
The programme, attended by 35 government officials from across ASEAN, provided an immersive experience that included keynote speeches, panel discussions, a case study, an interactive workshop, and practical knowledge shared by experts and practitioners. Participants acquired a comprehensive understanding of current digital transformation and innovation trends whilst exchanging best practices to implement digital transformation initiatives.
Ms Choy Peng Wu, AWS's Director of Government Transformation, highlighted the importance of government officials learning the best ways to collaborate with the private sector to build the digital transformation journey, strategy, and roadmap. She said that the workshop was the right place to keep the conversation on digital transition and strategy going between officials.
Dr Aladdin D Rillo, ERIA's Senior Economic Advisor, said that ASEAN's digital transformation is crucial for the region's economic growth, and people must be ready to embrace the benefits and opportunities that come with change. He conveyed the importance of the human role in the digital transformation, saying that it is about not only technology but also the changes in human behaviour and activities.
Mr Thomas Abell, ADB's Chief of Digital Technology for Development, noted that whilst the region is experiencing a rapid push and change on technologies, its governments are still faced with many challenges. Some of those challenges are data privacy and regulations, the rise of artificial intelligence (AI), and their meaning for governments. He urged the participants to work with a collaboration mindset and attitude to address these issues.
Mr Setiaji Setiaji, Chief of Digital Transformation Office of Indonesia's Ministry of Health, shared his country's experience on digital health transformation. He said that to build an effective digital transition and strategy, government officials need to incentivise and facilitate all actors to build a positive digital ecosystem.
The programme's first panel discussion was on Digital Transformation and Trust Infrastructure in the 21st Century. The speakers highlighted critical aspects of trust infrastructure, including how to secure data and maintain their confidentiality, integrity, and availability. They discussed security and data policies that ASEAN countries need to consider in digitalisation, such as digital payment, e-commerce, etc.
The speakers were Mr Ngurah Udiyana, Head of Informatics Application, Bali Provincial Government; Ms Vivian Zheng, Head of ASEAN ESG Solutions, S&P Global; Ms Isvary Sivalingan, Southeast Asia Lead, Better Than Cash Alliance, United Nations Capital Development Fund; and Ms March Lepage, Principal IT Specialist, ADB. Mr Mohammad Ghozie Indra Dalel, Country Manager of AWS Indonesia, moderated the session.
The second panel discussion, on Digital Transformation and the Future of Smart Cities, explored how technology can transform urban life and benefit cities. The panel of experts from the public and private sectors acknowledged that technologies for cities are limitless, as cities provide a special interaction between business, government, and people. However, they agreed on the need to balance innovation with regulations and policy frameworks that help local governments accelerate the implementation of smart cities.
The speakers were Dr Nyoman Adhiarna, Director of Digital Economy, Indonesia's Ministry of Communication and Informatics; Ms Astrid Dita, Senior e-Government Advisor, Tony Blair Institute for Global Change; and Mr Linh Le, Principal Program Manager, AWS. Mr Arndt Husar, ADB's Senior Public Management Specialist, moderated the session.
Image Gallery
Related Articles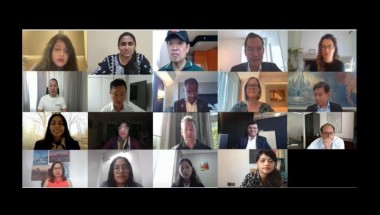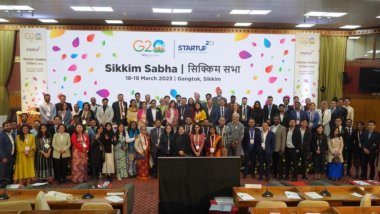 CHOOSE FILTER