President of ERIA and Cambodia's Minister of Commerce Launch Monograph on RCEP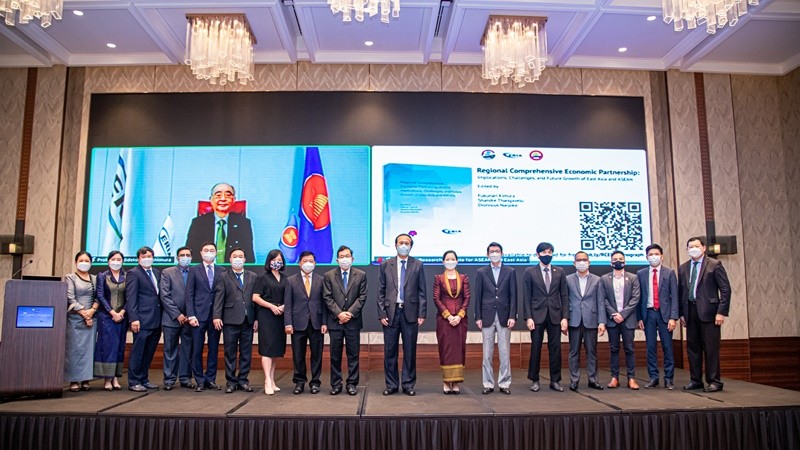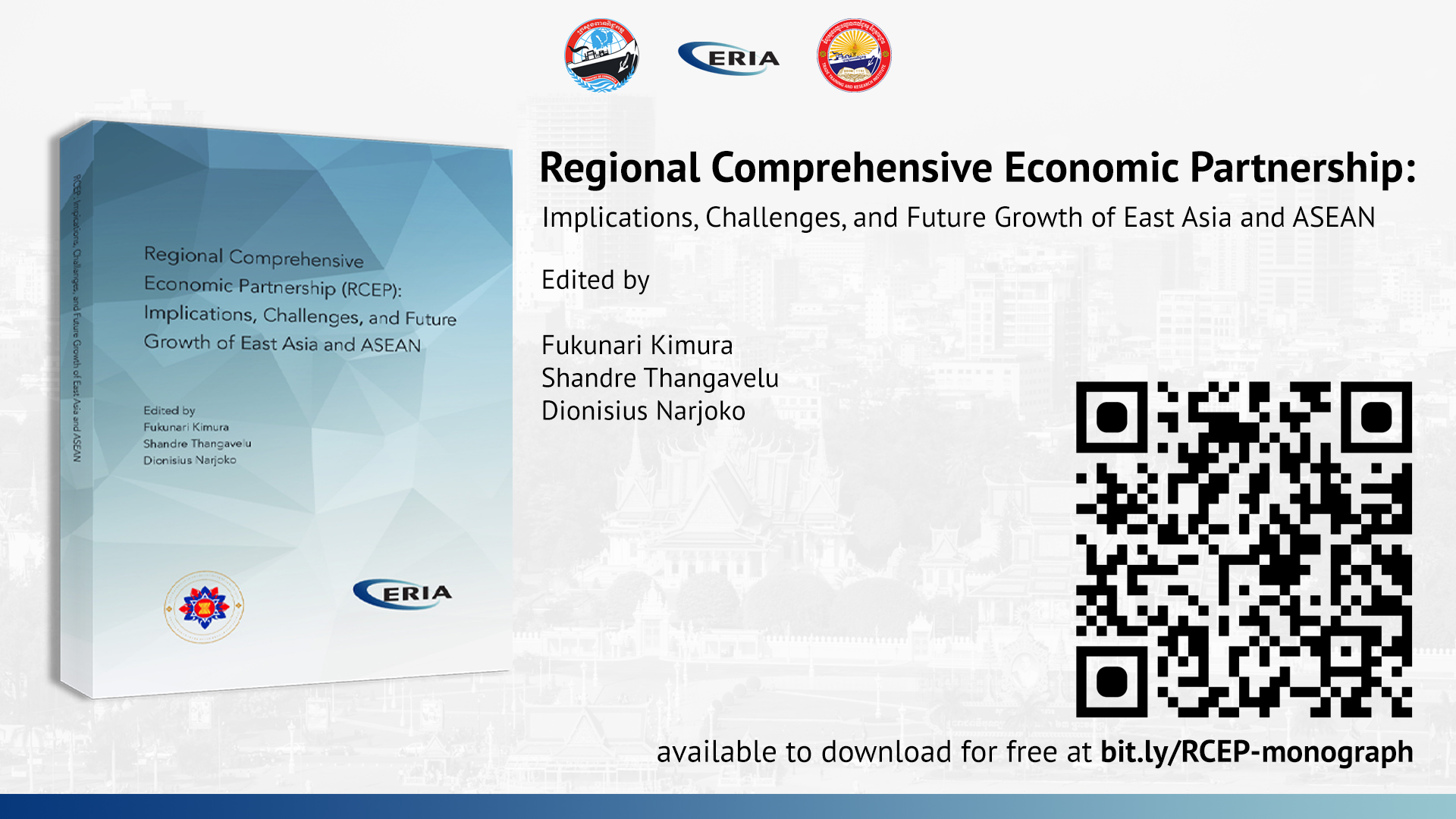 Phnom Penh, 14 March 2022: The Regional Comprehensive Economic Partnership (RCEP) became the largest free trade agreement in the world when it was signed in 2020. Made up of the 10 ASEAN Members States and Australia, China, Japan, Republic of Korea, and New Zealand, it encompasses a combined population of 2.2 billion (30% of the world population), gross domestic product (GDP) of around $38,813 billion (30% of global GDP in 2019), and nearly 28% of global trade.

RCEP sets an important agenda by releasing huge resources for trade and investment, creating dynamic regional and global value-chain activities. It is a critically important framework for global trade and regionalism, especially given the current context of uncertainty and inward-looking policies due to the coronavirus disease (COVID-19) pandemic. However, RCEP is not yet fully understood by many in terms of its features, commitments, likely impact, and how it differs from the other trade agreements.

To assess the current status of RCEP at the beginning of 2022, the Trade, Training and Research Institute (TTRI) of Ministry of Commerce, Kingdom of Cambodia, in collaboration with the Economic Research Institute for ASEAN and East Asia (ERIA) held a hybrid workshop and launched a book titled 'Regional Comprehensive Economic Partnership (RCEP): Implications, Challenges, and Future Growth of East Asia and ASEAN' as part of the side-event of Cambodia's ASEAN Chairmanship. The workshop discussed the structure of the RCEP in terms of the complexity of the RCEP commitments, modalities, and mechanisms. The book underlines some key features of the agreement and analyses how these could strengthen regional integration.

The book, edited by Professor Fukunari Kimura, Professor Shandre Thangavelu, and Dr Dionisius Narjoko, shares critical insights on the various elements of the RCEP agreement and discusses the key potential implications to the integration process in the region. It carefully examines the commitments and compares them with those of other agreements, including the Comprehensive and Progressive Agreement for Trans-Pacific Partnership (CPTPP). The impact of businesses, behind-the-border issues, and the domestic capacity of the respective RCEP member countries are discussed, in addition to a formal assessment of the potential benefits of the RCEP. Finally, it also attempts to address emerging issues – especially with respect to the COVID-19 pandemic recovery.

In his remarks, ERIA President Professor Hidetoshi Nishimura conveyed the significance as well as challenges of RCEP for the future of ASEAN and East Asia integration, especially for the post-pandemic era, 'East Asia and ASEAN have to prepare for the new form that global value chains will take and a new 'normal' in trade and investment driven by digital trade and structural transformation'. Prof Nishimura also emphasised ERIA's strong commitment to support the RCEP in the past and the future.

Echoing Professor Nishimura, His Excellency Minister Pan Sorasak further expressed that 'RCEP is a driver for economic recoveries during and post COVID-19 and also a rescuable instrument amid the rise of global uncertainties'. His Excellency appreciated the research conducted by ERIA as well as ERIA's support for the Cambodia's ASEAN chairmanship this year.

This book launch presents insightful views and discussions from international economic experts:
Dr Aladdin D. Rillo (ERIA),
Ms Anna Maria Rosario D. Robeniol (ASEAN Secretariat),
Mr Salvador M. Buban (ERIA),
Dr Shiro Armstrong (Australian National University),
Professor Peter Drysdale (Australian National University),
Professor Innwon Park (Korea University),
Professor Ken Itakura (Nagoya City University),
Mr Vutha Hing (University of Adelaide),
Mr Ea Hai Khov (Ministry of Economy and Finance – Cambodia),
Mr Bunroth Khong (Ministry of Commerce, Cambodia),
Mr Seychanly Tith (Ministry of Commerce, Cambodia),
Professor Shujiro Urata (ERIA),
Professor Shandre M. Thangavelu (Sunway University and University of Adelaide),
Dr Dionisius Narjoko (ERIA),
Dr Ramonette B. Serafica, (Philippines Institute for Development Studies),
Dr Intan M. Ramli (ERIA),
H.E. Sim Sokheng (Ministry of Commerce – Cambodia),
H.E. Chan Sopheap (Ministry of Economy and Finance – Cambodia)
In concluding the event, Professor Fukunari Kimura, Chief Economist of ERIA, underlined the importance of collaboration between ASEAN, Cambodia as the chair of ASEAN this year, and ERIA to continuously assess RCEP and the potential benefits from successfully implementing the agreement.
Monograph can be downloaded as below:
RCEP: Implications, Challenges and Future Growth of East Asia and ASEAN
Relive the Webinar
Image Gallery
Related Articles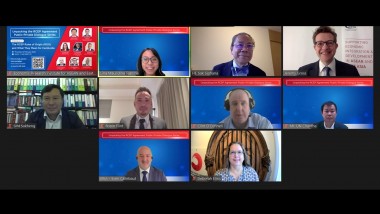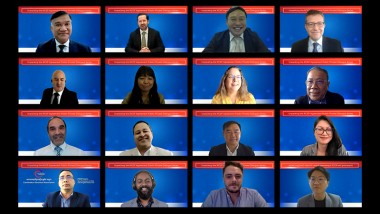 CHOOSE FILTER