Policymakers Urge ERIA to Help Bridge Development Gaps Ahead of Mega FTAs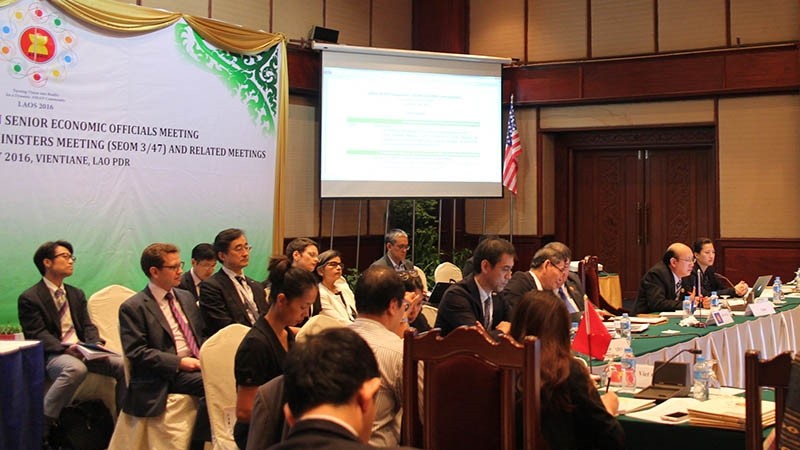 Senior Economic Official Meeting (SEOM) leaders from East Asian Summit (EAS) countries expressed their hopes that ERIA's research projects could help bridge the development gaps within ASEAN and EAS countries particularly as ASEAN member states move forward with greater integration within the ASEAN Economic Community (AEC).
Bridging these gaps is all the more important given that most of the countries are involved in mega free trade agreements such as the Trans-Pacific Partnership Agreement (TPP) and the Regional Comprehensive Economic Partnership (RCEP). The SEOM leaders conveyed their thoughts in response to the presentations delivered by ERIA during the first SEOM-EAS-ERIA Roundtable held on 1 July 2016 in Vientiane, Lao People's Democratic Republic (Lao PDR).
One of the SEOM leaders named ERIA's assistance in studying industrial development in Lao PDR earlier this year, entitled Lao PDR at the Crossroads: Industrial Development Strategies 2016-2030, that resulted in recommendations to develop a good industry sector in the country as an example of ways to help narrow the development gap in the region.
Another leader expressed the need for policy recommendations to reduce development gaps within ASEAN and EAS countries ahead of FTAs, which included the gap of rules and regulations, among others. The leader suggested ERIA to provide policymakers with policy recommendations that would help grow innovation and elevate the countries so that they would be able to engage in mega FTAs. ERIA Economist Dr Lurong Chen, who delivered the presentation entitled '21st Century Regionalism, Mega FTAs, and Asian Regional Integration', responded to the comments by saying that involvement in the global value chain should be the focus, rather than involvement in mega FTAs, in order to sustain long term productivity.
'Innovation and IPR protection for long term are key elements in determination of innovation creation in country's fundamental productivity,' said Dr Chen.
CHOOSE FILTER