PLE Discusses ERIA's Role with ASEAN Economic Ministers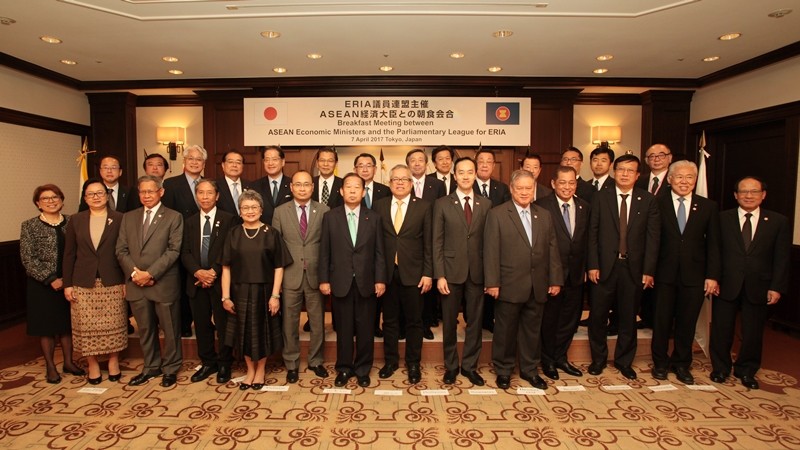 The Parliamentary League (PLE) for the Economic Research Institute for ASEAN and East Asia (ERIA) organised a breakfast meeting with ASEAN Economic Ministers on 7 April 2017 at the Imperial Hotel Tokyo, Japan. The Secretary-General of ASEAN, Lê Lương Minh, and the President of ERIA, Prof Hidetoshi Nishimura, attended the event.
The PLE is a non-partisan caucus among three of Japan's political parties: the Liberal Democratic Party (LDP), Komeito Party, and the Democratic Party. The League aims to increase the awareness of ERIA's research outcomes and policy recommendations in Japan and beyond, as part of PLE's efforts to contribute to ASEAN economic integration and economic development in East Asia.
H.E. Mr Toshihiro Nikai, Chairman of PLE and members of the PLE met with the ASEAN Economic Ministers (AEMs) and the Secretary-General of ASEAN who visited Japan for the ASEAN Roadshow, which was held on 6-8 April 2017. They exchanged views on ERIA's role to forge a closer and firmer ASEAN-Japan relationship and to provide support for the economic development of ASEAN and beyond. The meeting was promoted by H.E. Mr Takahiko Ito, Vice Secretary of PLE.
H.E. Mr Nikai, who chaired the meeting, expressed his appreciation for the attendance of AEMs. He also mentioned that the PLE would continue to support ERIA while taking into account the AEMs' suggestions. H.E. Mrs Khemmani Pholsena, Minister of Industry and Commerce for Lao PDR, delivered her remarks as representative of the AEMs and emphasised the importance of ERIA's role in working with ASEAN.
The other ministers reaffirmed ERIA's achievements including its contribution to the development of the ASEAN Economic Community (AEC) that came into effect at the end of 2015, the creation of the AEC Blueprint 2025, a study on Non-Tariff Measures, a study on mega free trade agreements such as the Regional Comprehensive Economic Partnership (RCEP) and the Trans-Pacific Partnership (TPP), and many more. Moreover, they expected ERIA to cooperate with ASEAN for the implementation of AEC Blueprint 2025 and to provide a future analytical study as well as policy recommendations on micro-, small-, and medium-sized enterprises (MSME) policy, e-commerce, comparison of the merits of RCEP and TPP, the use of technology which induces industrial development and its economic impact, and others.
Prof Nishimura explained how ERIA could contribute to ASEAN integration and expressed his appreciation for ASEAN's continued support. In addition, he stated that ERIA would respond to the ministers' requests.
CHOOSE FILTER