Outcomes of the 25th ASEAN Summit, 9th East Asia Summit and Related Meetings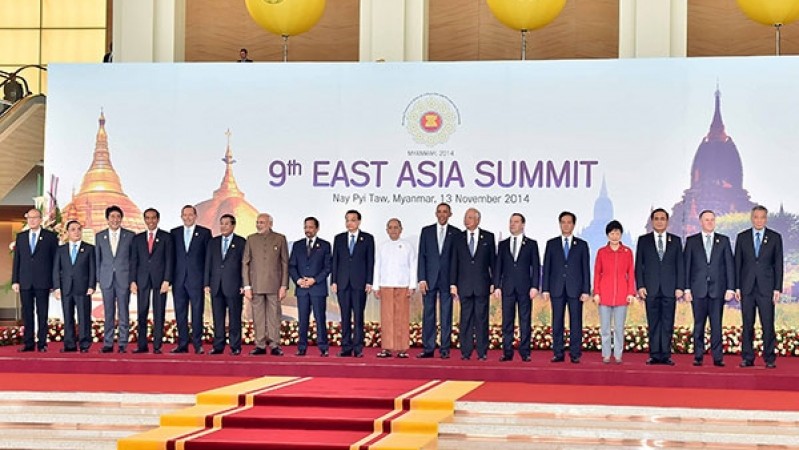 Prof. Hidetoshi Nishimura, Executive Director of ERIA was invited to the opening ceremony of the 25 th ASEAN Summit on November 12, 2014 in Nay Pyi Taw, Myanmar.
The 25th ASEAN Summit which was held on November 12, 2014 adopted the Nay Pyi Taw Declaration on the ASEAN Community's Post-2015 Vision. The Declaration commended the successful development of the central elements of the Vision.
ERIA contributed to this Vision by publishing the book "ASEAN Rising" which was submitted to ASEAN Economic Ministers Meeting and High-Level Task Force on Economic Integration this year, for their consideration of AEC Post 2015 Vision. This book brings out the challenges for ASEAN and AEC, how to respond to them and how ASEAN should move towards AEC 2015 and beyond.
The Leaders also commended ERIA for its continued contribution towards implementation of Master Plan on MPAC (Master Plan on ASEAN Connectivity) to enhance connectivity in the region.
The EAS Leaders attending the 9th East Asia Summit on November 13, 2014 commended ERIA's resolve to continue to work for the realization of the AEC and encouraged ERIA to continue to provide support to the Chair of the ASEAN Summit and the East Asia Summit.
The ERIA's annual review of the CADP (Comprehensive Asia Development Plan) and the Outcomes and Recommendations of the Myanmar-ERIA-Harvard Symposium "Maximising AEC Benefits towards a Peaceful and Prosperous Community: Achievements and Prospects" held in Myanmar on 29 October 2014 were distributed at the 9th EAS.
The Leaders also welcomed the ERIA's 7th Governing Board Meeting Statement issued on 30 May 2014, which puts emphasis on achieving unity, peace and prosperity in the East Asia region through connectivity, inclusiveness and cooperation. The leaders also noted ERIA's support for RCEP negotiations, institutional and physical connectivity, including the establishment of PPP Guidelines, energy and food security, SME empowerment, disaster management, revision of the "Comprehensive Asia Development Plan", and strengthening regulatory management systems and business environments in the region.
To download and see the Statements, please click on the following link:
Chairman's Statement of the 9th East Asia Summit
Chairman Statement of the 25th ASEAN Summit
Chairman's Statement of the 12th ASEAN-India for circulation
Nay Pyi Taw Declaration on the ASEAN Community's Post 2015 Vision
CHOOSE FILTER