Outcome of the 5th IMT-GT Summit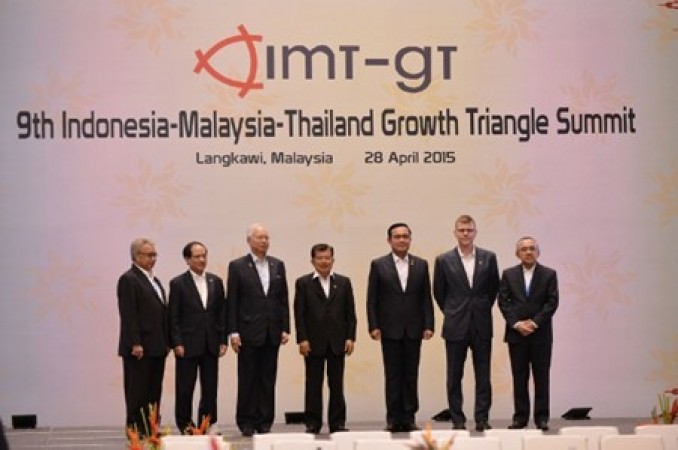 The leaders of the Government of the Republic of Indonesia, Malaysia, and the Kingdom of Thailand, met in Hanoi, Vietnam, on the occasion of the 5th Indonesia-Malaysia-Thailand Growth-Triangle (IMT-GT) Summit held on 28 October 2010.
IMT-GT Leaders also commended a wide range of ERIA's work including CADP, Bio-fuel Symposium and requested dialogue on various economic issues with stakeholders. It have been noted in the Joint Statement of the 5th IMT-GT Summit, paragraph 12 as follows:
"We also welcome Economic Research Institute of ASEAN and East Asia (ERIA) as a new Partner Organization of IMT-GT and commended ERIA on its work on the Comprehensive Asia Development Plan (CADP) to further enhance the economy of the subregion. We requested ERIA to hold dialogues with the IMT-GT Member-Countries and IMT-GT Joint Business Council to exchange views on macro and micro strategies that would be consistent with the Roadmap and subsequent Implementation Blueprint and could further enhance the economic growth of the subregion. In the area of sustainable energy we also commended ERIA for organizing a successful Symposium on Energy Saving and Biodiesel Utilization on 1-2 September 2010 in Songkhla, Thailand, jointly with IMT-GT Secretariat, Centre for IMT-GT Subregional Cooperation (CIMT) and Prince of Songkla University. The symposium perceived that sustainability is a priority in developing biofuels, and identified further key research issues such as infrastructure development for biofuels and study on Asian potential biofuel markets as well as the need to develop IMT-GT biofuels standard utilizing but not limit to the efficiency of ERIA-EAS. We look forward for ERIA to implement the positive and concrete outcomes resulting from this event as well as to provide policy recommendations with close cooperation with IMT-GT secretariat."
CHOOSE FILTER