New Australian Ambassador to ASEAN Makes Courtesy Call to ERIA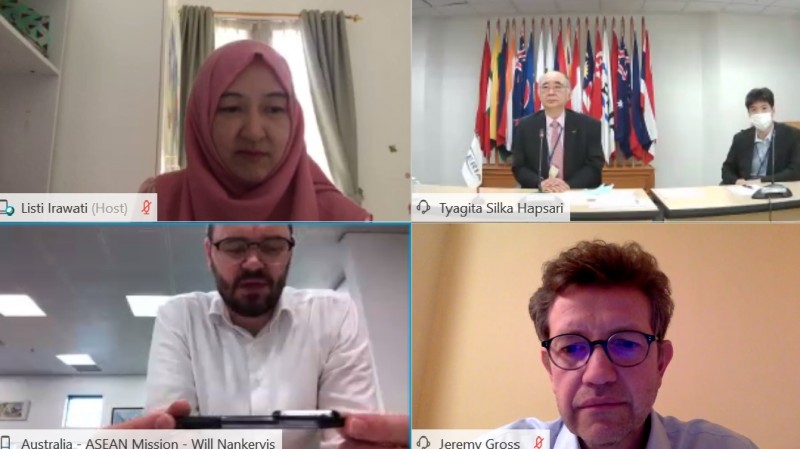 Jakarta, 17 September 2020: H.E. Will Nankervis, the newly appointed Australian Ambassador to ASEAN, virtually met with President Nishimura, ERIA COO Mr Koji Hachiyama, Mr Jeremy Gross, Director of the Australia-funded ERIA Capacity Building Programme and Dr Giulia Ajmone Marsan, Director of the Australia-funded ERIA Strategy and Partnership Programme. Ambassador Nankervis was accompanied by DFAT colleagues Ms Listi Irawati and Ms Bia Puspita.
ERIA President, Prof Hidetoshi Nishimura, thanked Australia for the strong support to ERIA, since its establishment, and congratulated the newly appointed Ambassador. President Nishimura reiterated ERIA's strong commitment to work together with Australia. Ambassador Nankervis mentioned the very strong partnership with ERIA, especially since 2014 with the establishment of the ERIA Capacity Building Programme and more recently, with the establishment of the Strategy and Partnership Programme in 2019. The Ambassador congratulated ERIA for the paper recently discussed at ASEAN and the EAS Economic Ministers Meetings.
Ambassador Nankervis, President Nishimura and Mr Koji Hachiyama also discussed current and future priorities for ERIA's research, outreach and capacity building work, including strengthening economic linkages in the Indo-Pacific, RCEP, ASEAN centrality, the resilience of supply chains for the post-pandemic economic recovery, the digital economy, women economic empowerment. Mr Jeremy Gross and Dr Giulia Ajmone Marsan gave a brief overview of their respective programmes.
President Nishimura and Ambassador Nankervis agreed to continue exchanges and interaction to work together and continue to strengthen ERIA and Australia partnerships.
CHOOSE FILTER