Myanmar Gears Up for AEC and Beyond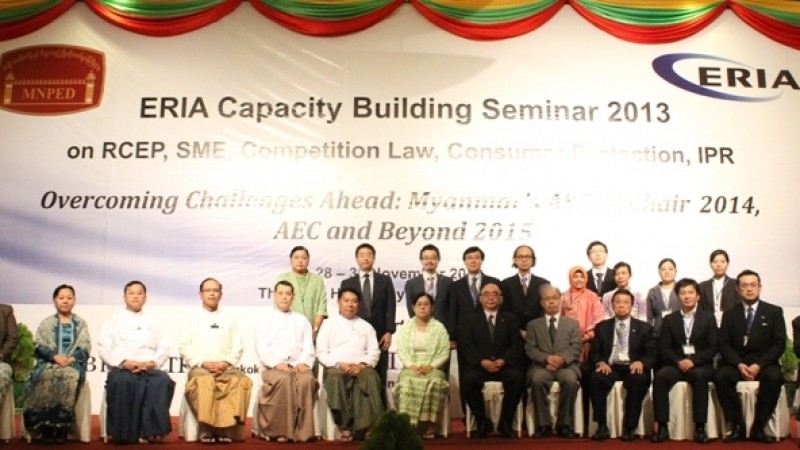 Nay Pyi Taw, Myanmar - November 28, 2013: More than 200 participants from various government agencies and private sectors showed up at the first day of three day ERIA Capacity Building Seminar 2013 in Myanmar "Overcoming Challenges Ahead: Myanmar ASEAN Chair 2014, AEC and Beyond 2015" at Thingaha Hotel, Nay Pyi Taw, Myanmar which opened today.
H.E Daw Lei Lei Thein, Deputy Minister of National Planning and Economic Development (MNPED) said in her opening statement that the capacity building seminars organized by ERIA in the past have helped Myanmar in carrying out its ASEAN chairmanship as well as comprehensive economic development plans. She urged all participants to use the opportunity to enhance their knowledge and capacities. The seminar is the eighth session the ERIA planned for Myanmar.
"ERIA is now planning for the next year's chair Myanmar, themed "Moving Forward in Unity towards a Peaceful and Prosperous Community". ERIA will do its best to make this theme consonant with ASEAN's interests," Prof. Hidetoshi Nishimura, Executive Director of ERIA expressed his willingness to support Myanmar's chairmanship.
As one of ERIA contributions to Myanmar, ERIA completed the Report of Myanmar Comprehensive Development Vision (MCDV) together with Government of Myanmar, which will provide valuable inputs for wider and long-term development plan and growth strategy of Myanmar as mentioned in the Chairman's Statement of 8th East Asia Summit. He stressed "In the Statement, this Vision is mentioned in connection with Connectivity. It means that Myanmar is a strategic and geographic gateway to India and China."
Regional experts and economists from ASEAN, Japan, South Korea, Australia and OECD will present papers on key issues related to Regional Comprehensive Economic Partnership (RCEP), SME, Competition Law, Consumer Protection, and Intellectual Property Rights (IPR). These areas of economic development are pivotal to Myanmar's economic reform which began in earnest in 2011.
U Aung Myint Than, Director of Planning, MNPED, reiterated that Myanmar's current reform is aimed at integration its economy with the rest of the world. "The reform process will allow Myanmar to become a modern, developed and democratic nation by 2030," he added.
International speakers and moderator for RCEP on the first day include Dr. Hank Lim, Chairperson of ERIA Academic Advisory Council (AAC); Prof. Chang Jae Lee, Senior Research Fellow, Korea Institute for International Economic Policy (KIEP), South Korea; Dr. Titik Anas, Economist, Center of Strategic and International Studies (CSIS), Indonesia; Mr. Yoshifumi Fukunaga, Senior Policy Coordinator, ERIA; Mr. Masao Suematsu, COO and Executive Vice President, DENSO International Asia Co. Ltd, Thailand.Other speakers from Myanmar are Daw Khin Khin Nwe, Joint Secretary General, Union of Myanmar Federation of Chamber of Commerce and Industry (UMFCCI); Daw Than Than Lin, SEOM leader of Myanmar.
To download Press Release, please click on the following PDF file:
CHOOSE FILTER