Meiji Institute for Global Affairs Symposium ll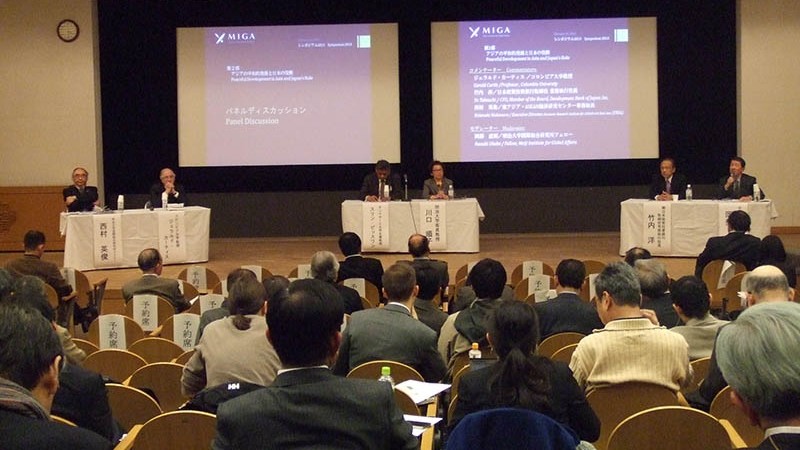 Prof. Hidetoshi Nishimura, Executive Director of ERIA, attended the Meiji Institute for Global Affairs Symposium ll on February 25, 2013 in Tokyo, Japan. It was held by the Meiji Institute for Global Affairs (MIGA), the think tank affiliate of Meiji University.
It was opened by Prof. Ryozo Hayashi, Director of MIGA. The Symposium consists of 2 sessions, which are "East Asia under the New Regime and the Security Order" and "Peaceful Development in Asia and Japan's Role".
Session 2 was opened by Dr. Surin Pitsuwan, former Secretary General of ASEAN and Ms. Yoriko Kawaguchi, Member of the House of Councilors. In the panel discussion moderated by Mr. Naoaki Okabe, Fellow MIGA and Columnist Nikkei, Prof. Hidetoshi Nishimura, Executive Director of ERIA was assigned as a commentator along with Prof. Gerald Curtis, Professor at Columbia University and Mr. Yo Takeuchi, Director and Managing Executive Officer, Development Bank of Japan.
Dr. Surin spoke about ASEAN's progress toward the goal of Economic Community (AEC) by 2015 and touched upon the importance of Regional Comprehensive Economic Partnership (RCEP), saying "RECP will promote greater regional economic integration and it is expected to tackle trade in goods and services, investment, economic and technical cooperation, intellectual property, competition policy, etc".
He mentioned about the importance of mutual growth between Japan and East Asia, saying "in the midst of the importance of regional cooperation within Asia and with the rest of the world will increase, Japan's growth would contribute for the growth of ASEAN and East Asia. It's attributed the "Arsenal of Soft Power" as well as the existing production networks based on Japanese manufacturing sector". Dr. Surin also highlighted that "Arsenal of Soft Power" is the advantage of Japan and it can be contributed to the development in the region.
Prof. Nishimura added the talks with the Trans Pacific Partnership (TPP) and RCEP, highlighting "RCEP negotiations should be completed by 2015 as one of the priorities for AEC measures". Also, he stressed that demonstrating the real strength of Japan is essential for the growth of this region and it also leads to the development of Japan.
Dr. Surin closed his presentation by updating the latest accomplishment by ERIA to the audience and he thanked Japan for all the support to ASEAN and ERIA.
CHOOSE FILTER