Lao PDR at the Crossroads: Industrial Development Strategies 2016-2030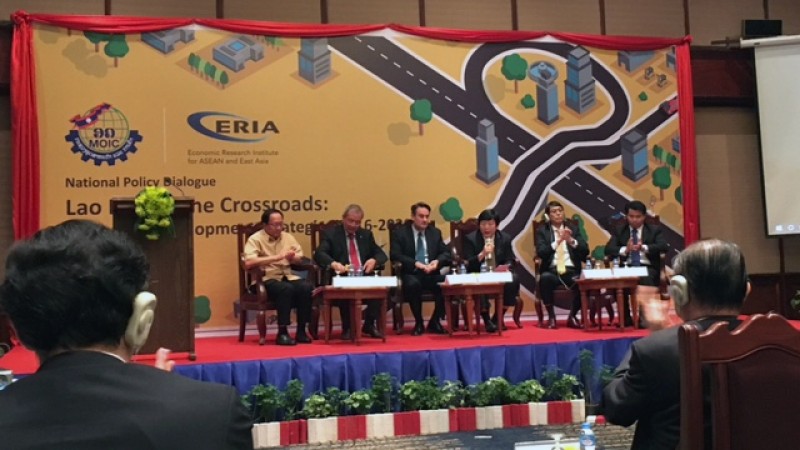 Future strategies for the industrialisation of Lao PDR were discussed at a one-day National Policy Dialogue on Wednesday, 30 March, at the Lao Plaza Meeting Room.
The Dialogue was co-organised by the Ministry of Industry and Commerce (MOIC), Lao PDR, and the Economic Research Institute for ASEAN and East Asia (ERIA), located in Jakarta.
The Dialogue was held in connection with the new study that was initiated at the request of the MOIC. The research was conducted by ERIA in partnership with the Lao PDR-based Economic Research Institute for Trade (ERIT), National Economic Research Institute (NERI), and Tokyo-based Daiwa Institute of Research Ltd.
H.E. Khemmani Pholsena, Minister for Industry and Commerce, was officially presented with a copy of the study by Prof. Hidetoshi Nishimura, ERIA President, following their opening comments and welcome speeches, at which they were joined by H.E. Takeshi Hikihara, Ambassador of Japan to the Lao PDR.
In the keynote speech, Prof. Fukunari Kimura, Dean of the Graduate School of Economics at Keio University and Chief Economist of ERIA, gave an overview of research findings on the Lao PDR at the Crossroads project. He presented unique viewpoints and policy implications applied to Lao PDR based on the concepts of geography and connectivity, and how these affect industrialisation and economic development. He mentioned three 'tiers' of industrial development and indicated the importance of taking advantage of global and regional value chains in each tier. In this regard, he stressed that Lao PDR can turn its weakness of being a landlocked country into a potential strength by becoming a 'land-linked' country.
Following the keynote speech, contributors to the study explained in detail their findings. Dr Leeber Leebouapao from NERI discussed Lao PDR's approved Vision 2030 development strategy and how it fits in with the study. Dr Thantavanh Manolom from ERIT discussed industrial promotion policies in conjunction with international trade and investment while Mr Masahiro Nakamura and Mr Keisuke Goto of the Daiwa Institute of Research focused on the prospects for promoting industrial estates and eight industrial sectors in Lao PDR. Mr Souknilanh Keola, Research Fellow at IDE-JETRO, noted immediate policy issues and then presented simulation results assuming major development strategies. ERIA Economist, Mr Masahito Ambashi, concluded by discussing how to implement Lao PDR at the Crossroads in the future.
In the afternoon there was a panel discussion moderated by Mr Souknilanh Keola, Research Fellow at IDE-JETRO. The panellists were Mr Manohack Rasachak, Director General, Department of Industry and Handicrafts, MOIC, Lao PDR; Mr Oudet Souvannavong, Lao National Chamber of Commerce and Industry; Mr Steven Schipani, Senior Portfolio Management Specialist, Lao PDR Resident Mission, Asian Development Bank; Mr Yusuke Murakami, Chief Representative, Japan International Cooperation Agency, Lao PDR; and Dr Phouphet Kyophilavong of the National University of Laos. The panellists expressed their opinions regarding various issues, such as the necessity of action plans to implement development strategies, the tourism industry as an inbound demand growth driver, and support to dynamism of private sectors.
Dr Leeber Leebouapao, NERI, provided comments on the panel discussion. He concluded by noting that with the ASEAN Economic Community being both a single production base and market, for Lao PDR to utilise it effectively, it needs to build stronger networks with neighbouring countries. He also pointed to the importance of further developing the strategies proposed in the Lao PDR at the Crossroads study.
H.E. Bounthavy Sisouphanthong, Vice Minister for Ministry of Planning and Investment, in his closing remarks, pointed out that the national policy of industrialisation is a key element and a milestone for the country's development.
This National Policy Dialogue was attended by 200 participants from different ministries, representatives from the Lao regions, national and international private sector, and international development organisations based in Lao PDR. This contributed to the day's dynamic and interactive discussions between speakers and participants.
Agenda attached.
For further information, please contact: Mr Jeremy Gross, Capacity Building Coordinator; Tel: +62-811-970 1944; Email: [email protected]
5 April 2016
Image Gallery
CHOOSE FILTER