Key to AEC Beyond 2015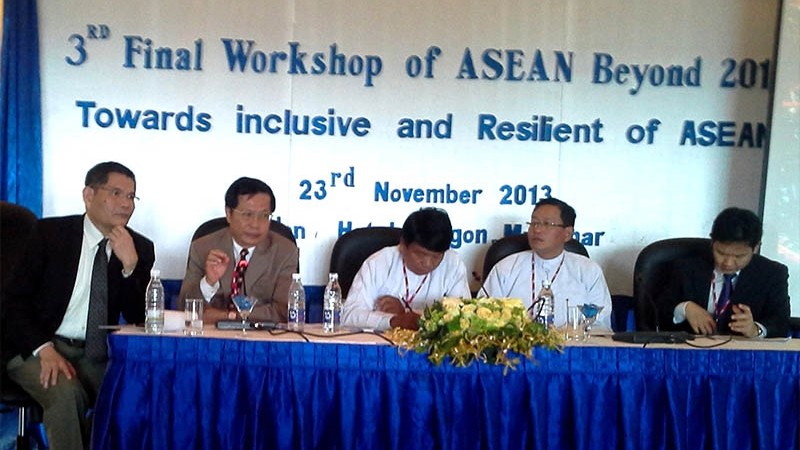 The third leg of workshop series on ASEAN and AEC Beyond 2015 was held successfully by Economic Research Institute for ASEAN and East Asia (ERIA) in close cooperation with Ministry of National Planning and Economic Development (MNPED) and Yangon Institute of Economics (YIE) at the Inya Hall, Sedona Hotel, Yangon, Myanmar.
The Yangon-leg workshop brought up the focus on inclusive and resilient ASEAN. It covered a range of topic, from Agriculture, Food Security and Green Development; Connectivity and Inclusive Growth; to Disasters and Safety Nets.
His Excellency Union Minister Dr. Kan Zaw of the MNPED opened the workshop. In his welcoming remarks, he pointed out that to achieve quick wins of AEC 2015 and beyond 2015, the ASEAN Member States needs to take strategy in complementing the AEC Blueprint with high level of economic dynamism, sustained prosperity, inclusive growth, and integrated development of ASEAN. Taking this opportunity, H.E. Dr. Kan Zaw highlighted that Myanmar will be actively participating in the AEC to be achieved in 2015. As the ASEAN chairman, Myanmar has a far greater responsibility to take lead an active role of the ASEAN development.
Commencing his opening remarks, the General Manager of ERIA Mr. Yasushi Iwata gave his sincere gratitude to all parties that cooperate for the this workshop. He said that this workshop, together with other three workshops, are very important for ASEAN, as it is the high time for ASEAN to start taking action and thinking about ASEAN beyond 2015. Mr. Iwata recalled the objective of the project that to ensure the outcome of the integration especially the dynamic, inclusive, and prosperous ASEAN is reached. Lastly, he wished the workshop participants to have a fruitful discussion and eventually the workshop will produce good policies recommendation to be delivered to the political leader in the region.
The workshop was attended by more than 70 participants from relevant ministries and departments, academia, international experts and other stakeholders.
To download Press Release, please click on the following PDF file:
Key to AEC Beyond 2015 Economic Dynamism, Sustained Prosperity, Inclusive Growth, and Integrated Development of ASEAN
CHOOSE FILTER