JETRO-CSIS International Symposium on "Indonesia-Japan Relations and Economic Integration in East Asia"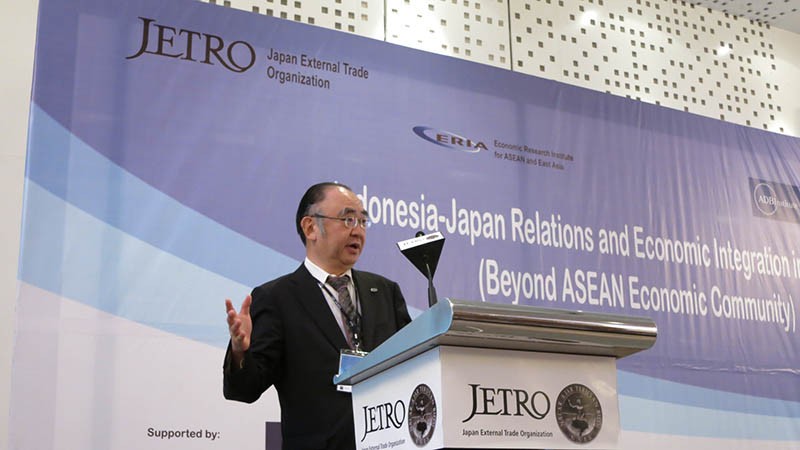 Prof. Hidetoshi Nishimura, Executive Director of ERIA, attended International Symposium on "Indonesia-Japan Relations and Economic Integration in East Asia" organized by Japan External Trade Organization (JETRO) and Centre for Strategic & International Studies (CSIS) on March 4, 2013 in Jakarta, Indonesia.
The Symposium was supported by Asian Development Bank Institute (ADBI), Ministry of Trade of the Republic of Indonesia, and ERIA.The participants mostly from Government, business world, and Japanese companies in Indonesia were there.The objective of the Symposium was to explore the possibility of strengthening the cooperation between Japan and Indonesia aiming for mutual interest in the era of globalization beyond the ASEAN Economic Community (AEC).
Dr. Ponciano S. Intal, Senior Researcher of ERIA, made a presentation on "Current status of AEC" in session 1, introducing "Mid-Term Review of the Implementation of AEC Blueprint" that ERIA submitted to 21st ASEAN Summit. Prof. Nishimura delivered closing remarks mentioning 4 topics, which are "Institutional Connectivity: Regional Comprehensive Economic Partnership (RCEP), "People to People Connectivity: Asia Cosmopolitan Awards, "Physical Connectivity: Comprehensive Asia Development Plan (CADP), Master Plan on ASEAN Connectivity (MPAC) and Master Plan for the Acceleration and Expansion of Indonesia (MP3EI), and Beyond 2015: Jakarta Framework). He stressed that ASEAN now has a golden opportunity and the ASEAN Community building is globally beneficial.
Each session concluded with a question and answer session. A lively discussion was conducted. The participants reaffirmed the importance of regional cooperation within Asia and with the rest of the world after the establishment of the AEC and explored the direction for the development of economic relations between Japan and Indonesia.
CHOOSE FILTER