Interviewed by Insight Indonesia Berita Satu TV and The Jakarta Globe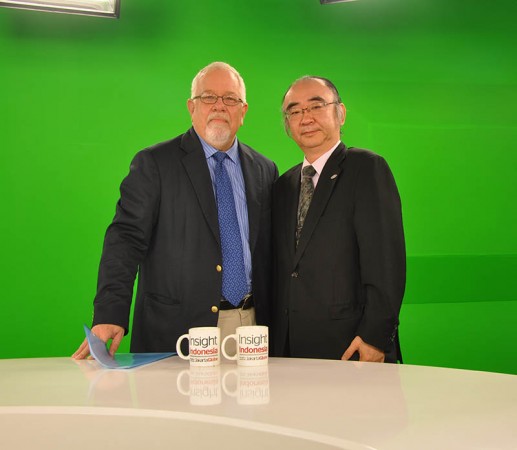 Prof. Hidetoshi Nishimura, Executive Director of ERIA was interviewed by Mr. Lin Neumann from Insight Indonesia, Berita Satu TV on July 4, 2012. The topic is ASEAN Connectivity and Berita Satu TV broadcasts this program.
Prof. Nishimura explained that as an international economic organization, ERIA focuses on high-quality researches on three pillars: economic integration in ASEAN and East Asia, narrowing the development gaps and sustaining economic development and said this reflects that ERIA is surveyed as the first Indonesian think tank to make it to the top thirty as the world's most important international economic think tanks.
Then he outlined ERIA's research activities highlighting the Master Plan on ASEAN Connectivity (MPAC) that ERIA has been contributing to the master plan since its drafting works. As a contribution to People-to-People Connectivity described in MAPC, he introduced that ERIA and Nara Prefecture, Japan will this year give "Asia Cosmopolitan Award" for individuals who contributes for the integration of East Asia.
Also, he mentioned that ERIA cooperates with Harvard University to get the best brains of the world to map out future strategies for Asia. One of the outcomes is the Jakarta Framework: Moving AEC Forward into 2015 and beyond. It was presented to H.E. Dr. Susilo Bambang Yudhyono, President of the Republic of Indonesia, when Chairmanship of ASEAN is Republic of Indonesia in 2011.
In concluding, Prof. Nishimura stressed that ERIA will be the engine of intellectual resources for ASEAN and East Asia to lead the world's economic development.
On the previous day on July 3, 2012, Prof. Nishimura received Ms. Ismira Lutfia, Senior Journalist on ASEAN affairs of The Jakarta Globe Newspaper. Questions raised in the interview were about ERIA's activities. A lively discussion was conducted about the challenges and issues that ASEAN region faces.
Photo above: With Mr. Lin Neumann, Insight Indonesia, Berita Satu TV / Photo below: With Ms. Ismira Lutfia, The Jakarta Globe
Image Gallery
CHOOSE FILTER