Informal Working Lunch for EAS Economic Ministers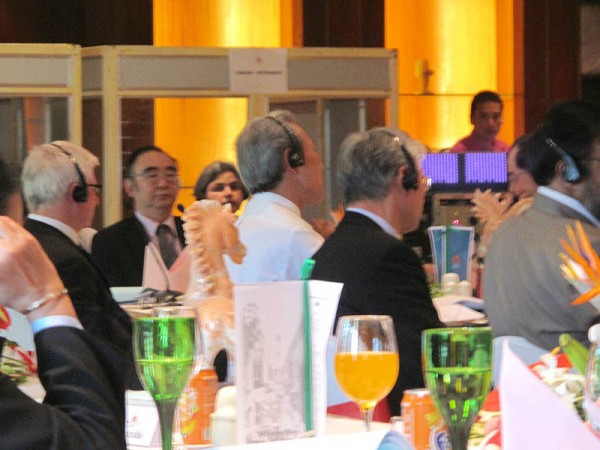 At the Informal Working Lunch for EAS Economic Ministers on 26 August 2010, Economic Ministers from the ten ASEAN Member States, Australia, China, India, Japan, South Korea and New Zealand gathered in Da Nang, Viet Nam and exchanged views.
They discussed regional and global issues affecting the East Asian region as well as developments in several areas of cooperation within the East Asia Summit (EAS) framework. It was chaired by Dr. Vu Huy Hoang, Minister of Industry and Trade, Vietnam.
Mr. Hidetoshi Nishimura, Executive Director of ERIA, and some ERIA officials attended the Informal Working Lunch to made a presentation on the progress of the ERIA research activities including the AEC Scorecard, the ASEAN Connectivity Master Plan, and the Comprehensive Asia Development Plan (CADP). The final draft of the CADP was circulated to EAS Economic Ministers. The chair welcomed the contributions made by ERIA, especially the CADP. He welcomed the strategies for narrowing of development gaps in the region.
Dr. Surin Pitsuwan, Secretary-General of ASEAN, noted that ERIA had been extremely supportive to the ASEAN Secretariat in carrying out dedicated research work. He recognised the impressive research work done in the past two years and anticipated continued intellectual input from ERIA in the future. He also suggested that in the next year, when the Ministers gather in Indonesia for ASEAN related meetings, they could be invited to ERIA to see firsthand the research work being done there. Mr. Hidetoshi Nishimura, Executive Director of ERIA, noted and agreed to this suggestion.
The chair welcomed progress of the research activities of the ERIA in a variety of fields such as energy, environment, trade and investment, etc., including the assistanceprovided to ASEAN in improving the AEC Scorecard and in drafting the ASEAN Connectivity Master Plan.
He looked forward to continued support from ERIA. On the same day, Mr. Nishimura met with Mr. Anand Sharma, Minister of Commerce and Industry of India (right above).
2010_0826_AEM-EAS_WL_2010_JMS (Final).pdf
CHOOSE FILTER