Framing ASCC Post-2015 First Technical Workshops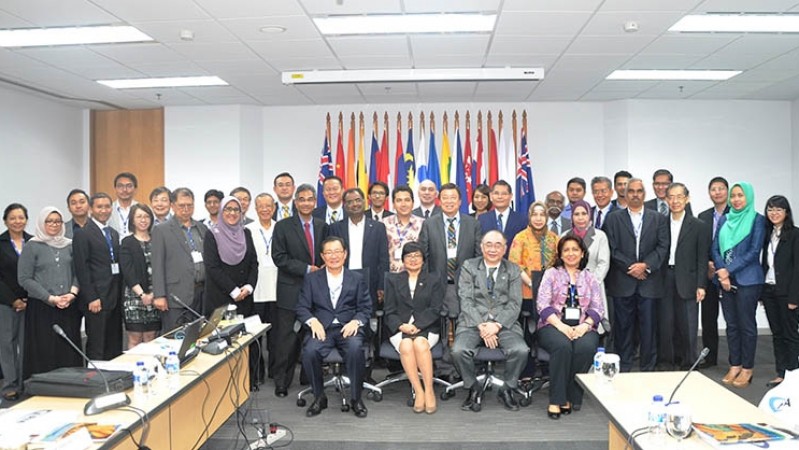 ERIA organized the first technical workshop on Framing ASEAN Socio-Cultural Community (ASCC) Post-2015 at ERIA's office in Jakarta on 16-20 January.
The workshop was attended by the 29 thought paper authors, including ERIA Executive Director Professor Hidetoshi Nishimura, a number of high level officials from the ASEAN Secretariat headed by Deputy Secretary-General Ms. Alicia Bala, as well as representatives from the Malaysian government, the chair of ASEAN in 2015.
At the workshop, the thought paper authors presented their papers, and this was followed by a discussion among participants and the ASEAN Secretariat. The thought papers were grouped into six themes, namely cultural diversity and ASEAN identity, social welfare and protection, education and human resource development, health, green growth and climate change, as well as disaster risks reduction, management, and response.
The thought papers and the discussion focused on evaluation of the ASCC Blueprint 2009-2015 action plans, as well as the vision and indicative outcomes for the post-2015 blueprint. The thought papers and the Integrative Report of the project are expected to provide significant inputs to the ASCC bodies in the preparation of the new ASCC Blueprint post-2015.
Deputy Secretary-General Ms. Alicia Bala sincerely thanked ERIA's contribution to the project. She also reiterated ASCC commitment to be an inclusive, sustainable, resilient, dynamic, and people-centered community. She hoped the thought papers could offer practical and measurable proposals on the issues and concerns for the ASCC 2025 vision.
CHOOSE FILTER