Former President U Thein Sein Wins Regional Award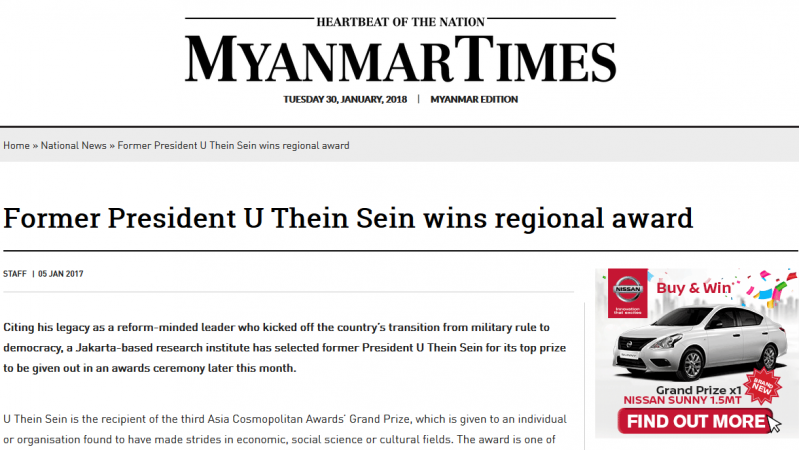 Editor's note: This article was originally published in MM Times on 5 January 2017. ERIA was mentioned as presenter of the Third Asia Cosmopolitan Awards.
Citing his legacy as a reform-minded leader who kicked off the country's transition from military rule to democracy, a Jakarta-based research institute has selected former President U Thein Sein for its top prize to be given out in an awards ceremony later this month.
U Thein Sein is the recipient of the third Asia Cosmopolitan Awards' Grand Prize, which is given to an individual or organisation found to have made strides in economic, social science or cultural fields. The award is one of three presented during the biennial Asia Cosmopolitan Awards, which was established by the Economic Research Institute for ASEAN and East Asia. The previous winner of the grand prize was former Indian Prime Minister Manmohan Singh.
"During his five-year reign, [U] Thein Sein was credited for instituting both economic and political reforms that turned one of the world's poorest countries into one of the rising young tigers in Asia. The democratic transformation under his leadership was applauded by both the regional and international communities," said a December 30 press release about the award selection. "After being defeated in the polls in November 2015, [U] Thein Sein accepted the result which enabled a peaceful transfer of power to the triumphant opposition party, the National League for Democracy, led by Daw Aung San Suu Kyi."
Including comments from an interview with U Thein Sein at the Union Solidarity and Development Party's headquarters, the press release added that the former leader now feels he is "a free man without any worries", who can "sleep and wake up at any time" and spend as much time as he pleases with his two grandchildren.
He pegged chairing the ASEAN in 2014 as one of his proudest moments, especially in helping to guide a foreign ministers' joint statement in relation to the contentious South China Sea dispute. The statement was the first time the entire 10-member bloc jointly addressed the conflict with a unified stance.
In looking to the future of Myanmar's development, the former president said promoting human resources will be key.
"Technically, we are twenty years behind our neighbouring countries," he said.
Other winners of the Asia Cosmopolitan Awards include the late political scientist and scholar Benedict Anderson, the Cambodian filmmaker Rithy Panh and former secretary general of the UN Conference on Trade and Development Supachai Panitchpakdi.
The third awards ceremony will be held in Japan on January 15. It is unclear if U Thein Sein will be in attendance.
CHOOSE FILTER