FJCCIA Dialogue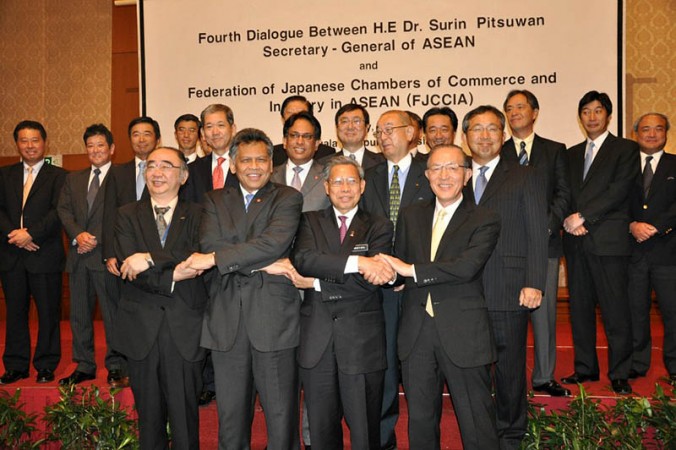 ERIA was invited to participate in the 4th Business Dialogue between Dr. Surin Pitsuwan, Secretary General of ASEAN and the Federation of Japan Chamber of Commerce and Industry in ASEAN (FJCCIA) on 8 July 2011 in Kuala Lumpur, Malaysia. (photo1)
Mr. Takashi Hibi, the Chairman of FJCCIA extends his sincere gratitude to the people and governments in ASEAN for their relentless support to the victims and their families of the Great East Japan Earthquake in his opening remarks. He also emphasized that ASEAN must continue to improve its attractiveness as investment destination for Japanese companies given the strong competitions from both China and India. Dr. Surin Pitsuwan, Secretary General of ASEAN pointed out that Japan has decided that her growth must be in parallel with that of ASEAN and more importantly such growth must be pursue outside the country.
Mr. Hidetoshi Nishimura, Executive Director of ERIA, briefed FJCCIA that some of issues raised in the meeting are currently being addressed by ERIA in its studies with regard to Midterm Review for AEC Blueprint and the AEC Scorecard.
On the following day, ERIA was also invited to the Dialogue between AEM-METI-FJCCIA Meeting. (photo2) Ms. Mari Elka Pangestu, the Ministry of Trade of Indonesia, extends a warm welcome to Mr. Banri Kaieda, the Ministry of Economy, Trade and Industry of Japan, and his delegation in her remarks. Minister Mari went on to emphasize that ASEAN is keen to work together with Japan for a sustainable growth into the future.
Mr. Banri Kaieda thanks ASEAN governments and its people for the unwavering support to the victims of the Great East Japan Earthquake and pointed out that Japan is making notable progress towards its reconstruction efforts.
In this occasion, remarks and advices from Mr. Banri Kaieda, METI Minister, ASEAN Economic Ministers and Japanese business representatives were very valuable inputs for ERIA. Mr.?Nishimura emphasized that ERIA will continue to enhance its role by providing requisite and timely economic analysis in carrying out the mandates from the Leaders and Ministers towards the realization of AEC by 2015.
CHOOSE FILTER