Executive Leaders' Initiative 2016: Developing Domestic and Export Markets for Tropical Fruits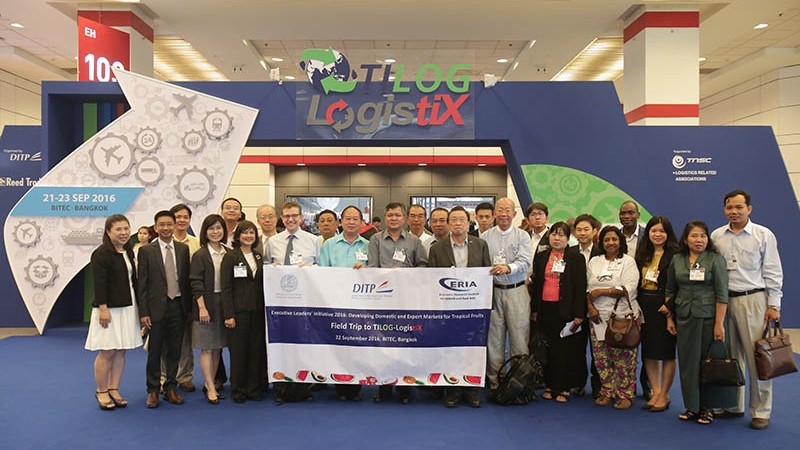 Unlimited demand and high value produce is characteristic of tropical fruits. As such, the sector provides massive potential for the still heavily rural economies of Cambodia, Lao PDR, Myanmar, and Viet Nam.
Deputy Director Generals (DDGs) from the four countries came together in Bangkok for three days (20-22 September) to discuss the opportunities available to them to grow their domestic and export markets for fresh and processed fruits. Co-hosted by the Department of International Trade Promotion in Thailand's Ministry of Commerce, the Executive Leaders' Initiative is an opportunity for DDGs to think 'out of the box' by allowing the eleven DDGs from different ministries from the four countries to tap into the expertise and experience of twelve experts on the subject hailing from the private sector, business associations, government, and academia.
The Executive Leaders' Initiative participants also got to benefit from a visit to the TILOG LogistiX Fair being held in Bangkok at the same time. There they got to hear a presentation on the World Bank's Logistics Perceptions Index, as well as join a tailored visit to booths focusing on products and logistical support associated with the transportation of tropical fruits.
This is a second meeting of the DDGs following a first meeting in December 2015 in Ha Noi and Da Lat at which they focused on Developing Agricultural Value Chains in the Mekong Region. By making this an on-going series of meetings, ERIA hopes to support these government officials to develop realisable strategies and plans for their own countries.
The Executive Leaders' Initiative forms a component of ERIA's Capacity Building Programme.
Image Gallery
CHOOSE FILTER