ERIA's Participation in the OECD Southeast Asia Regional Program Ministerial Forum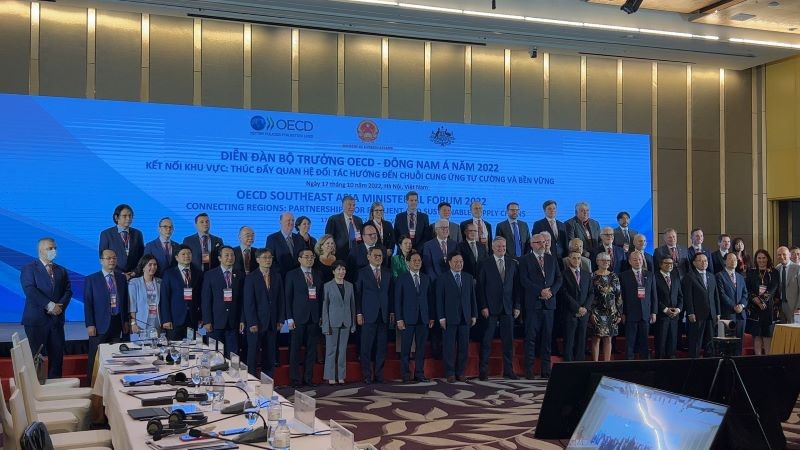 Hanoi, 17-18 October 2022: A delegation of the Economic Research Institute for ASEAN and East Asia (ERIA), headed by Professor Hidetoshi Nishimura, President of ERIA, participated in the Organisation of Economic Co-operation and Development (OECD) Southeast Asia Ministerial Forum in Hanoi, Vietnam. The Ministerial Forum was under the theme of 'Connecting Regions: Partnerships for Resilient and Sustainable Supply Chains,' and co-organised by the OECD and Ministry of Foreign Affairs of Vietnam, and Ministry of Foreign Affairs and Trade (DFAT) of Australia. The forum invited ministers from OECD member countries and the Southeast Asian region, heads of international organizations, and business sectors.
In the opening session, His Excellency Mr Bùi Thanh Sơn, Minister of Foreign Affairs of Viet Nam, Senator the Hon Tim Ayres, Assistant Minister for Trade and Assistant Minister for Manufacturing, Australia, and His Excellency Mathias Cormann, Secretary General of OECD, delivered their opening remarks. His Excellency Pham Binh Minh, Deputy Prime Minister of Viet Nam, delivered a keynote address.
Professor Nishimura made his intervention during the second ministerial session 'Enhancing Collaboration Between Government and Business for Resilient Economies' mentioning that digitalisation is key for the development of the region and referring to ERIA's new publication 'Comprehensive Asia Development Plan (CADP) 3.0'. Prof Nishimura also said that 'the SMEs in the region are the hardest hit from negative demand and supply shocks. Therefore, the future of growth and demand can be ensured by equal cooperation between governments and businesses to help the SME's join the supply chain networks quickly. Making SMEs digitally agile and green, and attracting investments amidst a global liquidity crunch, are the foremost tasks before governments and businesses. The ERIA-OECD MoU will hopefully contribute to these tasks by SME Policy Index project.'
During the ministerial forum, Professor Nishimura had a bilateral meeting with OECD Secreatary General Mathias Cormann and presented ERIA's key publication, CADP 3.0. Both parties discussed how to strengthen the partnership for further development of ASEAN and East Asia region in various fields of collaboration such as SME development, connectivity, environment and ageing issues.
On the second day of the meeting, 18 October, the OECD-Viet Nam High-level Economic Forum was held. Mr Fusanori Iwasaki, Director for Policy Research of ERIA, joined panel session two 'High-level Panel Discussion on Attracting Quality FDI for Digital and Green Transitioning'. Mr Iwasaki explained the four pillars of CADP 3.0: Integration, Innovation, Inclusiveness, and Sustainability, and emphasized digitalisation for development for all, and green transformation in the region in his discussion.
Image Gallery
Related Articles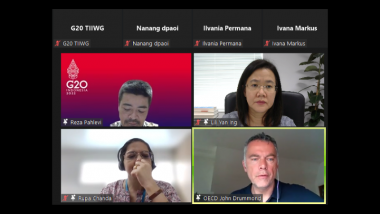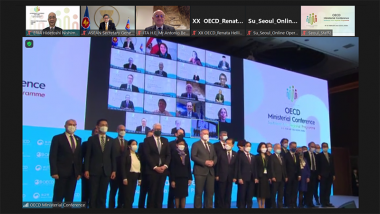 CHOOSE FILTER