ERIA –UNESCAP Joint Virtual Policy Dialogue on 'The Economic and Social Survey of Asia and the Pacific 2020'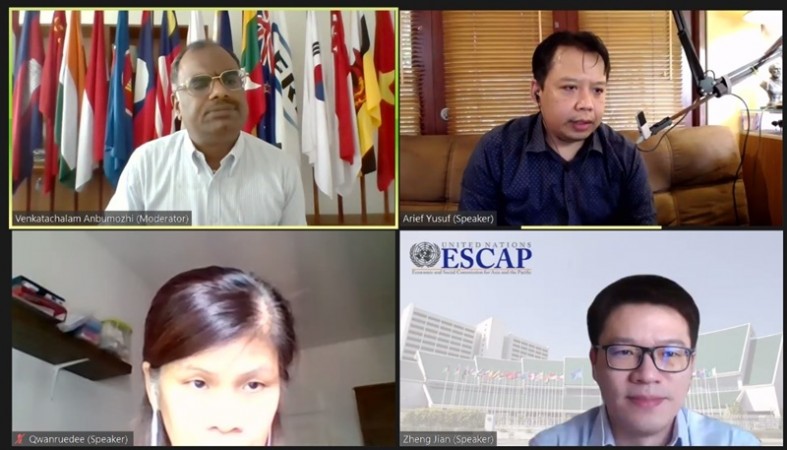 Jakarta, 10 June 2020: The United Nations Economic and Social Commission for Asia and the Pacific (UNESCAP) and the Economic Research Institute for ASEAN and East Asia (ERIA) held a joint virtual policy dialogue on The Economic and Social Survey of Asia and the Pacific 2020: Towards Sustainable Economies. The dialogue brought perspectives of policy experts as well as public opinion on how to rethink development models in the post COVID-19 world. The economic challenge for the region is bringing the region on track to achieve the Sustainable Development Goals by 2030 while coming to terms with the COVID-19's 'new normal'.
The policy dialogue event began with an Opening Remark by ERIA's Chief Operating Officer, Mr Koji Hachiyama while ERIA's Senior Energy Economist, Dr Venkatachalam Anbumozhi moderated the discussions.
In his 0pening remark, Mr Hachiyama highlighted that the transformation of regional development in the Asia-Pacific region has lifted a billion people from extreme poverty. However, Mr Hachiyama was quick to point out that the development has come at a cost to people and the planet as the world faces a growing number of climate-related disasters and changes. Immediate actions are needed from all stakeholders – governments, businesses, and consumers – to build a 'whole-of-government' and a 'whole-of-society' approach to strive for a sustainable mindset in policymaking, business models, and lifestyles. Expressing his views on the unprecedented impact of the COVID-19 pandemic, Mr Hachiyama stated that partnership is key to building resilience and cooperation across borders. Cooperating on areas such as information sharing, open trade, policy coordination, and capacity building can support a sustainable recovery post-COVID-19.
In the first session, Mr. Zheng Jian, UNESCAP's policy expert, highlighted the overall focus of the 2020 survey - the transformation towards sustainable economies – which is a primary policy challenge for the Asia-Pacific region. Paradigm shifts towards greener and less material-intensive production and consumption, as articulated in SDG 12, are at the centre of this transformation and require collective efforts of all stakeholders – governments, businesses, consumers and global partnerships. Governments need to embed sustainability in their policymaking and provide leadership and guidance in decarbonizing the economy. Businesses and consumers can also make their own important contributions in internalizing the environmental externalities of business operations and in moving towards sustainable lifestyles.
Last but not least, cross-border cooperation for policy harmonization and coordinated multilateral effort would be important to reduce frictions, prevent inaction and raise ambitions. Reflecting on the current COVID-19 crisis, Mr. Jian argued that it brought both new challenges and new hopes for inclusive and sustainable development, as putting people and jobs first is becoming a broad policy consensus and the crisis itself is a clear reminder that non-economic shocks could have devastating economic impacts. He thus advocated for a deviation from the GDP-centric development thinking to turn the crisis into an opportunity for further integrating the economic, social and environmental pillars and enhancing public awareness of the risk and cost of inaction or delayed action in the transformation towards sustainable economies.
Speaking next, Dr Anbumozhi explained how implementing a circular economy aligned to an Industry 4.0 framework would support a paradigm shift in consumption and production.
In the following session, sharing ERIA's ongoing studies, Dr Anbumozhi emphasized the need to develop integrated circular economy and Industry 4.0 frameworks, for effectively supporting the paradigm shift towards sustainable consumption and production. To do so requires mobilizing private finance in support of new sustainability models.
Dr Anbumozhi additionally shared his thoughts on a Green economic stimulus response to the COVID-19 pandemic. Through the 'No Regrets Option' framework, Dr Anbumozhi underlined how principles for green stimulus, such as sustainable growth and market-based solutions, can be realized under different timeframes. Furthermore, he called for the need to address emergency containment measures, the transition into the new normal, and planning long-term strategies for the Southeast Asian region.
Event speakers, Professor Arief Anshory Yusuf from Padjajaran University, Indonesia, and Dr. Qwanruedee Chotichanathawewong from National Research Council of Thailand (NRCT)shared their insights on the actual situations in Indonesia and Thailand amidst the COVID-19 pandemic.
In the context of Indonesia, Prof Yusuf recommended incorporating COVID-19 scenarios into the Indonesian economic growth measurement to minimize long-term economic loss. Responding to UNESCAP Report's recommendation to eliminate fossil fuel subsidies, Prof Yusuf elaborated on how fuel subsidy reforms since 2002 have been insufficient in accomplishing the government's objectives. Factors such as fluctuating global oil prices, strong political influences, and lack of social safety nets influenced the lacklustre success of meeting the intended goal.
For Thailand, Dr Chotichanathawewong explained the government's existing programs on social inclusion encompassing the launch of the National Savings Fund, multi-year public infrastructure projects, and the registration of low-income households. These economic reforms are aimed at improving SDG12 and if successful, will advance Thailand's efforts to achieve other SDGs.
To close the event, panellists answered questions regarding low-carbon development strategies in ASEAN post-COVID-19 as well as the costs and benefits of a carbon tax and carbon pricing for ASEAN Member-States.
ERIA-UNESCAP - Prof Arief Anshori
ERIA-UNESCAP - Dr Qwanruedee Chotichanathawewong
Related Articles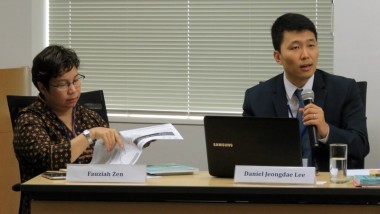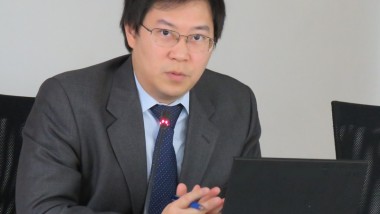 CHOOSE FILTER