ERIA Supports Training Seminar for the Members of National and People's Provincial Assembly of Lao PDR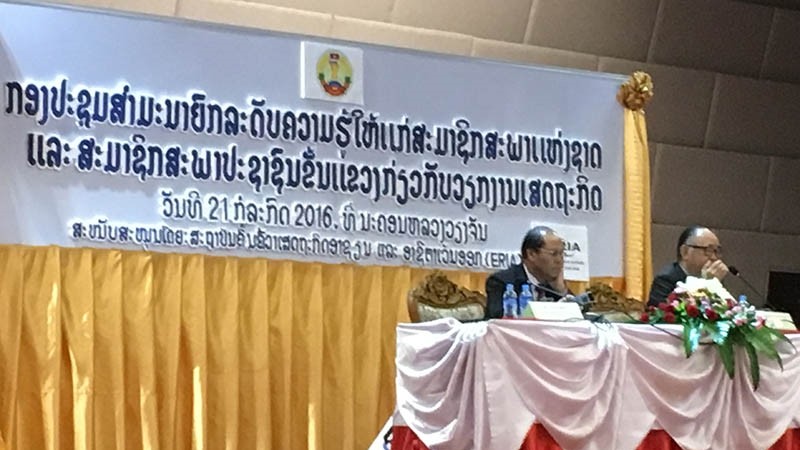 The National Assembly (NA) of Lao PDR organised a training seminar in Vientiane for the members of the NA and the People's Provincial Assembly (PPA) in a bid to improve the members' capacity to discuss and understand Lao's economic issues.
The seminar, which was attended by more than 150 NA and PPA members, was held on 21 July 2016 under the support of the Economic Research Institute for ASEAN and East Asia (ERIA).
Mr Bounpone Sisoulath, the President of Economic, Technology, and Environment Committee of the NA delivered his opening remarks followed by ERIA's President Professor Hidetoshi Nishimura. In his remarks, Professor Nishimura reiterated ERIA's suggestion for Lao PDR to shift its perspective from a landlocked country into a land-linked country similar to Switzerland so that it could help achieve overall ASEAN connectivity in a strategic manner.
The training seminar was particularly aimed to improve the comprehension of the members of NA and PPA in implementing and monitoring the Government's plans and strategies. In order to achieve this objective, four experts delivered their presentations on various subjects.
The Director General of the National Economic Research Institute Dr Leeber Leebouapao gave a detailed explanation on Lao PDR's eighth 5-Year National Socio-Economic Development Plan (2016-2020), the 10-Year National Socio-Economic Development Strategies (2016-2015), and the Vision 2030. Afterwards, Mr Xaysomphet Norasingh, the Deputy Director General of the National Research Institute for Trade under the Ministry of Industry and Commerce, gave a presentation on Lao PDR's industrial promotion and international commercial policies. The next presenter was Mr Souknilanh Keola, the Research Fellow at IDE-JETRO, who provided an overview of ERIA's work 'Lao PDR at the Crossroads: Industrial Development Strategies 2016-2030' with a particular focus on the geographic simulation analysis. Finally, ERIA Economist Mr Masahito Ambashi delivered a presentation highlighting industrial estates and individual industrial studies.
ERIA was formally requested by the Chair of NA Mme Pany Yathoutou to provide support for this seminar when Professor Nishimura reported the result of the National Policy Dialogue on 'Lao PDR at the Crossroads: Industrial Development Strategies 2016-2030', which was held on 30 March 2016 in Vientiane.
CHOOSE FILTER