ERIA Signs MoU with JETRO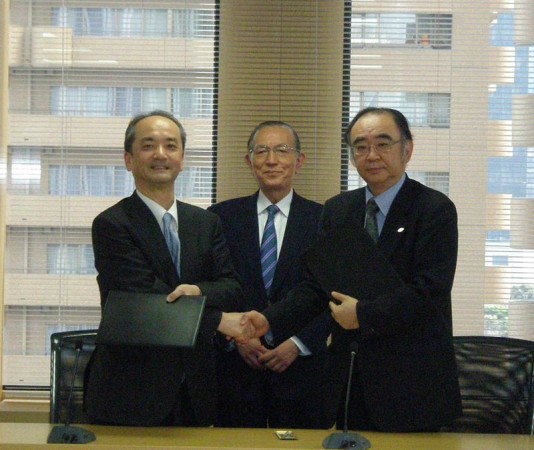 ERIA and JETRO (Japan External Trade Organization) have signed a Memorandum of Understanding in Tokyo, Japan at JETRO Office to strengthen mutual cooperation on 17 February 2011.
JETRO has been supporting ERIA's activities before its establishment in June, 2008 particularly with regard to (i) providing research inputs, (ii) support of conducting seminars and symposiums related to ERIA, and (iii) support of conducting ERIA Research Institute Network Meeting consists of top institution by16 EAS countries.
Objectives in signing the MoU are as follows;
1.Strengthening networks in ASEAN and East Asia by promoting collaboration with ERIA and enhancing JETRO's involvement in the region, which is increasingly playing a vital role in the world economy.
2.Advancing the level of policy research activities of the Institute of Developing Economies, Japan External Trade Organization (IDE-JETRO) through synergy effects of combining research efforts. (The first joint project under the MoU in 2011 will include IDE-JETRO, ERIA and the United Nations Industrial Development Organization (UNIDO) and focus on "Green Economy and Innovation.")
3.Helping to raise East Asia's business-friendly level--and thereby promoting economic integration--by encouraging ERIA to research business issues faced by Japanese companies as policy-related themes common to firms in ASEAN and East Asia. JETRO will collect voices of Japanese companies operating in the region, utilizing its extensive network in East Asia.
4.Promoting ERIA's plan for an advanced library, a potential research infrastructure in the East Asian region. The plan is to build a digitalized library with an electronic archive system (institutional repository).
The system would archive and exhibit ERIA's past research achievements. For its part, JETRO will promote collaboration between the ERIA library and the region's research libraries, including the IDE-JETRO library.
After the MoU Ceremony, Celebration Lecture by Mr. Hidetoshi Nishimura, Executive Director of ERIA, and Dr. Shujiro Urata, Senior Research Advisor to the Executive Director, was conducted. Mr. Nishimura briefed the cooperation between ERIA and JETRO as explaining its activities and organization.
He stressed that the experience and insight of Japanese business leaders through JETRO are useful to improve the efficiency of ASEAN. Dr. Urata made a presentation about ERIA's research works. The cooperation of the two organizations is expected to accelerate the economic integration in ASEAN.
Picture: Mr. Michitaka Nakatomi, President of JETRO?Left?, Mr. Yasuo Hayashi, Chairman of JETRO?Center?, Mr. Hidetoshi Nishimura, Executive Director of ERIA ?Right?
CHOOSE FILTER