ERIA President Introduced Energy Research in SETA 2018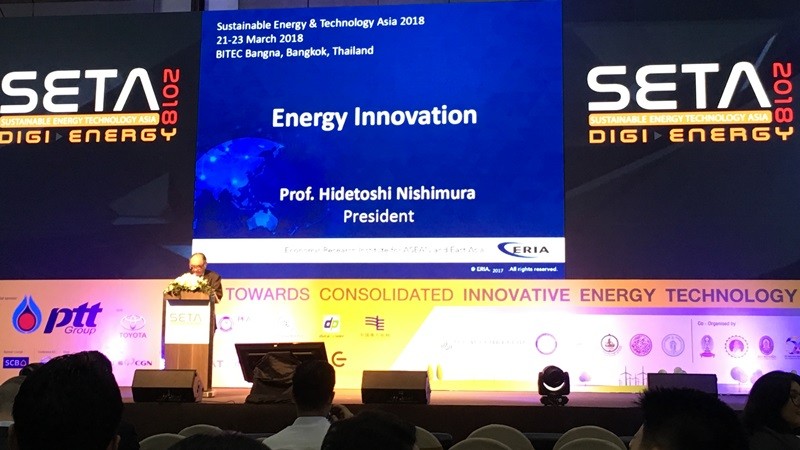 Bangkok, 20-22 March 2018: President of the Economic Research Institute for ASEAN and East Asia (ERIA), Prof Hidetoshi Nishimura, delivered a keynote speech entitled 'Energy Innovations' in which he presented several ERIA studies on the ministerial panel of the Sustainable Energy and Technology Asia (SETA) 2018 that was held in Bangkok, Thailand, on 20-22 March.
The conference, with the theme 'Towards Consolidated Innovative Energy Technology', was the third annual event organised by Thailand's Ministry of Energy in cooperation with the Ministry of Transportation, the Ministry of Science and Technology, and the Ministry of Digital Economy. Around 1,500 people attended the event, including government officials, experts from private sector, international organisations, and academe.
Prof Nishimura attended the Opening Ceremony alongside Deputy Prime Minister of Thailand H.E. ACM Dr Prajin Juntong, Minister of Transport of Thailand H.E. Mr Arkhom Termpittayapaisith, and Minister of Digital Economy and Society of Thailand H.E. Dr Pichet Durongkaveroj.
Prof Nishimura highlighted three main ideas in his presentation. First, he introduced an ERIA study on the potentials of adoption of energy management system (EMS) in ASEAN countries. EMS includes a wide spectrum of technology that measure, visualise, monitor, control, and eventually optimise energy consumption in various facilities such as homes, buildings, factories, and communities. Modern EMS is also featured by the integration of advanced Information and Communication Technologies as well as real-time demand response and load management functions.
Afterwards, Prof Nishimura introduced the New Generation Vehicle and its related ERIA studies. He stated that plug-in hybrid engine vehicle (PHEV) and electric vehicle (EV) is expected to expand in near future. On the other hand, there were several remaining issues on engine technology and production of hydrogen. Fuel cell vehicle (FCV), also known as hydrogen vehicle, also has great potentials. All of the findings indicated that the movement towards low carbonisation is irreversible.
The third topic that Prof Nishimura discussed was ERIA's Eco Town Project. ERIA has been supporting the Government of Brunei Darussalam to develop an Eco Town in Temburong district. The results of the simulation study of Temburong Eco Town showed that if Brunei could apply an eco-township (green building concept) on the construction of buildings in Temburong district area, they could expect a 30% saving of electricity. In addition, a combination of Solar/PV and Electricity Storage could provide electricity to the eco town without blackout problems. Prof Nishimura stated that based on the result of ERIA's studies, the reduction of these technology costs (green building, solar/PV and storage) will be necessary to materialise low carbon smart cities.
Dr Venkatachalam Anbumozhi, Senior Energy Economist of ERIA also participated in the plenary panel CEO forum on Energy Transition in Asia. Sharing ERIA study results, he emphasised the need to accelerate the private financing of low-carbon energy transition in ASEAN and beyond. He introduced a four-pronged Public Private Partnership strategy of establishing a regional transition fund, similar to a financial performance warranty program. He also discussed the best regulations for low-carbon economy and high quality low-carbon infrastructure programme as a coordinated regional approach to unlock the potentials of private sector capital to accelerate the transition.
Image Gallery
Related Articles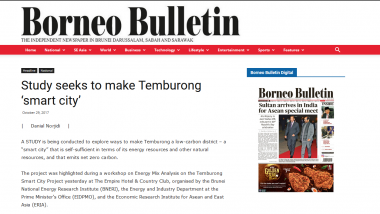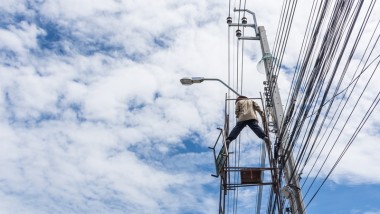 CHOOSE FILTER