ERIA Presents to ASEAN Plus Three Agriculture and Forestry Ministers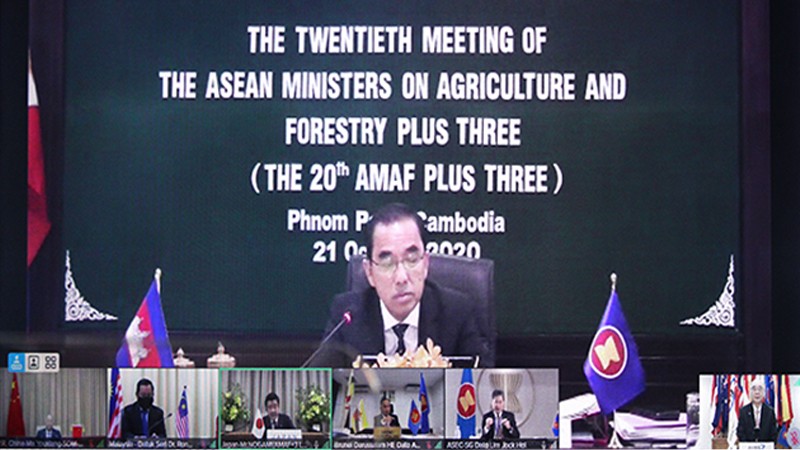 Jakarta, 21 October 2020: The 42nd ASEAN Ministerial Meeting on Agriculture and Forestry (AMAF) and associated meetings were held virtually due to the Covid-19 pandemic on 21 October. Prof Hidetoshi Nishimura, President of the Economic Research Institute for ASEAN and East Asia (ERIA), presented ERIA's research on food value chains at the 20th AMAF Plus Three Meeting.
In his presentation, Prof Nishimura explained the outline and progress of ongoing projects: 1) Realization of higher value-added of agricultural products in ASEAN countries through the development of effective cold chains, and 2) Enhancing food supply chain resilience and food security in ASEAN through digital technologies. These projects are conducted in collaboration with researchers in ASEAN countries and with the support of the Government of Japan.
Regarding the development of cold chains, ERIA's initial findings show that cold chains bring benefits to farmers through the reduction of post-harvest loss and increased income, although various challenges were also identified. The research is being conducted through case-studies in several ASEAN countries and will be published next year.
Prof Nishimura also outlined the structure of ERIA's research on the utilization of digital technologies which consists of three components: 1) COVID-19 impact analysis on food value chains in ASEAN by macrodata scenario analysis, 2) assessment of digital technology adaptation and related policy in ASEAN and other countries, and 3) in close collaboration with the ASEAN Secretariat, formulation of regional guidelines for the application of digital technologies in ASEAN food value chains.
Lastly, Prof Nishimura concluded by saying that ERIA will continue these research activities to produce pragmatic policy recommendations for the improvement of food value chains in ASEAN countries in spite of uncertainties due to the pandemic and asked the Ministers to support the projects.
ERIA was honored that the Joint Press Statement of the 20th AMAF Plus Three Meeting appreciated the progress of ERIA's project:
We appreciated the progress of the Research Project on Cold Chain Development and Application of Digital Technologies to FVC, towards Higher Value Added of ASEAN Agri-products that the Economic Research Institute for ASEAN and East Asia (ERIA) is implementing, and noted the utilization of digital technology is one of the important cooperation areas for further development of the food value chain in ASEAN.
Joint Press Statement 20th AMAF 3
Image Gallery
CHOOSE FILTER