ERIA Participates in ASEAN Business and Investment Summit 2018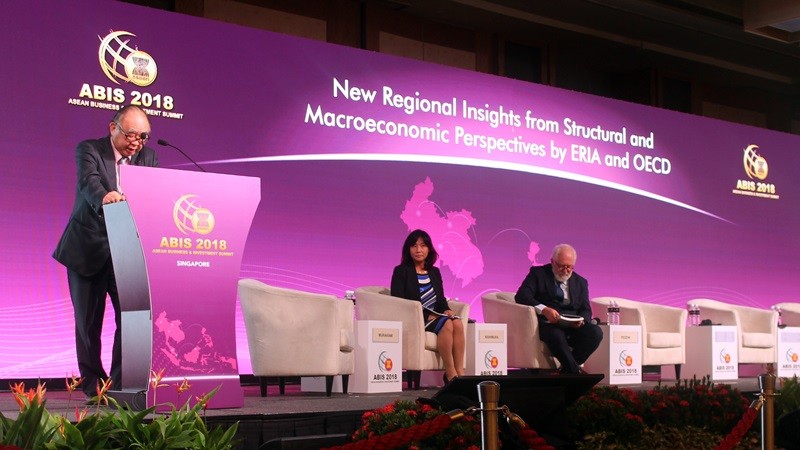 Singapore, 12-13 November 2018: The President of the Economic Research Institute for ASEAN and East Asia (ERIA), Prof Hidetoshi Nishimura, led the ERIA delegation attending this year's ASEAN Business and Investment Summit (ABIS) held in Singapore on 12-13 November 2018.
Prof Nishimura participated in a session entitled 'New Regional Insights from Structural and Macroeconomic Perspectives by ERIA and OECD' together with Director of the OECD Development Centre Mr Mario Pezzini. The session was moderated by the Head of OECD Tokyo Centre Ms Yumiko Murakami.
During the session, Prof Nishimura presented the roles that ERIA has played in the last ten years through a video that was made in commemoration of ERIA's tenth anniversary. Afterwards, he introduced the ASEAN SME Policy Index 2018, which was jointly developed by ERIA, OECD, and the ASEAN Coordinating Committee on Micro, Small, and Medium Enterprises (ACCMSME), with the support of the Government of Canada. The report was launched on the margin of the 50th ASEAN Economic Ministers (AEM) Meetings in Singapore.
Prof Nishimura reaffirmed ERIA's commitment to support the development of ASEAN and East Asia countries. 'Over the last 10 years, the world has seen dramatic changes. It will continue to face numerous challenges. ERIA will conduct research and make policy recommendations from a wide perspective to help tackle challenges such as population ageing, digitalisation, energy security, and environmental issues on the road to the further development of ASEAN and East Asia,' said Prof Nishimura.
The first day of ABIS 2018 was closed by a keynote address by Myanmar State Counsellor Daw Aung San Suu Kyi. On the second day, the keynote address was delivered by the Prime Minister of Thailand H.E. Mr Prayut Chan-o-cha and the Prime Minister of Malaysia H.E. Tun Dr Mahathir Mohamad. H.E. Mr Hiroshige Seko, Minister of Economy, Trade, and Industry of Japan also delivered his remarks in a special session.
'I also commend the proposed collaboration between ASEAN-BAC and Economic Research Institute for ASEAN and East Asia (ERIA) to formulate national level priorities for the reduction of non-tariff measures to support 10% reduction in trade costs by 2020,' said Prime Minister Mahathir in his keynote speech.
ERIA and OECD also participated in the exhibition held as part of the ABIS 2018. ERIA's booth was visited by H.E. Ms Khemmani Pholsena, Minister of Industry and Commerce of Lao PDR, and Minister Seko.
Image Gallery
CHOOSE FILTER