ERIA Launches Myanmar National Energy Statistics 2019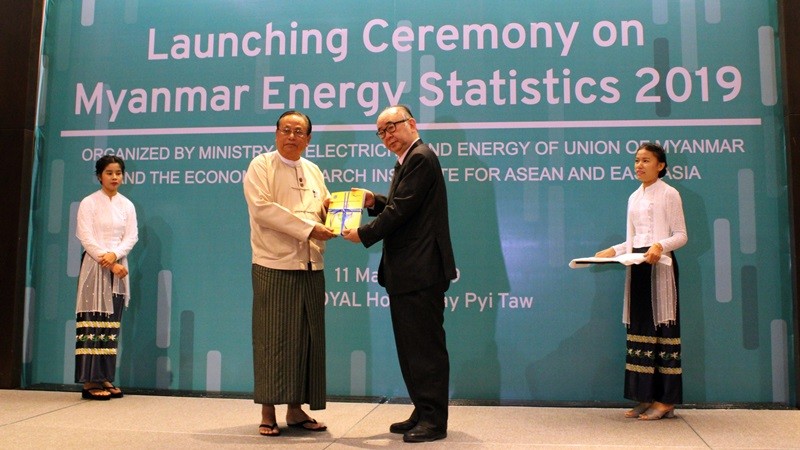 Nay Pyi Taw, 11 March 2019: The Economic Research Institute for ASEAN and East Asia (ERIA), together with the Ministry of Electricity and Energy of the Union of Myanmar, launched Myanmar National Energy Statistics 2019 in Nay Pyi Taw on 11 March 2019.
In his welcome address, H.E. U Win Khaing, the Minister of Electricity and Energy, underlined the importance of statistics for government in decision making and policymaking, which are essential for good governance. He added that Myanmar's energy policy was generally aimed at ensuring energy efficiency through development activity.
ERIA's President Prof Hidetoshi Nishimura summarised the various cooperation that ERIA and the Government of Myanmar have undertaken over the years, which have increasingly strengthened the working relationship. Prior to the National Energy Statistics, ERIA and the Ministry of Electricity and Energy launched the first Myanmar Natural Gas Master Plan in December 2018. Prof Nishimura stated in his remarks the development of a variety of energy sources is important for Myanmar.
'Myanmar is endowed with rich gas and hydropower resources in quantities, but gas will be depleted year by year according to the 'Myanmar Gas Master Plan'. Therefore, hydropower development in future will be crucial. Myanmar could shift to hydropower from gas power generation and use electricity from the hydropower not only for domestic purposes, but also exports. In parallel, import of LNG will be very important policy for Myanmar,' said Prof Nishimura. 'In addition, since biomass will be dominant energy continuously, sophisticated use of biomass such as highly efficient cooking stove and power generation will be an appropriate policy for Myanmar.'
Prof Nishimura went on to explain that the newly launched Myanmar National Energy Statistics 2019 contained historical energy balance tables from 2000 to 2016, which were produced based on the country's primary energy data such as fossil fuels, electricity, and biomass. He also highlighted the importance of annual updates of the energy statistics, which would be conducted by the Oil and Gas Planning Department (OGPD) in the Ministry and expressed ERIA's support for the updates.
'Reliable energy statistics would enable MOEE to establish realistic and practical energy policies to secure energy supply to Myanmar with affordability, accessibility, security, and safety,' said Prof Nishimura.
ERIA's Special Adviser to the President on Energy Affairs, Mr Shigeru Kimura, delivered the Keynote Speech on the Importance of Energy Statistics. In his remarks, Mr Kimura provided a brief summary of the content of energy statistics and energy balance table. He highlighted the importance of energy balance table in making appropriate energy policies.
'The energy balance table should be produced based on reliable primary energy data and it should be timely, transparent, accurate, and sufficient coverage,' said Mr Kimura. He added that there were several recommended measures to update the energy balance table, namely: (i) assign one section to engage primary energy data collection as hub; (ii) regularly collect accurate primary energy data from all the stakeholders; (iii) establish the collection system using information technology; and (iv) increase the capacity of energy statisticians by joining energy statistics training.
Ms Swe Swe Tan from the OGPD introduced the Primary Energy Data in Myanmar, while Ms Cecilya Malik, an ASEAN Energy Expert from Indonesia, explained the details of the Energy Demand Survey. Mr Shigeru Kimura introduced the Energy Demand-Supply Analysis of Myanmar and delivered the closing remarks.
Prior to the official launch, the ERIA delegation, which consisted of Prof Nishimura, Mr Kimura, and Dr Alloysius Joko Purwanto, met with Minister U Win Khaing. In the meeting, Prof Nishimura briefly summarised ERIA's achievements in the past year, including its recent achievement of improving to the 14th ranking globally from the 24th ranking in the previous year in the category of International Economics Policy Think Tanks based on the 2018 Global Go To Think Tank Index Report (GGTTI) conducted by the Think Tanks and Civil Societies Program (TTSCSP) at the University of Pennsylvania. Moreover, Prof Nishimura and Minister U Win Khaing discussed opportunities for future cooperation between ERIA and the Ministry.
Image Gallery
Related Articles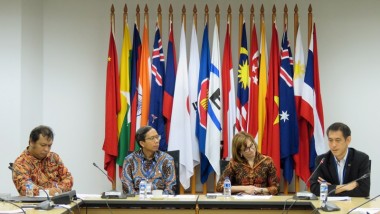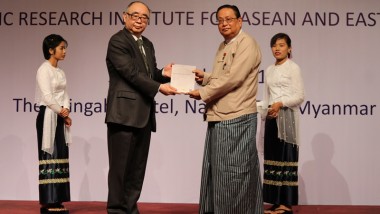 CHOOSE FILTER