ERIA Launched the ERIA's Research Project in Fiscal Year 2012-13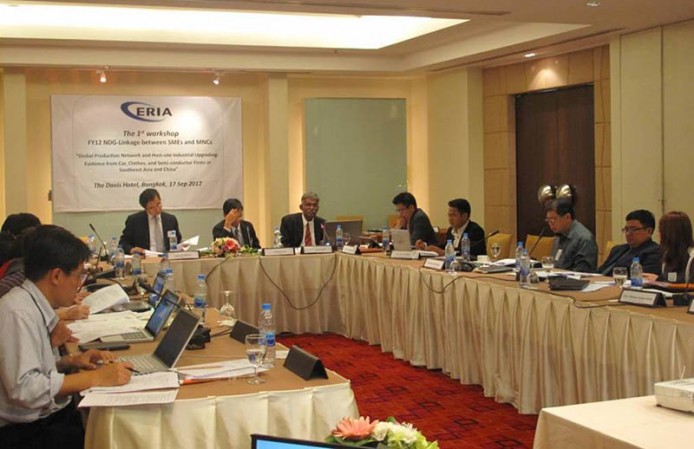 September 17, 2012 - ERIA's research project in fiscal year 2012-13 on "Global Production Networks and Host-Site Industrial Upgrading: Evidence from Car, Clothes and Semiconductor Firms in Southeast Asia and China" was launched at a workshop held in Bangkok, Thailand today. Fourteen researchers from the region attended the workshop.
The research project seeks to expound the critical concepts, review the main arguments, and establish firm-level benchmarks and dynamics to examine the circumstances under which host-site small and medium enterprises (SMEs) appropriate the most technological synergies from the operations of multinational corporations (MNCs).
During the workshop, the working group members discussed about the theoretical framework and methodology to be applied by team members of the working group. They exchanged views on research experience in the field of their expertise and thoroughly fine-tuned the methodologies and questionnaire to achieve the highest academic standard of the research project.
Findings from the research would provide recommendations for policy makers in the region to foster SMEs upgrading and linkages with MNCs. Papers from the project will be selected for publication in both the Asia Pacific Business Review and Routledge.
CHOOSE FILTER