ERIA Joins Public-Private Policy Dialogue at APEC Senior Officials' Meeting 3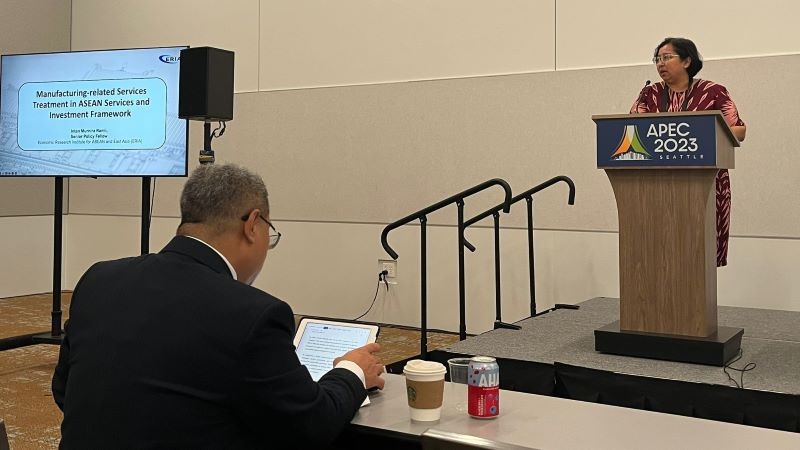 Seattle, 6 August 2023: The Economic Research Institute for ASEAN and East Asia (ERIA) took part in the Public-Private Policy Dialogue (PPPD) on Manufacturing-Related Services (MRS): Definition, Contribution, Issues and Challenges organised by Asia-Pacific Economic Cooperation (APEC) Malaysia, and co-sponsored by Australia, Chile, China, Indonesia, and Japan, during the Group on Services Meeting held 6-7 August at the Asia Pacific Economic Cooperation (APEC) Third Senior Officials Meeting in Seattle, Washington state, US.
The main objectives of the workshop were to contribute to a common understanding of the definition of MRS; to exchange practical experiences among economies and data gathering on the contribution of MRS to the value chain of APEC economies' gross domestic product (GDP); movement of natural persons offering services relating to MRA under Mode 4; and to explore how APEC economies can capitalize on opportunities and benefits in MRS.
The workshop brought together policymakers of APEC member economies, leading expert institutions, and individuals, to exchange views and share knowledge and good practices in analysing and formulating appropriate policies relating to MRS, as well as attracting quality investment in the APEC region.
The workshop began with welcoming remarks by See Chee Kong, Project Overseer/Senior Director Ministry of Investment, Trade and Industry, Malaysia; followed by opening remarks from Thomas Fine, Convener APEC, Group on Services.
Session 1 began with Insights Unveiled, which discussed key findings from the virtual workshop on MRS organised by APEC–GOS Malaysia led by Professor Dr Sufian Jusoh, Director, Institute of Malaysian and International Studies (IKMAS). Session 2 continued with Sharing on MRS Experience – MRS as a Key Driver for Economic Growth by Dr Gloria Pasadilla, Policy Consultant; and APEC economies experiences on national policies relating to MRS as a driver for economic growth by Sherry Stephenson, Services Convener, the Pacific Economic Cooperation Council.
Session 3 was on MRS: Issues, Challenges and Recommendations, and Professor Tamat Sarmidi, National University of Malaysia, presented on Capturing Data on MRS: The National Approach; followed by Dr Matthew Stephenson, Head, Investment Policy and Practice, International Trade and Investment, the World Economic Forum on The Global Perspective on MRS.
For Session 4, Multilateral and Regional Agreements and Guiding Documents Affecting Measures on MRS, Dr Intan Murnira Ramli (ERIA, Jakarta) presented on Maximising Opportunities: MRS Treatment in ASEAN Services and Investment Frameworks. Dr Roberto Echandi, Global Trade Specialist, Macroeconomics, Trade and Investment, the World Bank, followed on Addressing Market Access and Facilitation of MRS Treatment in FTA (free trade agreements) and IIAs (international investment agreements).
The dialogue continued with Roundtable on MRS: Definition, Contribution, Issues and Challenges, comprising Prof Dr Sufian Jusoh, Gloria Pasadilla, Dr Matthew Stephenson, and Dr Roberto Echandi. Concluding remarks and outlining of the next steps were made by See Chee Kong.
Related Articles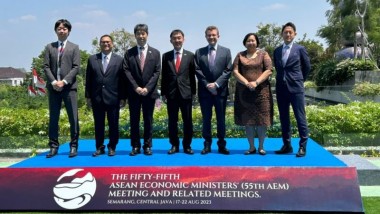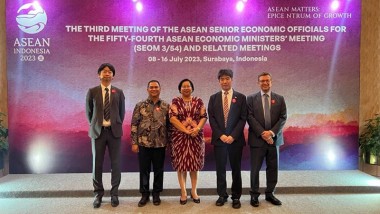 CHOOSE FILTER