ERIA Joins Business 20 in First Roundtable on Solar Supply Chain Development in Northeast India, ASEAN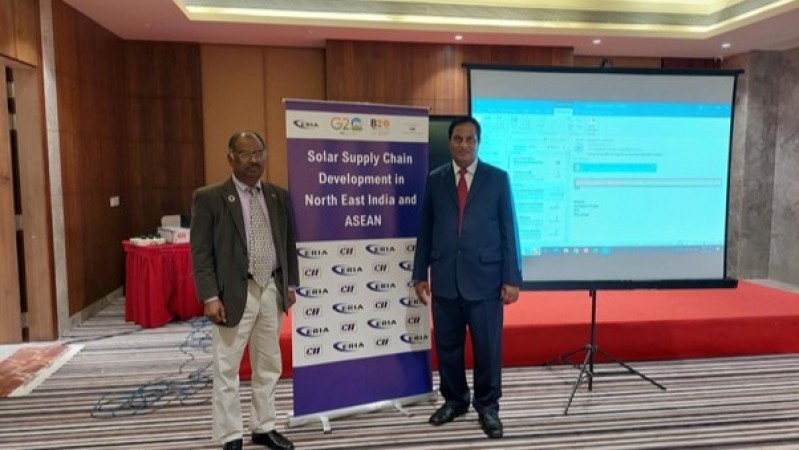 Guwahati, 27 March 2023: Under the aegis of the Group of Twenty (G20) and Business 20 (B20), the Economic Research Institute for ASEAN and East Asia (ERIA), in cooperation with the Confederation of Indian Industry (CII) and Indian Institute of Technology (IIT) Guwahati, organised a roundtable conference, Solar Supply Chain Development in Northeast India and ASEAN, 27 March 2023, in Guwahati, India.
B20 is an official the G20 dialogue process and supports the G20 process of galvanising views on energy governance issues. In support of the G20 Energy Transition Working Group (ETWG), B20-India has identified energy, climate change, and resource efficiency as a priority area and formed a task force with CII as the secretariat. The task force is mandated to find pathways to accelerate the shift towards cleaner energy carriers and other efficient technologies for enhanced quality of life whilst achieving long-term decarbonisation goals.
The conference gathered policymakers and industry and academia representatives, who exchanged views, ideas, and remarks on the study, which is focused on the formulation of a regional solar supply chain between North East Region (NER) of India and ASEAN.
Delivering the opening remarks, Dr Bhupendra Kumar Singh, CII's Director and Head of Energy Security, stated that the world is facing the issue of greenhouse gas (GHG) emissions, and cited the deployment of solar power as a strategy to reduce them. He said that since northeast India is neighbours with ASEAN countries such as Myanmar, Thailand, Singapore, Cambodia, amongst others, it will benefit both regions to search for opportunities related to solar component manufacturing. Referring to India's traditional dependence on particular countries for its solar power components, he said the country now needs to find ways to collaborate with ASEAN countries on solar power agreements, investments, and technology transfer. He added that the availability of cheaper advanced technology from ASEAN countries will strengthen the solar supply chain development in the Northeast Region (NER) and the ASEAN region. He emphasised the need to focus on policy frameworks to develop solar power in northeast India.
Dr Venkatachalam Anbumozhi, ERIA's Director of Research Strategy and Innovation, delivered the theme address and set the context of the conference, explaining the background, objectives, and expected outcome and output of the study. He said there are enough narratives that lead to solar energy becoming a major source of renewable energy to support the development of a regional solar supply chain. Thus, he said, it is important to measure the risks, opportunities, and challenges associated with the solar supply chain along with their policy and regulatory frameworks. He discussed the study approach, the likelihood of factors affecting the solar supply chain, and the competitive position of the northeast states of India. He expressed hope that, through the conference, the participants could produce an analytical report that provides an overview of factors favouring regional supply chains in solar photovoltaic (PV) and concentrated solar power whilst considering system integration, manufacturing, and feedstock that enhance collaborations between India, Myanmar, and other selected ASEAN countries.
In his special address, Mr Sadhan Kumar Sarkar, Director of Assam Energy Development Agency, Government of Assam, said that solar energy is a necessity to manage climate change conditions. He expressed hope that the dialogue can bring about some concrete solutions for developing solar power in the North Eeast Region of India. He reported his agency's current installation of solar lights and solar power projects in the remote areas and some districts of Assam.
Mr Debajyoti Das, Managing Director of Assam Electricity Grid Corporation Limited, shared his experience working in a power generation, transmission, and distribution company in the northeast of India. He said that although sunlight has been a source of energy since time immemorial, solar energy as a source of power has never been envisaged as an alternative in NER due to the region receiving fewer solar hours, which is considered a prime bottleneck in its commercial viability. He expressed the belief, however, that the issue can be resolved with adequate policymaking and technological advancement.
Explaining the solar supply chain, Mr Das said that it involves the flow of information, products, raw materials, and funds based on the operational management perspective of producing the product and making it available to the end users. He identified several key issues related to the development of solar supply chain, including production links, such as supply of raw materials, skilled manpower, research and development, quality infrastructure; ecosystem, such as development of micro, small, and medium-sized enterprises that supply solar materials; financial enablers or capital expenditure subsidiary; and its intermediaries. He stated that assessing the commercial viability of the solar projects should include environmental costs, and concluded by saying that, with the proper adequate policies in place, the northeast region can be developed as a key stakeholder in India's solar value chain.
Prof Bipul Bhuyan of IIT Guwahati presented the ERIA–CII–IIT research on northeast India's perspective in the solar supply chain development. He explained the status of energy consumption, technologies, and manufacturing readiness in the northeast states. Recognising the gap of about 4.7% between supply and demand, he claimed that the production capacity in NER has increased from 264 MW to 519 MW since 2016. He added that there has been a 25% increase in the per capita energy consumption in NER since 2014–2015. He pointed out that 52% of the energy in NER is from solar and hydro power. He explained the findings that showed Arunachal Pradesh having the maximum solar potential amongst the northeast states. He added, however, that solar power is still the most underutilised source of renewable energy in the region.
Prof Bhuyan reported that the production capacity of solar energy in NER has doubled in the last 2 years and has the potential to reach about 60 GW. Explaining the power demand projection, he said that renewable power connectivity may enable neighbouring countries to integrate their energy markets. He described the import–export scenario of solar photovoltaic (PV) as showing that China continues to dominate in terms of import , whilst the bulk of India's PV exports is shipped to the USA.
Prof Bhuyan said that due to the COVID-19 pandemic, the imports of solar PV were at a minimum in FY2019 and FY2020. He added, however, that they have since increased. He noted that as of November 2021, total domestic solar cell production capacity in India was 4.3 GW, or nearly a quarter of domestic module production capacity. This is due, he said, to the lack of vertical integration of domestic solar fabs, and the generally low demand for India-made solar cells. He said that domestic solar module manufacturing capacity tripled in 2021 compared with 2016. He projected that, to meet the 60 GW solar energy target in the region, NER must set up its own PV manufacturing capacity. The production-linked programme, according to Prof Bhuyan, is a game changer for the solar energy industry in the country. Through his Strengths, Weaknesses, Opportunities, Threats (SWOT) analysis, he emphasised the promotion of the solar industry in NER as an important component of India's Act East initiative. He pointed out the need for the region to come up with its own solar energy development model and reduce dependence on central schemes.
Ms Debjani Dey, Executive Director of North Eastern Electric Power Corporation Limited (NEEPCO), said that as far as the solar supply chain is concerned, nothing should deter solar manufacturing in NER. She explained that the success of solar energy system relies heavily on e-radiation, which is abundant in states like Rajasthan, Gujarat, Tamil Nadu, Karnataka, and Madhya Pradesh. However, based on NEEPCO's studies on potential solar PV areas, she confirmed that Tripura has the largest potential and where NEEOCO has already set up a 5 MW pilot solar plant. She emphasised that NER provides a level playing field for solar manufacturers. She said that although logistics have been an issue in the past, the government has been putting in a lot of effort to develop infrastructure and reduce transportation costs. Whilst cautioning that complete due diligence is necessary for solar power generation, she admitted that it does not always provide the expected results. She said that although NER has more agricultural land, it can be used for solar deployment once it loses fertility. In the end, she said that since a gap is produced as India mostly imports the solar PV and cells, the northeast region can help bridging that gap by putting up solar manufacturing industries.
Mr Bhargav Deori, Director of Reenergy Solutions Private Limited, presented 'Barriers to Scaling the Local Solar Energy Market', which included the present solar power scenario in India and some solar power statistics in NER. Dividing the supply–demand barriers into two, he pointed out the absence of solar panel or solar inverter manufacturing units in NER and the irregular delivery time as some of the supply-side barriers. For the demand-side barriers, he said few industrial segment clients are in NER and most projects are based on government tenders. He further explained policy-related issues that hinder smooth project execution, including the involvement of multiple stakeholders in projects, which makes getting approvals cumbersome, and the lack of coordination amongst different government departments.
Mr Jyotishman Pathak, Phd Scholar, IIT Guwahati, presented energy storage to push solar power expansion in NER, explaining energy storage technology for off-grid solar PV in households and their key requirements. He discussed Indian rooftop energy PV generation and concluded by stressing the need to harness as much solar power as possible even in moderate climate conditions.
Mr B S Choudhury, New and Renewable Energy, Assam Power Distribution Company Limited, presented documents explaining the bottlenecks and barriers that solar manufacturing is facing in India. These include lack of adequate infrastructure, high capital costs, competition from low-cost imports, complex regulatory environment, lack of skilled labour, and others. These, he said, are proving to be a hindrance in scaling up domestic solar manufacturing capacity.
For the policies, Mr Choudhury explained that to increase the production capacity of local solar manufacturers, the government can implement a range of policies, including financial incentives, public procurement, research and development support, skills development, simplified regulations, amongst others. He stressed the need to create a global framework for international cooperation in the solar manufacturing sector. He called for investment in developing countries, promotion of trade in solar products, coordination in research and development, support for local supply chains, and encouragement of sustainable manufacturing practices. He stated that overall, India's solar supply chain is still developing, with significant potential for growth and expansion. He concluded by saying that the government's initiatives to promote domestic manufacturing and reduce dependence on imports, along with ongoing investments in research and development, are likely to play a crucial role in shaping the future of India's solar industry.
Image Gallery
Related Articles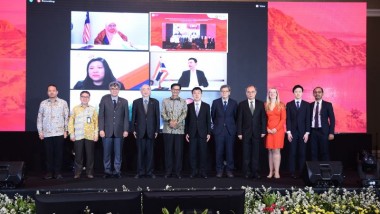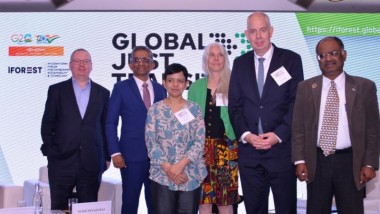 CHOOSE FILTER