ERIA Joins B20 Summit Clarion Call for Responsible, Accelerated, Innovative, Sustainable and Equitable Global Growth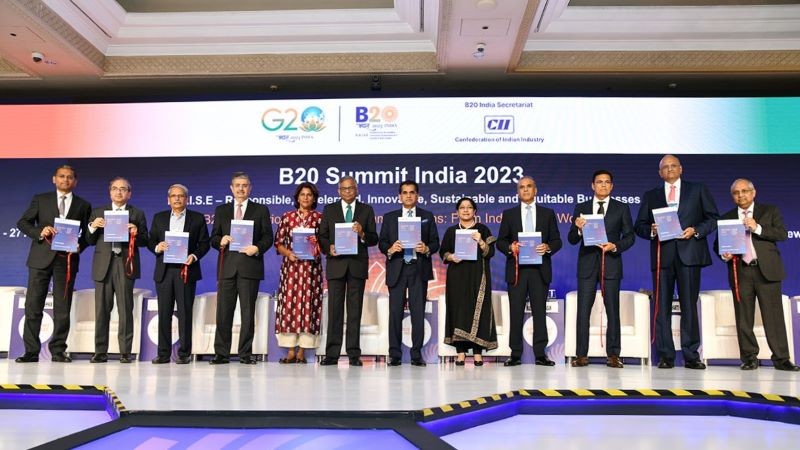 New Delhi, 27 August 2023: The Business 20 (B20), the official G20 dialogue forum with the global business community – with business organizations, policymakers, and academia as participants – held its annual summit from 25 to 27 August in New Delhi to deliberate and discuss the B20 India Communique. With the theme of RAISE – Responsible, Accelerated, Innovative, Sustainable, and Equitable Businesses – the summit was attended by over 1,500 delegates from around 55 countries.
India Prime Minister Narendra Modi told the Summit the success of the decisions taken by industry has a direct impact on dealing with global economic challenges and creating sustainable and inclusive growth.
'Business can transform development potentials into prosperity, obstacles into opportunities, aspirations into achievements. Whether they are small or big, global, or local, business can ensure progress for everyone.'
Expressing happiness that B20 has emerged as a robust platform among G20 nation businesses, he also stressed the global need to focus on sustainability and called on the private sector to move forward as sustainability, in itself, is an opportunity as well as a business model.
The three-day event was organized as a high-level panel discussion on seven task force areas: inclusive global value chains (GVCs), energy, climate change and resource efficiency, digital transformation, financial inclusion, technology innovation, and the future of work, as well as two action councils on environmental, social and corporate governance (ESG) investments and African economic integration.
Welcoming the participants, B20 Chair N Chandrasekaran spoke of task force deliberations and their key recommendations.
'In total, there are 54 recommendations across these nine themes, and each of those recommendations has got policy actions, multiple policy actions, numbering 172,' he said.
Later he, along with the task force chairs, handed the B20 Communique to the G20 Sherpa Amitabh Kant.
Highlighting that the private sector is critical for sustainable growth, Kant said: 'Every single country today is at a different stage of development and the challenge is to bring consensus. One key area where consensus has been brought in to a great extent is on business for sustainability.'
Amid high-level panel discussions, interactive sessions were organized as a policy dialogue with the G20 ministers. Indian Minister of Finance Nirmala Sitharaman shared her insight into private investment, the performance of the Indian economy at the global level, and the importance of curbing inflation by keeping in mind investment. Minister of Education Dharmendra Pradhan emphasized the importance of education in driving growth, and said India's aspirations are focused on achieving global good and well-being.
Minister of External Affairs S Jaishankar said the core mandate of the G20 is to 'promote economic growth and development and that cannot advance if the crucial concerns of the global south are not addressed. Business plays a key role in addressing the gaps.'
Minister of Trade Piyush Goyal, called micro, small and medium-sized enterprises (MSMEs) a true gem for the economy, contributing significantly to economic activities.
Trade ministers including from Argentina, Bangladesh, Brazil, the United Arab Emirates, and South Africa, and several global business leaders also shared their ideas on the issues concerning economic growth inclusivity and sustainability.
Brazil's Minister of Trade Marcio Elias Rosa said: 'Sustainability is the future of the present and coming generations and the energy we use would be a key component of sustainability. The Brazilian G20 presidency [in 2024] will focus on it with an emphasis on the transition to clean energy and the preservation of natural resources.'
Dr Venkatachalam Anbumozhi, Economic Research Institute for ASEAN and East Asia (ERIA) Director of Research Strategy and Innovations, took part in a discussion on energy, climate change and resource efficiency, and emphasized the need for the establishment of a 'global acceleration fund' where businesses would contribute a certain percentage of their profits toward inclusive and green development objectives. He also held a bilateral meeting with leaders from the Canada ASEAN Business Council, the Organisation for Economic Co-operation and Development (OCED) and the Rockefeller Foundation.
The B20 Summit was held at a time when G20 leaders are looking to create a shared future to benefit the world through partnerships with important stakeholders. Many of the policy recommendations by B20 laid the foundation for conversations at the 18th G20 summit held on 9-10 September in New Delhi, which successfully reached an agreement through the Leaders' Declaration, which covers issues ranging from digitalization, decarbonization and decentralization to gender equality and infrastructure finance.
Image Gallery
Related Articles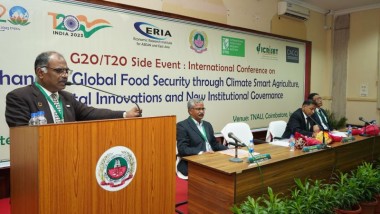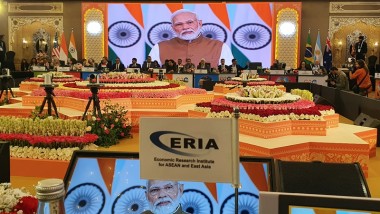 CHOOSE FILTER